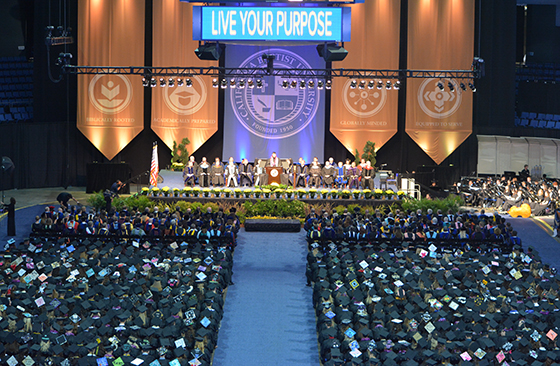 In this issue…
Current News
CBU honors 1,420 graduates during spring commencement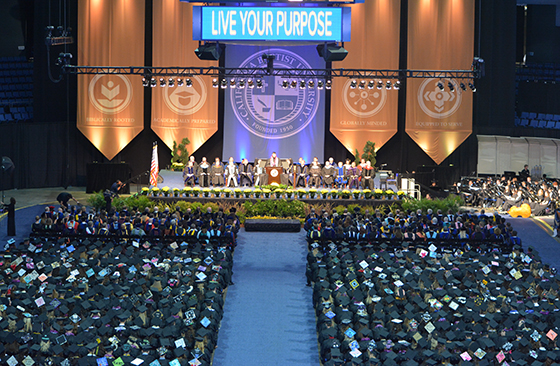 Dr. Ronald L. Ellis, president of California Baptist University, congratulated 1,420 graduating students during afternoon and evening commencement ceremonies at Citizens Business Bank Arena in Ontario. Afternoon exercises included 717 traditional undergraduate degree candidates, while the evening ceremony honored 703 students, including all master's degree candidates, as well as undergraduates from Online and Professional Studies programs.
Ellis noted that the class was part of a record enrollment for the 2014-2015 academic year, with 7,957 enrolled at CBU.
"They have contributed to the continuing growth of CBU's campus culture as 'a University Committed to the Great Commission' during an exciting time of continuing growth and improvement," Ellis said. "Each of these graduating students has arrived at this point because of a shared commitment to the challenging yet rewarding endeavor of higher education."
Dr. Jonathan K. Parker, CBU's provost and vice president for academic affairs, told students that it is not enough for university educators to help them achieve a lucrative profession, a fulfilled life or intelligent participation in the political process.
"We are a university that is committed to Christ's Great Commission," he said. "When you look at Matthew 28: 19-20, the first thing Jesus tells the disciples is to go. Go where? Everywhere. What are they to do? Teach, baptize and disciple; in other words have a significant impact on people's lives."
Parker explained that if a CBU graduate becomes a nurse and always gives the correct medication dosage, never misses a vein on an IV and efficiently and effectively follows all the protocols of appropriate patient care, and that's all, then their professors will have failed to live their purpose as educators at this institution.
"On the other hand, if you become the nurse who whispers a prayer over each and every one of your patients or spends an extra minute to reassure someone who is scared to death before going into surgery because you have been biblically rooted as a result of your time here at CBU, then we will have succeeded," he said.
Parker, a native of San Francisco, earned a bachelor of arts degree in psychology and religious studies at the University of California, Santa Cruz, a master of arts degree in psychology at San Francisco State University and a doctor of education degree in educational psychology from the University of the Pacific in Stockton, Calif. He will conclude his service as provost and vice president of academic affairs at the end of June to return to the classroom and pursue his passion for teaching.
"I believe that all of you have been equipped to serve," he said, "that all of you will live lives of purpose and that because of that we will have fulfilled our purpose as a university committed to the Great Commission."
Awards for student achievement were presented at both ceremonies. Won Young Kim, a psychology major from Korea, received the Min Sung Kim International Student Award, and Joseph Gemignani, a math major from San Mateo, Calif., received CBU's Outstanding Senior Award. Tiffany Angel Ruiz, who works for the County of Riverside and lives in Moreno Valley, Calif., was honored with the Outstanding Online and Professional Studies Student Award. Ruiz received a bachelor's degree in business administration.
Combined with students who graduated last December, the Class of 2015 totals 1,946 applications for graduation, the largest number for a single year in CBU history.
Area high schools compete in Spanish spelling bee
More than 100 high school students from 21 schools competed in a Spanish spelling bee at California Baptist University on April 25.
CBU's College of Arts and Sciences and Omega Phi, the CBU chapter of the National Spanish Honor Society Sigma Delta Pi, organized the event for schools in the Inland Empire area. The Roger Antón chapter of the American Association of Teachers of Spanish and Portuguese also helped organize the event, along with providing a judge and a reader who pronounced the words.
There were several purposes for holding the event, said Dr. Noé Ruvalcaba, assistant professor of Spanish, including to give back to the community and to showcase the university and what it has to offer students. Omega Phi gave $1,200 to the students for the purchase of school supplies. Francisco Varela, managing director for Comcast and a judge for the spelling bee, also gave $1,200 for the same purpose. Tammy Garcia-Chiang, community affairs coordinator for the consulate of Mexico in San Bernardino, also attended the event.
"There are many challenges and unique elements in holding a Spanish spelling bee. Our biggest challenge was to eliminate most students in less than three hours," Ruvalcaba said. "We will work on these small details for next year in hopes of providing a smoother and a more exciting experience for all."
The top three winners received cash prizes to be used for educational expenses, including computers, software and school supplies:
First Place: Marisol Macías Ponce, Bloomington High School
Second Place: Nivedita Kanrar, Riverside STEM Academy
Third Place: Alondra Fabian Pérez, Corona High School
School of Business receives accreditation for 10 more years
The Dr. Robert K. Jabs School of Business at California Baptist University received notification this week that it has been accredited for another 10 years.
The school has spent the past two years working on a self-study, documenting its adherence to six quality standards, said Dr. Steve Strombeck, interim dean and professor of marketing. The standards are set by the Accreditation Council for Business Schools and Programs (ACBSP) for its member universities to maintain. The standards are Leadership, Strategic Planning, Student and Stakeholder Focus, Measurement and Analysis of Student Learning and Performance, Faculty and Staff Focus, Educational and Business Process Management.
"It means that we are professionally accredited by one of the top business school accrediting bodies in the world," Strombeck said.
ACBSP first accredited the school in 1995.
"We have maintained our national accreditation with ACBSP for the last 20 years" Strombeck said. "This is a significant thing."
The School of Business offers a master of business administration degree, three bachelor degrees, three minors and has more than 560 students.
Composers discuss their craft with CBU students
"Everything you do, it needs to be the best you have because you never know where it's going to end up," said Russell Mauldin.
Mauldin was one of three featured speakers at Meet the Arrangers, an event hosted by the Collinsworth School of Music at California Baptist University on April 14. Students also heard from Cliff Duren and Phillip Keveren, who spoke to music students about the music business, the creative process, the challenges and being in the church. Mauldin, Duren and Keveren are recording artists, published songwriters and church worship pastors.
John Bolin, a CBU graduate who also is a composer and minister of worship and arts at a Texas church, moderated the event.
No job is too small and even on the small jobs, writers need to do their best work, Mauldin said. Previous jobs included writing singing telegrams and being a choir director for a small church.
When criticism comes, don't take it personally and have perseverance, they said.
"If you write, write every day," Mauldin said. "The difference in a hobby and a craft is doing it when you don't feel like doing it that day. Do it anyway and that builds up those muscles of your craft."
Even after all his years in the business, Keveren stills gets nervous when he starts a new piece.
"I have a little bit of fear every time I open up a new chart … what if I don't figure this one out?" he said. "I have that moment, and I'm kind of convinced that when you don't have that, it's time to retire because then you're on autopilot."
The arrangers also talked about how today's technology has changed the music world.
"I think if I was your age, I would look at it as a great opportunity. You can have a website and put your PDFs up there and the world can see your music, and that's exciting," Keveren told the students. "I would just warn you of this one thing: be careful what you put up there, because everybody gets to see it. Be certain that what you put up there is the best work you can do."
If musicians are Christians, they are also called to use their gifts in the church they're attending, Duren said.
"You're in a church and you're giving the Lord back what he has given you. Not with the motive of it turning into something else but just because he's worthy of it," he said. "It's extremely important to utilize your gifts. It's only going to make you better."
Global Missions Health Conference held at CBU
About 100 students seeking to explore a life in medical missions attended the Global Missions Health Conference (GMHC) at California Baptist University recently.
The conference, operated by Medical Missions.com, is held in Kentucky every year with more than 3,000 attendees. A West Coast conference was added this year, which attracted students from CBU, Azusa, Biola, Pepperdine, Vangaurd, LaSierra, Loma Linda, University of California, Riverside, and Western. The event was hosted by CBU's College of Allied Health and School of Nursing.
"The reasons to host only a student event is to have clarity and focus of message and to invest in those who are about to step into their professional fields," Will Rogers, executive director of Medical Missions.com and GMHC, said prior to the conference.  "The medical field requires a significant amount of time in preparation and investment for education. These two factors can create significant distance and barriers to long term goals for missions. We believe that if we can have the healthy discussions early and connect people to the right resources there's a significantly higher chance of full-time service workers."
Kendall McFarland, a CBU nursing junior, attended the event, which was held April 10-11, to learn about opportunities and to hear what it is like on the mission field.
"I came to meet missionaries, to hear what it's like on the mission field, to really gain more perspective on what's happening globally and where I might fit into that," she said. "What is it really like and what opportunities are out there for me as a student? I want more of a realistic perspective and to hear what medical opportunities there are."
Speakers included Dr. Gil Odendaal, senior vice president of Integral Mission at World Relief; Claude Hickman, executive director of The Traveling Team; Charles Fielding, doctor and church planter; Erik Salley, CBU assistant professor of exercise science; and Kristen White, director of Global Mobilization at CBU.
Being a doctor allowed Fielding to go into many countries, he told students.
"Health care gets you into closed countries; it gets you into restricted parts of closed countries," he said. "It gets you into homes; it opens up people's hearts to the gospel."
To be God's disciples, students need to let go of their ambitions and let God use them, even if they don't know how things will work, Fielding said.
"Obey. You understand God through obedience," he said. "That's how you grow in spiritual maturity. You show up in faith and say, 'I don't know nothing. Tell me what to do.' And then he moves you further along."
CBU women's golf wins first PacWest championship
A year after falling just short of a PacWest title, California Baptist University wanted to leave nothing to chance at the 2015 PacWest Championships. It led to the Lancers winning the conference crown by 34 strokes Wednesday at the Sunbrook Golf Club with a 900.
To read the complete story, click here.
CBU students honor top faculty, staff of the year
Students at California Baptist University recently honored Dr. Dennis K. Bideshi, professor of biology, as the 2014-2015 Faculty of the Year and Kelli Welzel, director of new student programs, as Staff of the Year.
Bideshi has taught various classes at CBU for 14 years, including Anatomy and Physiology II, Human Microbiology and Cell and Molecular Biology.
"I am truly humbled by being selected as Faculty Member of the Year by students," he said. "It is among the most significant awards I have received as a professor, solely because it was conferred by students."
Along with teaching course content, Bideshi challenges students to seriously consider their chosen paths on a more philosophical level, especially during their first year in college.
"I still think the cliché of defining and following one's passion in life applies, but once these are determined, a greater purpose in life is to use one's acquired knowledge and skills to 'give back' in the form of community service and missions," he said.
Welzel has work at CBU almost five years and has been the director of new student programs since August 2012.
"It means so much to me and is truly an incredible encouragement," she said of the honor. "Pouring into and serving students is why I work here and it means so much that they hopefully feel cared for."
Welzel's job is to welcome new students, connect them to campus and train current students to lead. It includes overseeing orientation and the FOCUS program, which trains student leaders to work with and connect with new students.
"In my interactions, I pray that students see a genuine care for them and a sincere love for Christ," she said. "I would hope that every student feels known by someone on campus and I will do everything I can to be a part of making that happen."
The voting process, conducted by the Associated Students of California Baptist University (ASCBU) organization, was a two-tiered process. First, students nominated their choices for both recognitions. The top 10 names in both categories were placed on the ballot with student Senate candidates.
CBU publications honored in national competition
California Baptist University's university publications won several top awards April 17 during the Baptist Communicators Association (BCA) awards ceremony.
Pursuit Magazine won first place in the total package division (which included design and content), second place for its design and second place for a magazine cover. The Banner newspaper won first place for a single photograph, CBU Remembers 9/11; second place for front page design; and third place for the newspaper's overall design. Both publications, which are produced by CBU students, competed against professional publications by national Baptist entities.
CBU also won a first place award for Marketing & Communication's overall public relations campaign under $25,000 for Dr. Ronald L. Ellis' 20th Anniversary Celebration; a second place award for the Ellis Tribute video; and second place for University Advancement's Christmas Card.
BCA's annual Wilmer C. Fields Awards Competition is designed to encourage professional excellence among association members and to honor members who have done exemplary work. The competition is named in honor of Wilmer C. Fields, retired vice president of public relations for the Southern Baptist Convention Executive Committee.
Family Updates
Kristina Gibeault, Deanna Meyer and Samantha Naple, academic advisors, recently presented research at the National Association of Academic Advisors Region 9 Conference, hosted by the University of Hawaii, Manoa, in Honolulu. Their presentation included CBU's efforts to advise students on course scheduling each semester, academic advising resources and a "teaching" initiative designed to encourage students to engage in overall academic planning.
Dr. Daniel Prather, professor of aviation science, conducted a two-day advanced airport safety and operations specialist course April 18-19 during the International Aviation Snow Symposium held in Buffalo, N.Y.
Dr. Seung-Jae Kim, associate professor of bioengineering, co-authored a paper with CBU students titled Effects of Visual Feedback Distortion on Gait Adaptation: Comparison of Implicit Visual Distortion vs. Conscious Modulation on Retention of Motor Learning, which was published in the April issue of the journal IEEE Transactions on Biomedical Engineering.
Mischa Routon, assistant professor of psychology, represented CBU April 9 at the 26th annual Dr. Richard N. Boylan Memorial Lecture, hosted by the Riverside Medical Center Charitable Foundation. CBU was a sponsor of the event, which focused on depression.
Stefani Plummer, director of the Recreation Center, made several presentations at the National Intramural-Recreational Sports Association (NIRSA) National Conference, which met March 30-April 2 in Grapevine, Texas. Plummer led a session titled Starting from Scratch: Employee Wellness Program and was involved in a panel discussion titled A Conversation with Successful Women in NIRSA. She also co-emceed the Lee Wasson People of Color social held during the conference.
Kristen White, director of mobilization, and Jared Dobbins, assistant director of mobilization, presented on the topic Mentoring Team Leaders at the University Educators for Global Engagement (UEGE) 8th annual conference, held April 16-19 in Richmond, Va. This year's theme was Cultivate: Training Co-Educators for a Globally Engaged Campus.
Kenneth Minesinger, associate professor of law for Online and Professional Studies, served as issue editor for the State Bar of California's Business Law Journal , issue 2015 number 2, which focused on health care and health care law.
Dr. Michael Chute, professor of journalism, presented a workshop session titled Bringing Your Publication Into the Digital Age, and Dr. Kathie Chute, director of communications, led a session titled Communicating to Multi-Generational Audiences at the Baptist Communicators Association annual workshop, which was held in San Francisco April 15-18.
Doctoral planning team members gathered in early April to celebrate the approval of CBU's first doctoral program, the Doctor of Nursing Practice (DNP). The planning team worked for several years to craft a doctoral culture of scholarship and research at CBU that would support doctoral programs. With the approval of this first program, the planning team moves into a support role and will work to plan programming to foster research opportunities for faculty and graduate students, to offer training opportunities to equip faculty for supervision of doctoral research projects, and to gather and share best practices in doctoral education.
Dr. Mary Ann Pearson, associate professor of communication arts for Online and Professional Studies, spoke to 70 communication and public relations students at California State University, Fullerton's COMM Week. Her session was titled Effective Personal Branding and Networking Tips to Help You Land the Job.
Dr. Hannah Hu, assistant professor of chemistry, accompanied four biochemistry and molecular biology majors to the 2015 American Chemistry Society Southern California Undergraduate Research Conference at the University of California, San Diego on April 11. The students presented the following at the conference:
Conscience Princesse Bwiza, oral presentation, Using Solid Phase Peptide Synthesis (SPPS) to synthesize molecules analogs of a natural compound that proved to have anti-tuberculosis potency
Hosiana Abewe, poster presentation, Impact of ALT SIO and BBFL 7 Marine Bacteria on the Chemical and Biological Composition of Sea Spray Aerosols
Cecily Dussell, poster presentation, Phytochemical and Compositional Analysis: Fresh and Cooked Prickly Pear Cactus (Opuntia englemanniis), a Native American Edible Plant from Southern California
Grace de Dieu Irumva, poster presentation, Exploring Chemical complexity of SSA as undergraduate researchers during the IMPACT
Students from Dr. Keanon Alderson's Introduction to Business course donated nearly $2,000 during the spring semester to Path of Life Ministries and Angel Wings Bakery. The funds were proceeds from micro-businesses begun as part of the course requirements. Alderson is an associate professor of business.
Dr. Glenn A. Pickett, associate professor of music, has been commissioned to write a major symphonic work by the Corona, Calif., symphony. In addition, his composition Give Me Grace to Follow Jesus, was recently chosen as a JW Pepper "Editor's Choice." JW Pepper is the world's largest retailer of sheet music.
Dr. Monica O'Rourke, associate professor of kinesiology for Online and Professional Studies, presented Measurement and Statistics in Kinesiology for advanced placement high school seniors at Norte Vista High School in Riverside on April 22.
Dr. Deborah Carter, assistant professor of nursing, successfully defended her dissertation recently for the doctor of education degree at Regent University.
Dr. Charles Sands, dean of the College of Allied Health, presented research titled Obesity, Nutrition and Exercise: Why Should Middle School Students Care? at the Riverside STEM Academy Symposium on April 22.
Dr. Candace Vickers, associate professor of communication disorders, and Dr. Margaret Barth, professor of nutrition and food sciences, served on a health careers panel about their respective fields at the University of California, Riverside April 21. In addition, they spoke to a large group of biochemistry students considering healthcare careers, as well as a podiatrist, chiropractor and audiologist from Riverside Medical Clinic.
Micah Robinson, son of Merritt Robinson, enrollment team manager for Online and Professional Studies, is a member of the Division 3 high school state championship basketball team from Damien High in La Verne, Calif. Robinson scored 17 points, including five three-pointers, to help Damien pull out a 70-57 victory on March 27. A senior at Damien High, Robinson is still considering his college options.  To read the full story, click here.
Personnel Updates