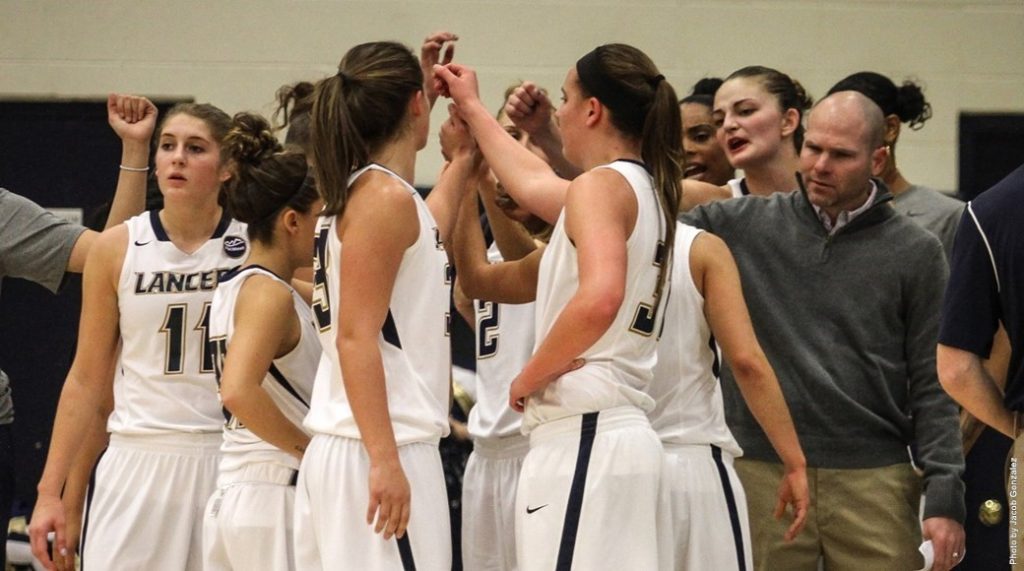 In this issue…
Current News
Women's basketball heads to Taiwan to prep for new season
California Baptist University women's basketball team has headed overseas to Taiwan for a unique opportunity to tune-up for the 2016-17 season.
The Lancers will take on international competition including the National Taiwan University of Physical Education and Sport on Aug. 17; Dankook University (South Korea) on Aug. 18; and Fo Guang University (Taiwan) on Aug. 19. The games are part of an exhibition tournament.
Expectations for the Lancers are once again high this season with a majority of their roster returning. The Lancers are coming off a PacWest regular season finish where the team put together a program's best 21-game winning streak and also had an undefeated record at home (14-0).
Additionally, Lancers head coach Jarrod Olson was named the PacWest Coach of the Year and junior point guard Cassidy Mihalko was awarded an All-American honors.
The Lancers will officially kick off their season at the D2 Tip-off Classic on Oct. 4 at the Santiago Canyon College Athletic Complex in Orange, Calif.
CBU to offer new bachelor's degree in Entrepreneurship
Attention, inquiring minds and problem solvers: California Baptist University has developed a new major with you in mind. The Dr. Robert K. Jabs School of Business will offer a Bachelor of Science in Entrepreneurship starting in the fall.
Dr. Andrew Herrity, entrepreneurship program director, said the program aims to equip students to become well-prepared entrepreneurs with a heart to solve problems.
"We want our students to be problem solvers, to think about how to care and serve our communities better," Herrity said. "While profit is an important part of operating a business, at its heart entrepreneurship is about providing solutions that benefit society."
Students majoring in entrepreneurship will also be required to minor in one of 40 different options available at CBU.
"Since entrepreneurs are unique individuals, we thought it would be a good idea to offer something unique to this program in a way of the minor requirement," Herrity said. "Gaining knowledge in an industry is an important part of establishing a business."
Herrity sees a correlation between minors and new ventures. He envisions computer science minors developing the next app, or a visual arts minor starting a design company.
Upper division courses will encourage students' creativity and identify what they are passionate about, Herrity said.
Herrity also noted that most entrepreneurs do not initially start working for themselves. Instead, they learn on the job and then venture out after gaining some understanding of an industry. That is why CBU still requires 30 units of business administration in both lower and upper division courses, he noted.
"With our Christian worldview at CBU, we believe that we are all created in the image of God, who is a creator, and we want students to take that creativity and start ventures that will be beneficial to others," Herrity said.
Engineering 101 prepares new students for academia, vocation
A foundation for academic and vocational success awaits new students enrolling in the Gordon and Jill Bourns College of Engineering at California Baptist University this fall. More than 200 new engineering students are expected in the fall, and one of the first courses they will encounter is EGR101, Engineering Christian Worldview.
"It's a course where students can cast a vision for their life as a CBU engineering student and as a graduate," said Dr. Anthony Donaldson, dean of the College of Engineering.
Donaldson teaches a portion of the course dedicated to understanding a Christian worldview. Engineers are to be a part of solving problems, he said.
"Engineers are called to serve. They are called to use the talents that God has given them to solve problems in society," Donaldson said.
The other components help students prepare for the academic rigor, such as how to study, organize time and understand the various teaching styles.
The students also learn to work as a team and be part of a community, said Dr. Matthew Rickard, professor of bioengineering.
"It's also part of what it is to be a Christian… being part of a community and helping others," Rickard said.
A majority of engineering students have the same curriculum the first year. Additional courses include a seminar class, which summarizes the 10 majors offered at CBU and an engineering service class, where the students complete 30 hours of service work.
These classes contribute to the university's goal of helping the students find their purpose in life, Donaldson said.
CBU Aviation Unmanned Systems degree set to launch this fall
Drones will be invading California Baptist University this fall. The Department of Aviation Science is set to launch a Bachelor of Science in Aviation Unmanned Systems.
Whether referred to as drones, unmanned aerial systems, or unmanned aerial vehicles, these remote-controlled aircraft require a pilot with specialized aviation knowledge and skills as well as an understanding of federal regulations, said Paul Haley, assistant professor of aviation at CBU.
"The new degree is relevant today due to the rapid increase in worldwide use of the various types of remotely piloted aircraft," Haley said.
Haley said employment opportunities in the unmanned aircraft industry are numerous. For instance, large-scale, piloted unmanned aerial systems currently are being used to assist firefighters, scientists, search and rescue teams and government agencies. Smaller remote-piloted aircraft are being used in the real estate, film, agricultural, medical and oil industries.
"Graduates of the aviation unmanned systems major will enter the workforce as instrument-rated commercial pilots and will help meet the need in this rapidly developing industry for qualified unmanned systems pilots," Haley said.
Family Updates
Kevin J. Cotton, adjunct professor of mathematics, taught a course on mathematical modeling to high school students for the Johns Hopkins University Center for Talented Youth. The center identifies young people of great academic promise and then develops their intellect and personal growth. The first session took place in Santa Cruz, and the second was in Easton, Penn. The sessions ran June 23-Aug 6.
Dr. Derek Updegraff, assistant professor of English and creative writing, published a collection of short fiction titled The Butcher's Tale and Other Stories. The book was published by Stephen F. Austin State University Press and is distributed by the Texas A&M University Press Consortium.
Dr. Daniel Prather, professor of aviation science, taught a two-day Advanced Airport Safety and Operations Specialist School on July 30-21 to 40 airport professionals. It was part of the American Association of Airport Executives Airfield and Facilities Management conference in Boise, Idaho.
Dr. Hyun-Woo Park, professor of biology, and Dr. Dennis K. Bideshi, professor of biology, presented co-authored papers at the 49th Annual Meeting of the Society for Invertebrate Pathology in Tours, France, on July 24-28. The papers were titled, A binB knockout in Lysinibacillus sphaericus demonstrates BinA can form a crystal without BinB in Bacillus thuringiensis and Lysinibacillus sphaericus binary toxin structure revealed in situ by de novo phasing with an X-ray free-electron laser: Insights into the larvicidal biology of BinA and BinB. Bideshi also was co-author of a poster presentation titled Comparison of genome replication rates of fast-killing versus slow-killing SfAV isolates.
Eric Mendoza, marketing specialist for Marketing and Communication, has been chosen Employee of the Month for August. The nomination form included the following statements: "Eric has a true servant's heart and strives to meet and exceed the expectations and goals of the clients for whom he produces videos. He is frequently commended by them for the excellent quality of the products he produces and for his determination to do what is necessary to deliver these products on time."
Dr. Frederick Pontius, professor of civil and environmental engineering, was the moderator for the 2016 International Conference on Civil and Environmental Engineering, held in Xi'an, China, on July 26-27. Pontius also delivered a paper at the conference titled Chitosan as a Drinking Water Coagulant, which was published July 15, 2016, in the American Journal of Civil Engineering.
Dr. Amanie Abdelmessih, professor of mechanical engineering, presented an article, Creation of Undergraduate Engineering Laboratory with Minimal Funding, at the 2016 ASEE (American Society for Engineering Education) conference June 26-29 in New Orleans, La. She also moderated the session called M438-Mechanical Engineering Capstone Design.  Abdelmessih also served as a track organizer at the 2016 Summer Heat Transfer Conference, held in Washington, D.C., July 10-14. She oversaw the track of Heat Transfer in Electronic Equipment, which included four sessions and a panel. This is the sixth time she served as track organizer/leader, and she received a certificate of appreciation. Abdelmessih and 12 former CBU students also published an article, Design of a Magnetic Cooling Device Using Gadolinium Alloy and Permanent Magnets, in the proceedings of the conference.
Dr. Jong-Wha Bai, associate professor of civil engineering, conducted a seminar on seismic vulnerability and loss estimation of concrete structures for architectural engineering students at Seoul National University in Korea on July 8.
Personnel Updates