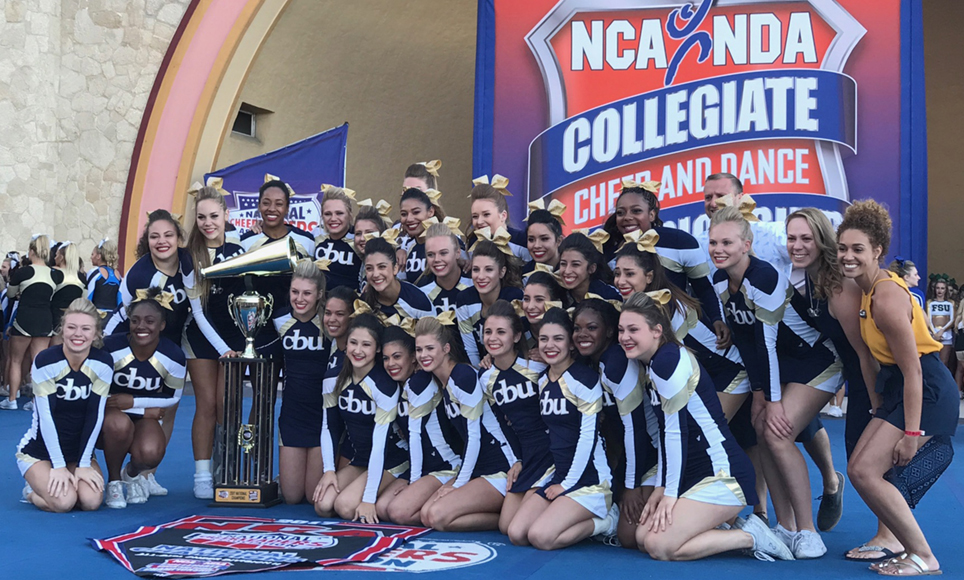 In this issue…
Current News
Lancer Cup celebrates intramurals and global service
More than a thousand spectators watched Wales defeat Ireland, 3-2, to claim the coveted Lancer Cup—the championship trophy for co-ed intramural soccer—at California Baptist University on April 11.
The Front Lawn was transformed into a mini soccer stadium to host the championship game that featured bleacher seating, live pre-game entertainment along with several food trucks parked near the soccer field. The first 600 CBU students were also treated to a free meal courtesy of the Community Life department.
Tyler Cox, director of recreation programs, said students are very competitive in intramural play.
"The environment allows students to be competitive while forming a sense of community," Cox said.
The Lancer Cup featured the two teams left standing after a regular season lineup of 35 teams and a single elimination playoff bracket that pitted the eight best regular season records against each other.
Cox said that the soccer teams' names represented the countries where CBU students will serve during the 2017 International Service Projects (ISP). This year CBU will send student volunteers to 22 countries on 36 teams during the summer.
During the opening ceremony for the Lancer Cup, students walked out onto the field holding the flags of each country that ISP teams will visit.
"Lancer Cup is a great night to celebrate the intramural soccer season and to celebrate two teams making the championship game," said Cox.  "I love that we incorporate a sport that is popular across the globe and at the same time recognize the students and staff who will be headed out this summer to serve the nations."
Keep learning even in midst of career, lecturer tells students
Susan Harrington, a seasoned public health professional, stressed the importance of lifelong learning to a California Baptist University audience on April 11.
"No matter your background and your education, you can work in different industries through continued learning and you can be successful," Harrington said.
Harrington worked for 30 years for the Riverside County Department of Public Health before retiring last year. She is also a CBU adjunct professor of public health sciences. Harrington spoke as part of the College of Health Science's Distinguished Lecture Series.
At the county, Harrington held various positions, starting as a nutritionist and working her way to the director of the public health position. Over the years, she learned different professional skills such as developing a budget, how reorganize departments and implementing policies and procedures by working with a wide range of professionals.
At the peak of her tenure, the department she led had 1,200 employees and an annual budget of $122 million, Harrington said.
"[Becoming director] was the biggest learning curve because I had to move out of my comfort zone of being in nutrition to learning about communicable disease control and … emergency medical services," Harrington said. "I really had to learn more and expand my knowledge."
Harrington gave the example of when Proposition 215 passed in 1996, allowing for use of medical marijuana. She worked with sheriffs, district attorneys and drug and alcohol prevention professionals to determine how to best implement the initiative measure.
Harrington also spoke of the new challenges for people going into public health such as new disease like the Zika virus and the decriminalized use of cannabis.
"When you look to have a career, find an organization that you can make a difference and serve and share your talents," Harrington said.
Student magazine and newspaper claim multiple awards
The California Baptist University campus publications, produced by the journalism & new media and public relations program, received several awards in March.
In the California College Media Association's (CCMA) Awards competition held in San Francisco in March, Pursuit magazine received four first-place awards—Best Magazine Photo Series, Best Magazine Inside Page/Spread Design, Best Magazine Cover Design and Best Magazine Story—and two second-place awards Best—Magazine and Best Magazine Photo.
Also at CCMA, The Banner newspaper received three first-place awards for Best Infographic, Best Newspaper Inside Page/ Spread and Best News Photograph. The Banner also received Best Newspaper Front Page Design (2nd place) and Best Photo Series (3rd place), as well as honorable mention in Best Arts and Entertainment Story, Best Feature Photograph and Best Newspaper Website.
In the competition for the CCMA awards, 37 public and private colleges and universities throughout California submitted 1,138 entries.
In San Francisco last month, the Associated Collegiate Press awarded fourth place in "Best of Show" to both Pursuit magazine and The Banner, as well as fifth place to The Banner website in the same category.
In the College Media Association Apple Awards competition, in New York City in March, Pursuit Magazine received third place in Best Magazine Design, displaying what the judges called, "immense strength in the photography and design skills of the staff."
"CBU earned the Apple Award alongside Pepperdine and Baylor as the only Christian universities in the nation to be honored with one of these prestigious awards," said Dr. Michael Chute, professor of journalism and director of the program.
Furthermore, two CBU students—Iona Brannon and Megan Ballard—tied for first-place in the "Photo Shoot-Out" competition at the Southwestern Photojournalism Conference in Fort Worth, Texas, in March.
"We are proud of the students' efforts, using their God-given skills and abilities to provide outstanding campus publications for our university," Chute said.
CBU Outdoor Adventures program hosts "glamping trip"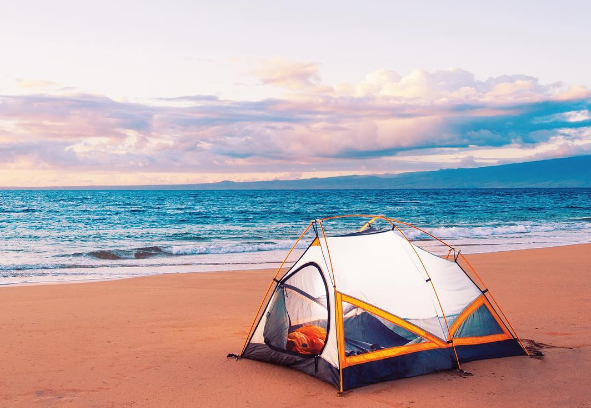 A group of students and staff from California Baptist University got some much needed R & R before the start of finals at the San Onofre State Beach through the Outdoor Adventures program.
The outdoor excursion was run through the CBU Community Life department on April 7-9. The program provides opportunities for students to enjoy natural wonders such as prestigious national parks, popular mountain ranges and the iconic beaches of the Pacific coast. Thirty-eight CBU students and seven staff members participated in the latest outdoor adventure.
Tucker Carl, program coordinator – outdoor adventures, said the outing was promoted as a "glamping trip."
With the end of the semester approaching, the trip was focused on relaxation, Carl said.  The group played games, sat around the campfire and enjoyed more "glamorous" food than regular camp food— including a pig roasted on a spit for a luau-type dinner.
"The Southern California beaches are a world-renowned thing," Carl said. "Giving students the opportunity to go and to go glamping and enjoy each other's company and create community is why we're offering a trip like this."
Grace Barnes, an early childhood studies major, went on the trip to experience camping and meet new peers.
"I loved meeting everyone and playing games," Barnes said. "All the other students were really cool and it was fun to get to know each of them."
Students plant multiple trees in honor of Spring Arbor Day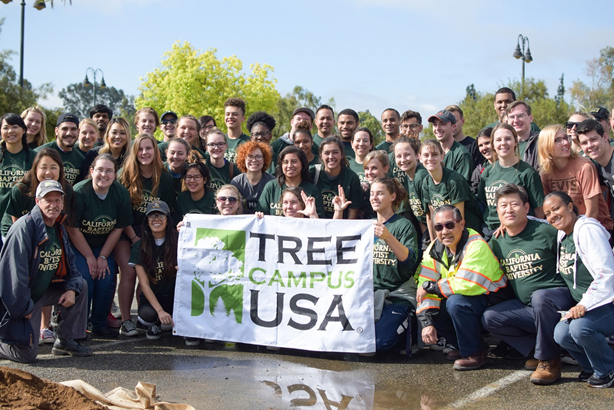 Sixty students, staff and faculty from California Baptist University celebrated Spring Arbor Day by planting 14 trees in various parking lot areas on April 8.
The event was organized by the university's Facilities and Planning Services and the Environmental Science Club at CBU. The club's goal is to do its part to better the environment at CBU. The volunteers worked several hours digging holes and planting the trees.
Austin Philobos, a graphic design freshman, came out to the event to do his part to upkeep CBU.
"It is really important to plant trees for our campus environment," Philobos said. "It's also been fantastic to work with a bunch of people and get to know them."
Angela Green, a health science senior, enjoyed getting her hands dirty for a good cause.
"It was a lot of fun actually. I expected the trees to be a lot smaller like little trees, but it was actually really cool coming in and then seeing the big trees and working as a team and just getting to experience the fun in it and serve the Lord in all of it," Green said.
The Arbor Day Foundation recently recognized CBU as a 2017 Tree Campus USA for the third consecutive year.
"We take great pride in maintaining, managing and increasing the dynamic and important urban forest, and sustainable foliage on our campus," said Steve Smith, director of Facilities and Planning Services.
CBU Cheer wins fifth-straight national championship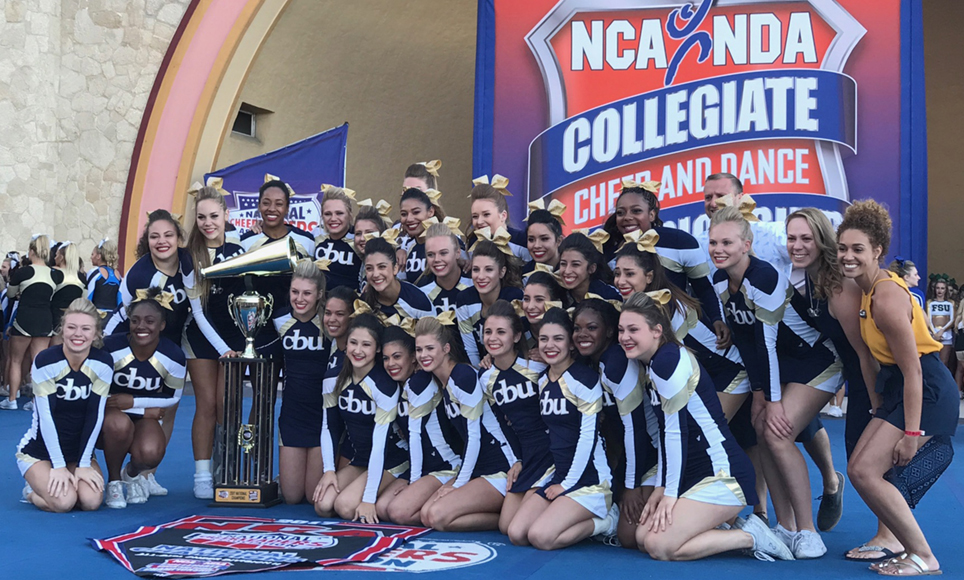 The Lancers cheer team at California Baptist University continued its dominance, winning its fifth-straight National Cheerleaders Association Championship at Daytona Beach, Florida, on April 7. The Lancers have not lost a team competition match since 2013.
"It was a great day to be a Lancer," said Coach Tami Fleming. "We are proud to be bringing home another national championship to CBU. Five feels pretty great."
Read the full story here.
The Lancers made even more history the next day when two CBU teams finished in the top three stops at the stunt group competition. The Lancers have never placed higher than eighth in group stunt at nationals. This year, Taylor Contratto, Taylor Frasca, Dazmyn Dull and Evynn Richard took first.
Read the full story here.
Chapel speaker challenges students to be "Moment Makers"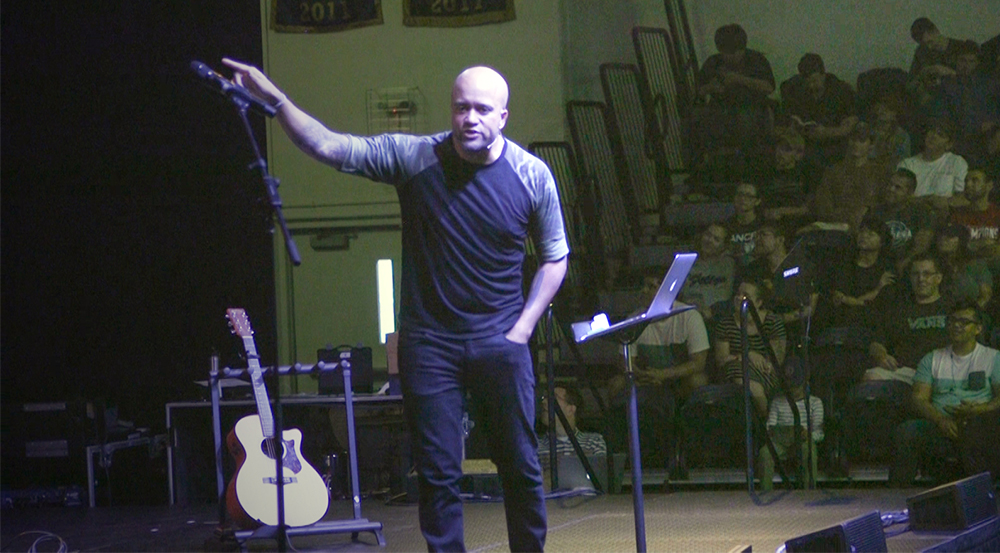 "Moments are the makers in our lives," Carlos Whittaker told a California Baptist University chapel audience. "You guys are living in a season right now where the moments you decide to create will mark the rest of your lives."
Whittaker is a worship leader, author, blogger and musician who resides in Nashville, Tennessee, with his wife and three children. He spoke at the CBU chapel service on April 7.
Whittaker said as he started to study the life of Jesus to become more like Him, he began to form the concept of becoming a "Moment Maker," which he describes as a deliberate way to make every moment of every day count.
"Jesus was the ultimate 'Moment Maker,'" Whittaker said.
Whittaker used scripture to illustrate the numerous "Creator Moments" Jesus had when it came to healing the sick.
"[For us], 'Creator Moments' are the moments we are in charge of; these are the moments that we get to create for other people," Whittaker said. "Imagine CBU for a moment, if every day you create moments on purpose so that other people feel [special]."
Whittaker said if these moments are wrapped in Jesus, then one day the fruit of those acts will be revival.
"We can't live our Christian faith on accident," Whittaker said. "I did that far too long. Once you start living your faith on purpose, you start seeing small hints of revival."
Whittaker said the Christian faith also includes "Receive Moments."
"These are the times believers need to stand still and try to discern the voice of God," Whittaker said.
Whittaker shared a humorous story of a Justin Bieber concert he attended with his daughters. He recalls feeling distraught when he noticed that one of his daughters cried throughout the concert. His confusion turned to frustration when he found out the reason for the crying—"It's because I love him so much," his daughter said on the way home.
"Excuse me, you love him? I almost launched into her. 'You don't know about the first thing about love,'" said Whittaker with a chuckle about his immediate thoughts to his daughter's response. "[In that moment] I felt like the Lord said, 'stand still… Instead of telling your daughter why her love is so wrong, instead, tell her why my love is right.'"
Whittaker said he proceeded to have a lengthy conversation about Jesus' love on their way home from the concert.
"We need to learn to gaze at God and glance at life," Whittaker said. "We can flip it. We can gaze at life and then when we're desperate, glance at God, but that's not how we live a 'Moment Making' Christian life."
CBU Army ROTC duplicates success at national drill competition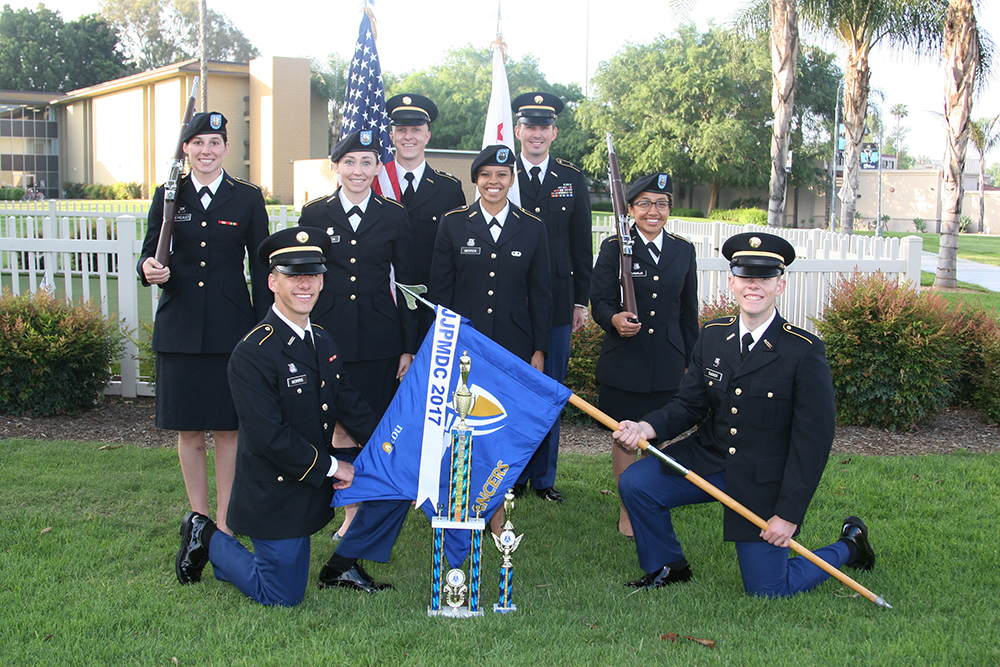 For the second year in a row, the California Baptist University Army ROTC women's squad won first place in the color guard event at the John J. Pershing Memorial Drill Competition in Jacksonville, Florida. The men's team also repeated their previous year's performance with a third place finish in the same event.
The competition, held in March, pitted 42 programs against each other in several categories, including squad regulation drill, platoon exhibition drill, individual drill and color guard.
The winning CBU team included returning cadets Shannon Garcia, Sheraya Bentick, Imelda Camaja and newcomer Amanda Tetreault. The men's team included returning cadets Kendall Morris and Joshua Fink along with new additions Nathan Tucker and Brandan Walker.
Tetreault said the event was a learning and rewarding experience.
"Knowing that they had already won first place put a lot of pressure on [me], but it was good pressure," Tetreault said. "In the end, it made us practice harder and go there with determination."
Two of the women cadets are graduating in the spring, so the event took on a greater meaning for the team, Bentick said.
"Even though we wanted first place, at the end of the day, it's not completely about winning first place," Bentick said. "Whether we win or lose, whether we mess up or do great, this is our last experience together so let's make it count."
The cadets put hours of practice and attention to detail, said Sgt. 1st Class Jason Winkle, military science instructor.
"It all comes down to precision. These [cadets] don't accept anything less than perfection," Winkle said.
Tucker said it was a challenge learning all the commands in order for the team's seven-minute routine.
"You don't necessarily have time to react once the commands are called, you have to know what the next movement is," Tucker said.
This is the fourth consecutive year CBU teams have returned from the competition with awards. In 2015, the men's team also placed third in the color guard event and 2014, the men's team took first place in the same category.
"We have developed a name for ourselves," Winkle said.
Pershing Rifles is an ROTC related national organization that was started by Lt. John J. Pershing in 1894 when he was the professor of military science at the University of Nebraska.
CBU students pack food boxes for Children's Hunger Fund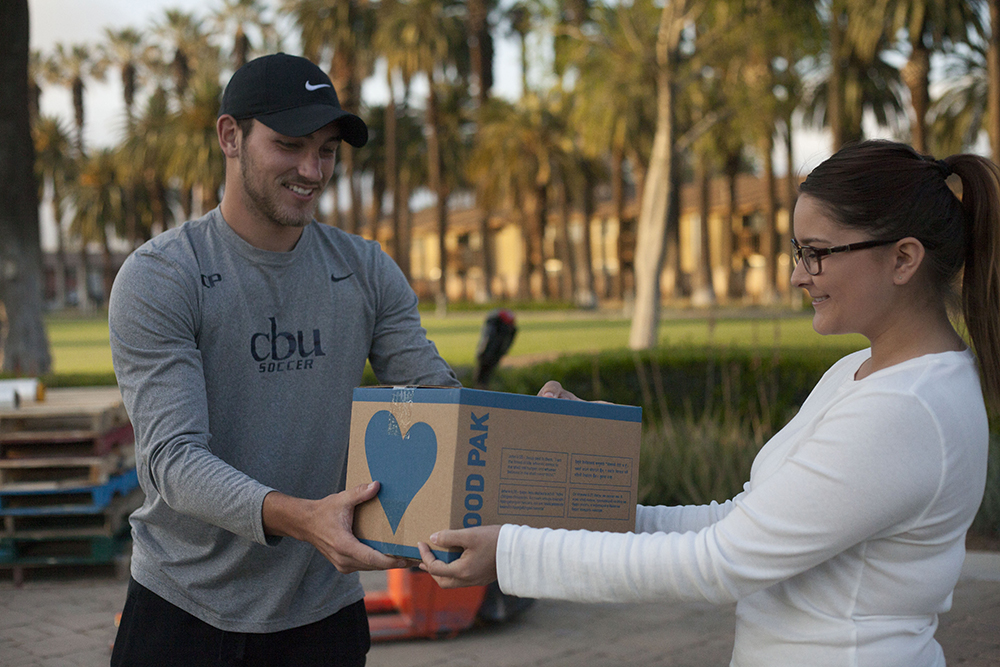 More than 140 California Baptist University students worked through the evening to pack 500 food boxes with items such as cans of corn, soup, tuna and bags of beans, rice and cereal for Children's Hunger Fund on March 30.
The event was organized by Compassion Ministries in the CBU Office of Spiritual Life. The Children's Hunger Fund provides balanced food options for hungry children across America and throughout the world. The group distributes the food through churches to help bridge relationships with families in the churches' communities. Students also had the opportunity to write a personalized note to the family who would receive the food box.
Anna Goff, a psychology senior, said she appreciates the various service options CBU offers.
"[The event] provides opportunities for students to get out there and serve when they don't know exactly how they are able to help," Goff said. "This gives students that option and it's easy for them to come because it's on campus."
Kaden Specht, a liberal studies freshman, said the event made her reflect on the blessings she has in her life.
"It makes me feel good that I can [help], but I'm also really thankful about all the things I do have," Specht said.
Julie Dobbins, director of Compassion and Women's Ministries, said there are a lot of logistics when it comes to getting the meals into the hands of those who need it.
"We are just one step in that process, but it is great for our students to be able to organize and pack all of the different supplies needed for a balanced meal for a family," Dobbins said.
CBU lecturer touts theology of human thriving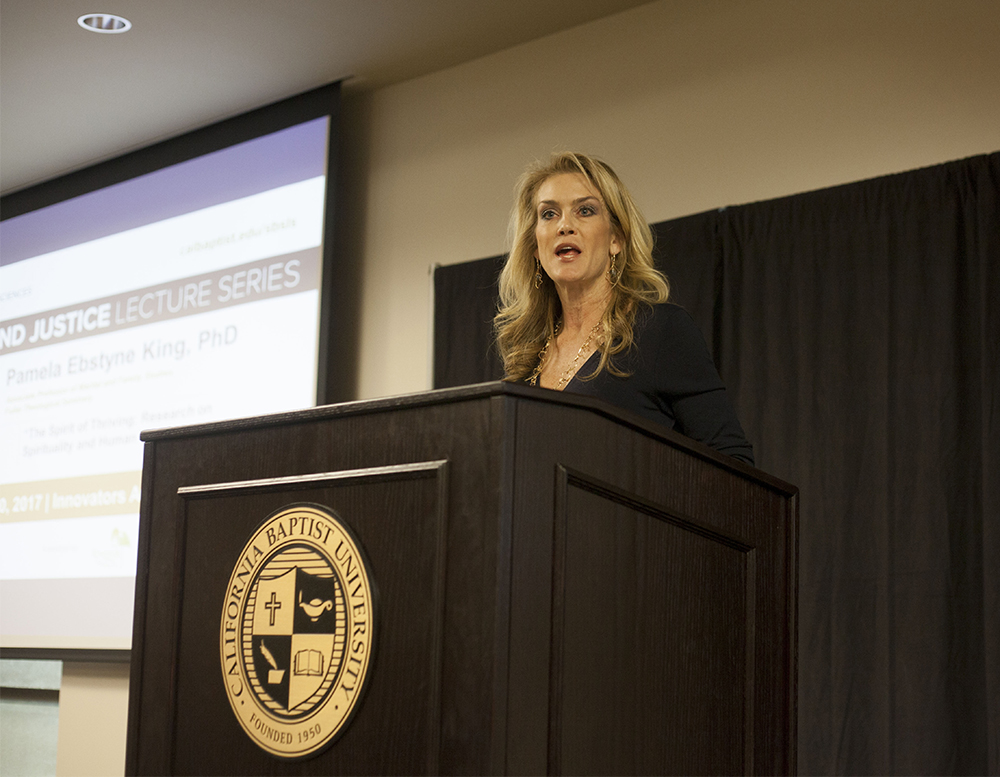 "What are you being shaped and formed for?" Dr. Pamela King, associate professor of applied developmental science at Fuller Theological Seminary, asked a California Baptist University audience. "What are you learning at this stage that will prepare you for this world?"
King, who is an ordained Presbyterian minister in addition to holding a doctorate in psychology, spoke at the School of Behavioral Sciences Culture and Justice Lecture Series on March 30.
King said she would never have predicted her life's course.
"I never cut out to be in ministry. I never aspired to be a professor. I thought I would go into business and do marketing," King said. "Something happened along my journey that drew me toward issues of transcendence and theology and understanding how humans function… I began to appreciate the uniqueness of each human being."
As a professor at Fuller, King has dedicated her academic research pursuits to the concept of human thriving. She said identifying human thriving as a social scientist comes down to experiences.
"As a social scientist, we don't have the tools to define what is ultimate in life or what is sacred or transcendent," King said. "Those are more of epistemological tools that theology or philosophy have."
King said she has turned to theology to answer questions pertaining to defining human thriving.
"What would be God's perspective on human development or a biblical perspective?" King asked.
The answer to that question lies in the claim that humans are created in the image of God, she said.
"The Bible talks about Jesus Christ as the perfect image of God," King said. "Part of the process of imaging God is becoming more like Christ."
King said the biblical language for imaging God is to be "conformed into the image of Christ."
"It's not to be uniform to the image of Christ, so I strongly believe that we are all created in the image of God, to become more like Christ in our lives, to become more virtuous, more honest, more serving, more self-giving, more advocates of justice, and we're all called to do that in our unique ways," King said. "God created you to be you. There is something about imaging God that involves being unique people."
When you are yourself, your actions reflect your deepest passions, values and interests, King said.
"That's when you experience ultimate performance and most joy," King said. "So much of life's journey is finding out, 'who am I and what do I love?'"
Theatre Tech Week puts all of play's components together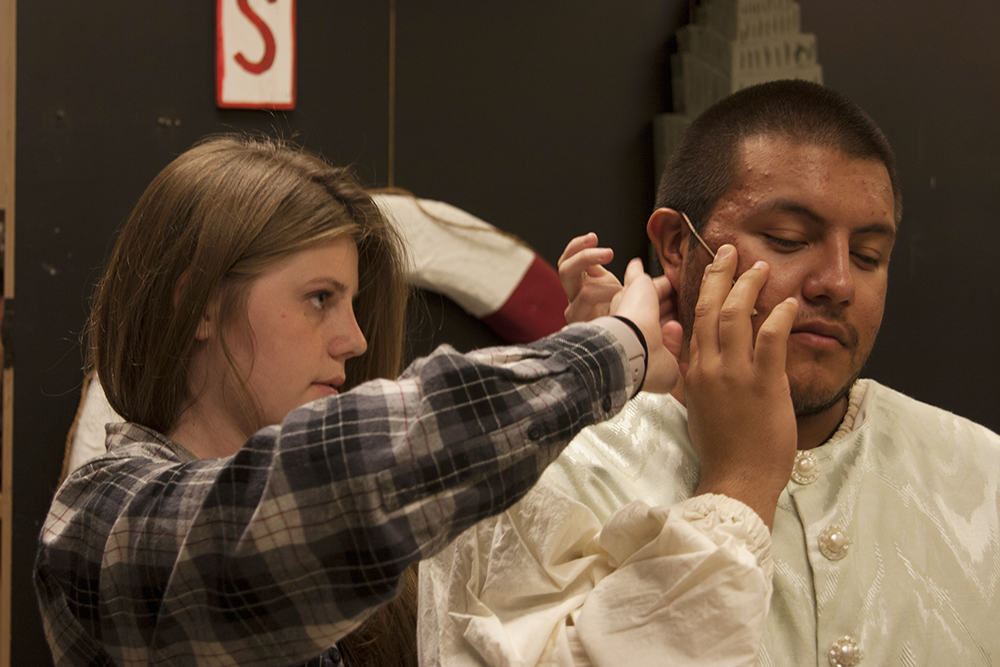 As audiences enjoyed "The Plain Princess" performances at California Baptist University recently, there was another production happening behind the scenes.
The costume and makeup crew gave the actors the right look, the backstage crew moved scenery and props, and the lighting and sound operators made sure the actors could be seen and heard.
"There's a whole second show going on backstage that you never see," said Jacob Gomez, a theatre junior.
Earlier this month, the Theatre Arts program at CBU held Theatre Tech Week. Lee Lyons, professor of theatre, said the week is dedicated to learning about all the elements and roles that are needed for the show come together.
"[Students] are brought together and unified in the rehearsal process and all the problems are exposed … we then hone [in on the problems] during our dress rehearsal process until opening night," Lyons said.
Students get hands-on experiences such as operating a light board, a sound board, or working on costumes and makeup, Lyons said.
"When these kids graduate and leave, we want them to be playmakers," Lyons said.
Gomez, lighting board operator for "The Plain Princess," said he has learned to be precise in making sure the lighting cues happen at the moment the stage manager signals them.
"You really see everything that goes into a single performance," Gomez said. "It's not just the actors on the stage. You develop an appreciation for all of the hard work that every single part in the show has to put in."
Alumna Kiana Miskel ('16) was contracted to be costume designer for the "Plain Princess." Since graduating, she has worked with several theatre companies in the area as a performer and part of stage crew.
Miskel said she appreciated the hands-on experience she obtained while at CBU.
"If you know how everything happens and how everything is put together, you can easily throw yourself into [the production of a play]," Miskel said.
Lisa Lyons, a theatre adjunct and director of "The Plain Princess," said the cast members are told every role is important.
"You can't do a show without everybody else back stage or else it wouldn't happen," Lyons said. "You'd be standing on a blank stage. Working tech certainly gives them an appreciation of everything that happens. We reiterate that a lot, you need to appreciate your staff, your crew."
Lancer baseball Coach Gary Adcock racks up 500th win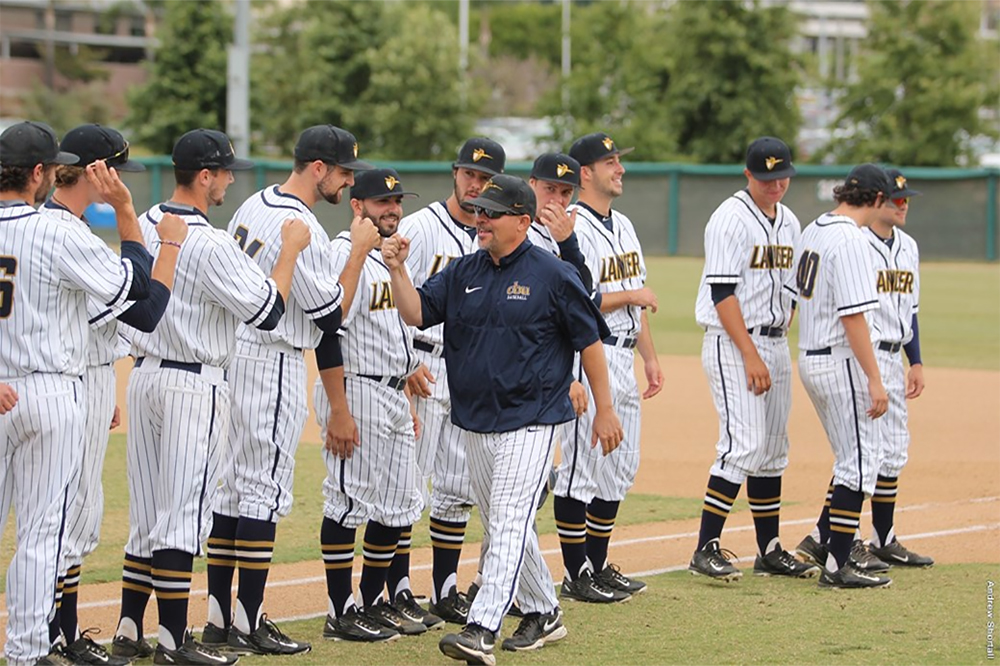 With a 6-2 Lancer win over Point Loma University on March 30, the victory moved baseball head coach Gary Adcock's all-time record to an impressive 500-242-1.
CBU has enjoyed great success in Adcock's 14 seasons. Twelve of his 13 teams have qualified for the postseason, of those teams two went on to win Christian College Athletic Association World Series titles in 2012 and 2013. His teams have won six conference championships, 19 of his players have been named All-Americans and 19 have been selected in the Major League Baseball Draft.
Read full story here.
Hundreds of grandparents attend annual event at CBU
California Baptist University welcomed more than 250 grandparents of students for the fifth annual Grandparents Day on March 30.
Grandparents had the opportunity to participate in a full day of planned activities as they caught a glimpse of life at CBU. The day started with a welcome session, which highlighted the various facts that make CBU unique and a devotional thought shared by John Montgomery, dean of Spiritual Life. Grandparents then had an array of courses they could attend throughout the day, such as 3D Printing, The Next Best Thing to Real – College of Nursing Simulation Lab and C.S. Lewis' Remarkable Spiritual Journey. Additionally, grandparents were offered an opportunity to participate in a campus tour, watch a women's choir performance and attend a men's volleyball game.
Paul Eldridge, vice president for University Advancement, said it was an honor to host the grandparents of CBU students.
"Your grandkids attend a Great Commission school. We want our students to go out and impact the world," said Eldridge, at the welcome session.
Dr. Charles D. Sands, provost and vice president for Academic Affairs, reassured the grandparents of the university's commitment to provide a place for students to excel.
"We want our students to thrive spiritually and physically. We strive to create an environment for students to thrive in," Sands said. "We are here to fulfill the Great Commission and to ensure our students succeed at CBU."
Justification by faith brings assurance, stresses theologian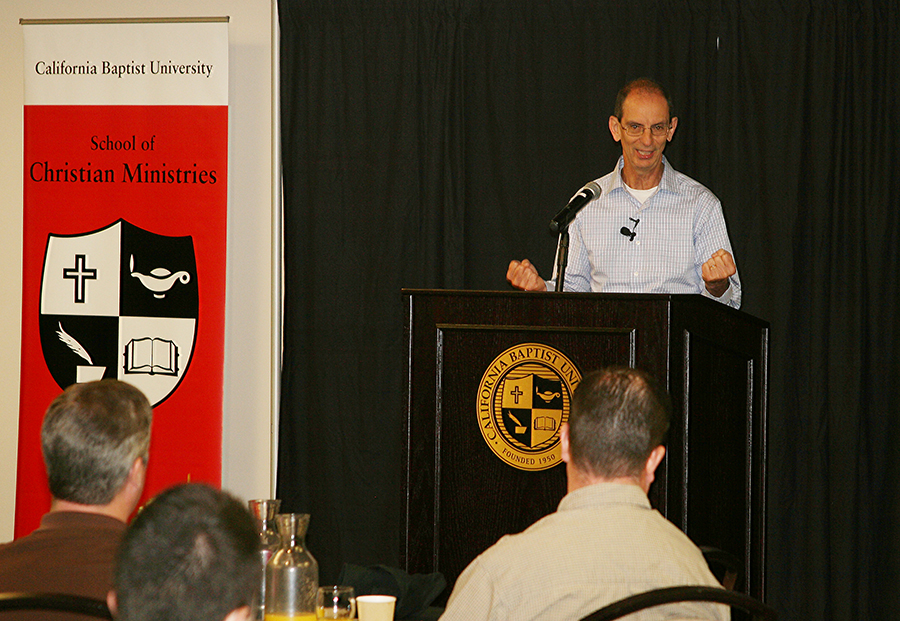 "Our job isn't to work for God but to rest and believe in God," said Dr. Thomas Schreiner. "We're to cease striving and be still and know that God is our salvation."
Schreiner is an associate dean and professor at The Southern Baptist Theological Seminary in Louisville, Kentucky. He spoke on March 30 as part of the School of Christian Ministries Lecture Series at California Baptist University.
Schreiner argued that good works cannot be the basis of salvation since God demands perfection and believers fall short in many ways.
"A true understanding of justification by faith gives us assurance," Schreiner said. "We're comforted in our doubts, because we know salvation doesn't rest on us and what we do. Our salvation doesn't depend on our own righteousness but Christ's righteousness."
Schreiner said justification by faith reminds believers that their sins are forgiven.
"Justification by faith frees us from guilt," Schreiner said.  "If we're not forgiving ourselves, we're despising Christ's sacrifice. We're saying 'my sins are too important to be forgiven by you.'"
Schreiner said good works are evidence of a new life in Christ and believers should have a praised-filled response to justification.
"Justification by faith brings joy," Schreiner said. "When we recognize that God's grace is amazing and entirely apart from our work and that grace is stunning to us, we're thankful. We give thanks."
Schreiner said it is the object of a person's faith that saves them.
"[Justification] is the very root of our relationship with God. Do we depend upon ourselves or upon God and Jesus Christ?" Schreiner said.
Professor appointed to California health education committee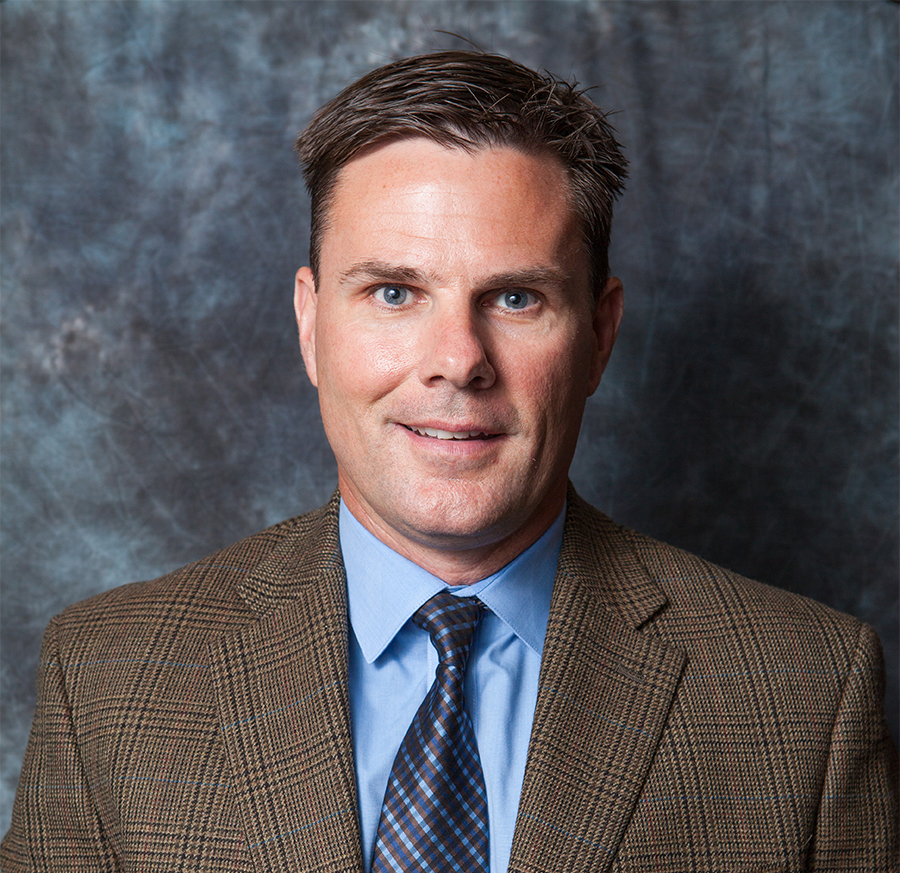 Dr. Robert G. LaChausse, department chair and associate professor of public health sciences at California Baptist University, has been appointed to a three-year term to serve on the California Health Education Curriculum Framework Committee.
LaChausse said the committee oversees the development of criteria, standards, policies and educational codes for health education in California public schools.
Tom Torlakson, secretary of education for the California Department of Education, appointed LaChausse to fill one of the 20 positions on the committee. LaChausse will head to Sacramento for his first meeting in May.
"I hope this will be an opportunity to make an impact on the quality of school health programs and policies as well as bring recognition to CBU at the state level," LaChausse said.
LaChausse has built a reputation for his research on drug prevention. He has extensive experience in alcohol, tobacco and other drug prevention and is a recognized expert in preventing high-risk health behaviors among youth. He previously received funds from the National Institute on Drug Abuse and the Centers for Disease Control and Prevention. Additionally, this past academic year, LaChausse was awarded a $500,000 grant to study drug prevention among youth in Riverside County.
"There are needs in the communities that surround CBU and throughout Riverside County. With the expertise of faculty at CBU and the passion of students to serve, we can help those in our own backyard," LaChausse said of the latest grant to study drug prevention.
CBU medical club hosts clinic to practice suturing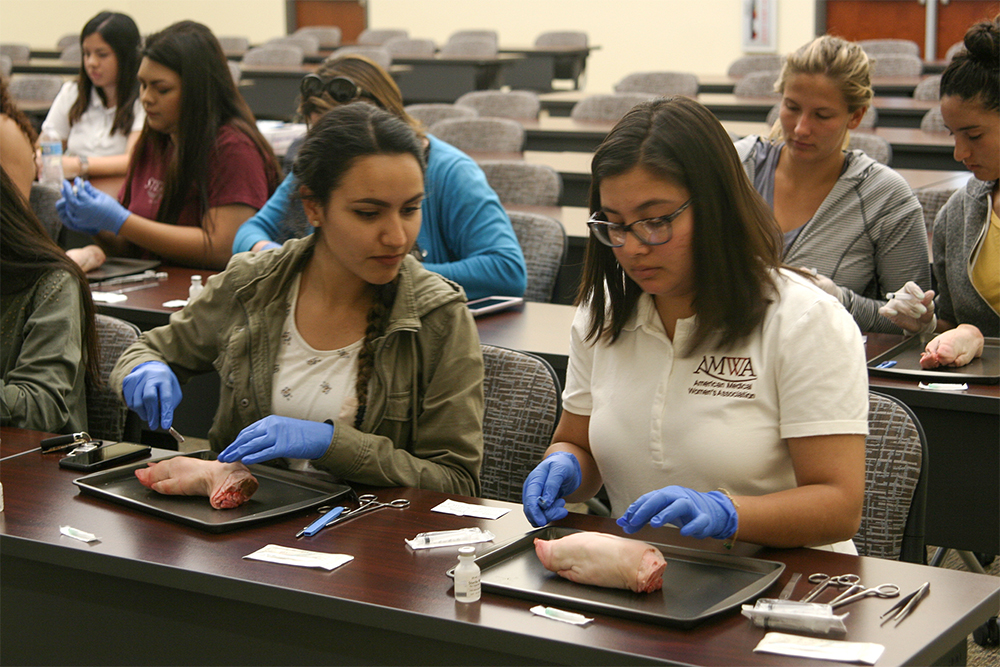 With gloves, scalpels and scissors in hand, along with a good sense of concentration, California Baptist University students practiced stitching together lacerations on their test subject—a pig's foot—at the Suture Clinic on March 28.
The American Medical Women's Association (AMWA) student chapter at CBU hosted the event at the College of Health Science. The clinic offered students from a wide range of majors an opportunity to practice the art of suturing (mending a laceration).
Maria Perez, AMWA CBU president, said the event was open to everyone at CBU.
"Events like these allow students to gain practical experience, but they also allow students to network with students pursuing different medical professions," said Perez, a health science senior. "At CBU, we learn about the importance of interdisciplinary work."
Dr. Allan Bedashi, director of physician assistant studies program at CBU, offered a lecture on the definitions of lacerations and the procedures that medical professionals perform to mend the wounds. He then led the students in a live demonstration on how to properly stitch a laceration. The students were then encouraged to try out the procedure on their own.
Olivia Weber, a health science senior, said she enjoyed the clinic.
"I learned how to suture," Weber said. "I love that the College of Health Science offers hands-on experiences like this one."
Family Updates
Nathan Hicks, housing services coordinator – Residence Life, was named employee of the month for April. The nomination form included the following statements: "On the morning of Feb. 1, 2017, there was a fire that started in a campus housing apartment located in The Village. Upon notification of the fire, Nathan immediately took action by making sure everyone was out of the apartment, personally using CBU fire extinguishers to knock down most of the fire before the fire department arrived, and continuing to assist the residents throughout the rest of the day as they recovered their personal items. Without Nathan's actions and quick response in this incident, the outcome would have been much worse. Nathan clearly went above and beyond in this situation."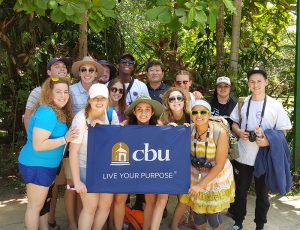 Dr. Bonjun Koo, professor of environmental science, led a group of 12 students on an ecotour to Costa Rica on March 18-26. Activities included field research involving assessing different conservation practices. They interviewed farmers, park managers, business owners and community stakeholders and visited sites such as a coffee plantation, the Institute of Biodiversity INBioparque; the wetlands of Caño Negro Wildlife Refuge; the coastal ecosystems at Manuel Antonio National Park; the Santa Elena Cloud Forest; and tree-planting at the Santa Elena Reserve. Koo also was recently recognized as a member of 2017-2018 Who's Who in America by the Marquis Who's Who Publication Board. He was approved as a subject of biographical record in the Who's Who in America inclusion in which is limited to individuals who possess professional integrity, demonstrate outstanding achievement in their respective fields and have made innumerable contributions to society as a whole.
Dr. Virgo Handojo, professor of behavioral sciences, spoke as a plenary speaker and led two workshops at the National Symposium for Research and Intervention to Family Therapy in Indonesia. He spoke on The Theory and Intervention behind Family Therapy and the workshops were Imago Therapy and Structural Family Therapy of Salvador Minuchin. The symposium was held in Bandung, Indonesia, on March 2-4.
Dr. Derek Updegraff, assistant professor of English and creative writing, published a short story titled Release from the Ceramic Doghouse in The Carolina Quarterly (University of North Carolina at Chapel Hill, volume 66.3). He also published a poem titled Midnight or So, at an Arco Station in Long Beach in THINK: A Journal of Poetry, Criticism, and Reviews (Western State Colorado University, volume 7.1).
Dr. Kyle Stewart, assistant professor of physics, contributed a chapter to the textbook Gas Accretion onto Galaxies (Springer), which was recently published as part of the Astrophysics and Space Science Library series. The chapter was titled Gas Accretion and Angular Momentum.
Dr. Darla Donaldson, assistant professor of finance and social entrepreneurship, presented the results from her dissertation to members of the International Mission Board–Edgar Aponte, vice president for Mobilization, and Chris Kennedy, development leader–on March 31, 2017. The title was Individuals' Donation Decisions and Social Enterprise:  A Quantitative Investigation.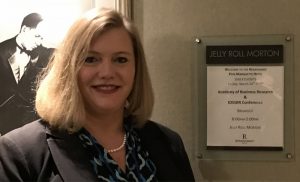 Victoria Brodie, visiting professor of public relations, presented a paper at the International Social Science and Behavioral Research Conference on March 24 held in New Orleans, Louisiana. The title of her paper was Agile Public Relations: Engaging Stakeholders in Times of Digital Disruption, addressing the impacts of technology on effective organizational outreach.
Dr. William Flores, associate professor of Spanish, presented a paper at the XIX Congreso Internacional de Literatura Hispánica held in Buenos Aires, Argentina, on March 8-10. The paper was titled Recent Developments in Ecocritical Theory: Possibilities and Limitations for Application in Latin American Literary Studies.
The CBU American Medical Women's Association chapter was awarded the Branch Event Award at the 102nd American Medical Women's Association conference in San Francisco on April 1. The chapter was awarded for its involvement in the community and participation in outreach programs, specifically, for the partnership with Health to Hope Mobile Clinic in the Inland Empire. The CBU AMWA club members volunteer their time and skills every fourth Saturday of the month at the Health to Hope Mobile Clinic at Inland Vineyard Church in Corona. The students help with scribing, translation, taking vitals, glucose testing and signing up attendees for mammograms and insurance.
Dr. Veola Vazquez, associate professor of psychology, spoke at the Biola University AfterDark Chapel service on April 5. She provided a message on Healing from Broken Family Relationships to more than 300 students.
Dr. Ronald L. Ellis, president, participated in the first Higher Education Summit of the United States and Mexico March 29–31, in Guadalajara, Mexico. Ellis was among 24 independent college and university presidents and five cabinet-level officers from U.S. institutions in the U.S. delegation at the summit. Participants explored partnerships and ways to provide enhanced exchange opportunities for students and faculty members in both countries; provide students with increased access to internships in Mexico and the United States; and allow faculty members and students to collaborate in shared research projects and development programs. The meeting was organized by the Council of Independent Colleges and Mexican Federation of Private Higher Education Institutions.
Dr. Dennis K. Bideshi, professor of biology, co-authored a paper in the International Journal of Biological Macromolecules (April 1, 2017). The title of the paper was Role of the C-terminal and chitin insertion domains on enzymatic activity of endochitinase ChiA74 of  Bacillus thuringiensis.
Dr. Mary Ann Pearson, associate professor of public relations, presented research on Millennials in the Workplace at the Capio (California Public Information Officials) Conference in San Diego on April 5. C.L. Lopez, adjunct professor of Arts and Sciences for Online and Professional Studies and president of Capio, spoke on crisis management and the San Bernardino County shooting incident.
Heather Ontiveros, assistant professor of physician assistant studies, Jennifer Zamora, assistant professor, and Mary Ann Stahovich, assistant professor of physician assistant studies, spoke at an event called "Inspire Her Mind" aimed at high school girls in the Riverside Unified School District on March 16. They discussed their journeys as women into medicine and how they use science, technology, engineering and math in medicine.
Dr. Hyun-Woo Park, professor of biology, and members of the Pre-Pharmacy Club had a campus tour at Loma Linda University School of Pharmacy on April 6 to learn about the school environment, the program and meet people working there.
Dr. Bob Namvar, professor of economics, made a presentation at the Annual Tokyo Business Research Conference on April 4. The title was How Does a Change in the Distribution of Income Impact the US Economy?
Dr. Robert Crosby, assistant professor of psychology for Online and Professional Studies, and Dr. Erin Smith, assistant professor of psychology, co-authored a paper that was published in a special issue of British Journal of Developmental Psychology (March 2017).  The theme of the issue was Religion, culture and development.  The title of the paper was Unpacking religious affiliation: Exploring associations between Christian children's religious cultural context, God image, and self-esteem across development.
Mollie Bohrer, financial aid compliance coordinator, and her husband, Tim, welcomed a son on Jan. 22.  Josiah Rivers Bohrer weighed 7 pounds, 14 ounces and measured 21 inches long.
Personnel Updates