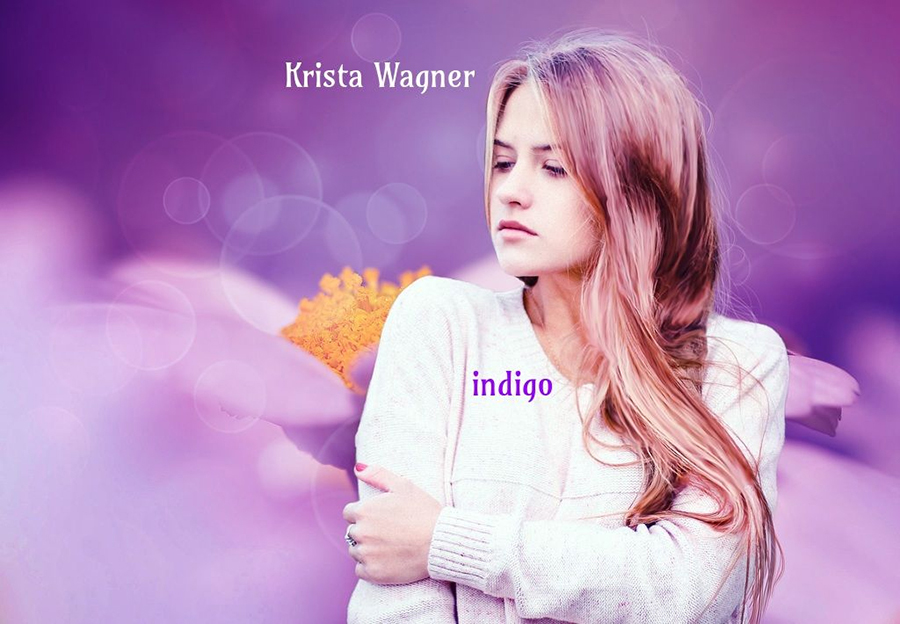 In this issue…
Current News
Wallace Theatre brings "Peter and the Starcatcher" to CBU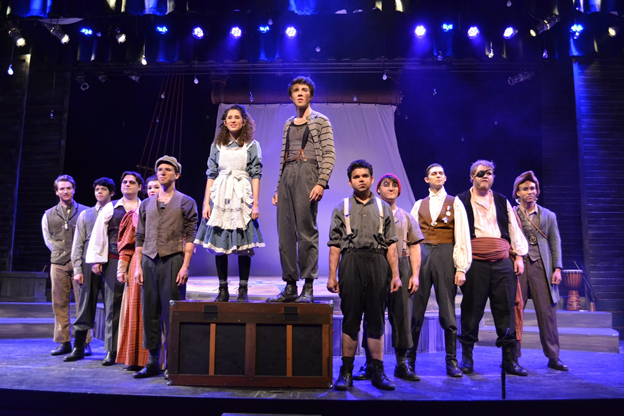 A theatrical story telling the origins of Peter Pan is coming to Wallace Theatre with "Peter and the Starcatcher."
Frank Mihelich, assistant professor of theatre and the play's director, described the show as a dramatic story of how a young orphan boy becomes Peter Pan. It sets the stage for most of the characters that will appear in "Peter Pan," Mihelich said.
Mihelich said the script requires the play's 12 actors to be on stage for a majority of the show.
"The 12 actors in this piece rarely leave the stage and therefore they must build a true ensemble and team. There is a tremendous amount of imagination and playfulness required of the actors," Mihelich said.
Maddison Rickard, junior theater major, plays Molly, a "Starcatcher-in-training."
"My character is practically myself when I was 13," Rickard said. "She's precocious and a know-it-all, but deep down she always makes decisions because she believes them to be right. She's so fiercely loyal and she's just such a fun sassy character to portray. She's a little firecracker."
"Peter and the Starcatcher"
When: Feb. 17 -18, Feb. 23 – 25, 2017, at 7:30 p.m.; Feb. 18 and 25, at 2 p.m.
Where: Wallace Theatre, California Baptist University, 8432 Magnolia Ave., Riverside, CA 92504
Tickets: General admission $15, CBU Faculty and Staff $12, CBU students $10
Tickets or questions? Call the theatre box office at 951-343-4319 or email: mhyde@calbaptist.edu.
Young, aspiring mathematicians compete at CBU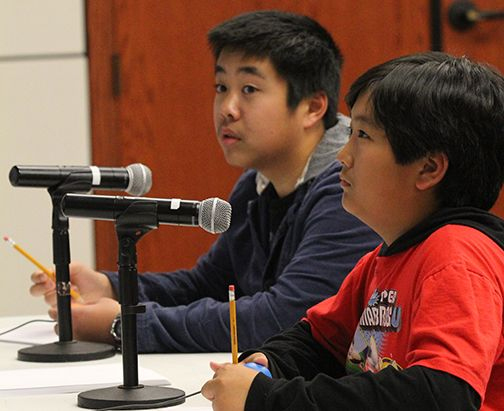 California Baptist University hosted students from 48 middle schools from Riverside and San Bernardino counties for a regional MATHCOUNTS competition, on Feb 11.
MATHCOUNTS is a national organization that holds competitions for students in grades 6–8. Students can compete as individuals or on teams to solve various math problems in a series of timed rounds. More than 110 students participated in the event.
CBU students from the Gordon and Jill Bourns College of Engineering assisted in the event with registration, proctoring and grading. The College of Engineering has hosted the competition since 2009.
Dr. Ziliang Zhou, professor and chair of the mechanical engineering at CBU, said helping with MATHCOUNTS provides younger students with an invaluable opportunity for success in science, technology, engineering and math (STEM) education.
Top finishers at the CBU event in the individual and team categories will move on to compete at the state competition. Additionally, CBU's College of Engineering awards $10,000 scholarships ($2,500 per year) to top performers if they enroll in the CBU engineering program as a full-time student in the future.
Women's swimming and diving team win 4th RMAC title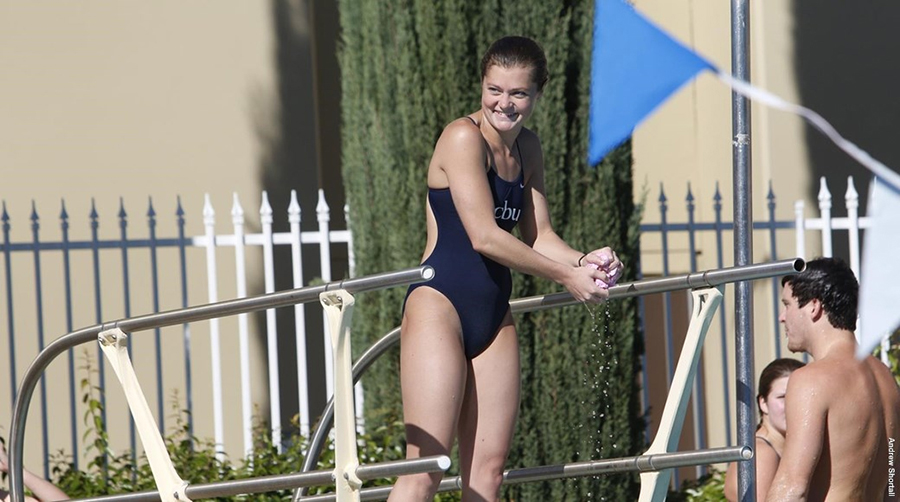 The Lancer women's swimming and diving team earned its fourth consecutive Rocky Mountain Athletic Conference Championships in Grand Junction, Colorado, on Feb. 11. The team finished with 1,067 points, 271 more than the next team.
Rick Rowland, swim and dive head coach, was voted the RMAC Coach of the Year, after the meet, while Breanne Schlenger secured conference Diver of the Meet honors after she swept both boards with a win on the 3-meter.
Read full event recap here.
Job fair promotes summer ministry opportunities for students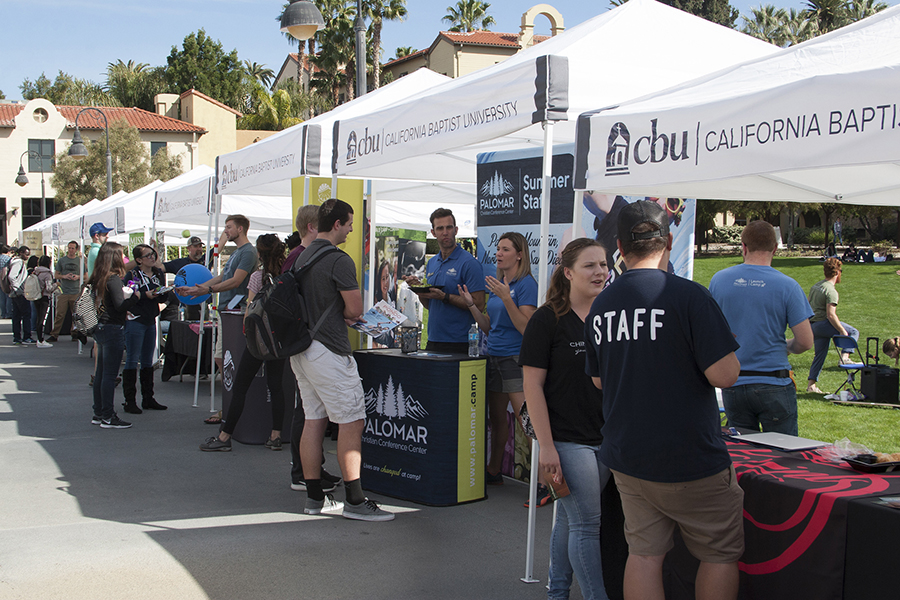 More than 30 camps, conference centers and ministry groups participated in the Summer Ministry and Job Fair on Feb. 9 at California Baptist University. Organized by the Career Center, the event offered students internships and summer ministry opportunities.
Natalie Young, a visual arts junior, took advantage of the event to learn about several summer camp ministries. Young said some of these camps offer "the full package" during the summer, such as room and board, pay and other benefits.
Several ministries returned to participate in the Summer Ministry and Job Fair due to past success with recruiting students, said Megan Turner, administrative assistant in the Career Center, who organized the fair. Additionally, the fair offers students an opportunity to develop their skill set, Turner said.
"The Summer Ministry and Job Fair is a perfect event for students to explore leadership, ministry and work opportunities over the summer," Turner said. "The skills that these students will learn from summer jobs are skills that can be transferred to future workplace opportunities."
The Career Center has two more fairs planned this semester. On Feb 22, there will be a Business, Engineering and Communications Studies Fair, which is the most attended job fair on campus. Additionally, a Teacher Career Fair is scheduled on March 9 and a Nursing Career Fair on April 7.
CBU professor invites readers to explore issues such as bullying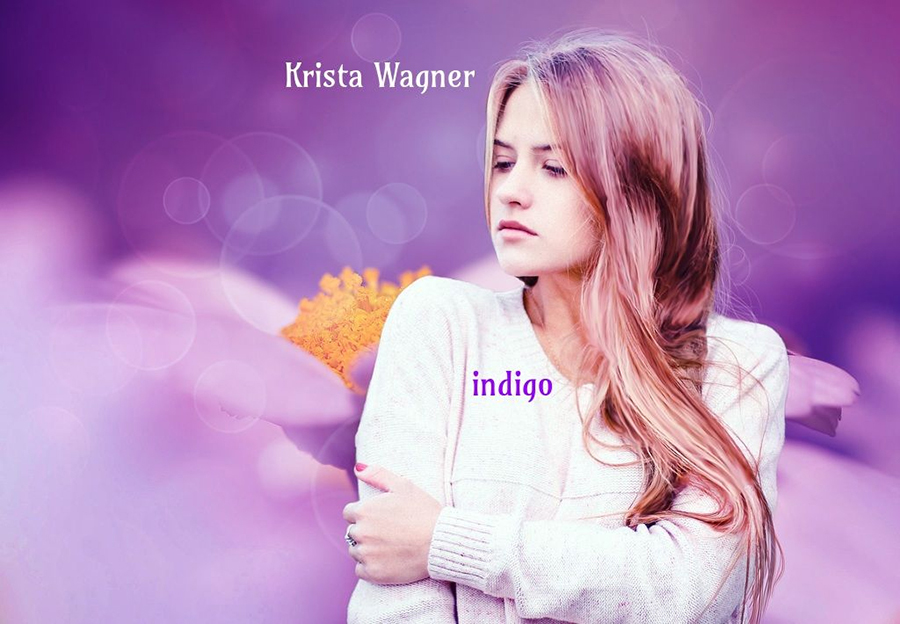 Krista Wagner, an adjunct professor of English at California Baptist University, takes a novel approach to addressing significant social issues. Literally.
Wagner, a creative fiction writer with an imagination guided by a Christian worldview, creates worlds and characters to press into a range of topics. One of her recent publications, "indigo" delves into a high school student who faces bullying, peer pressure, sin, guilt and depression.
Indigo is a high school senior who falls for a "bad boy" and makes choices that she comes to regret. Those decisions result in Indigo having her life being scrutinized by cruel peers.
Wagner has published four novels. Her first, "Intent," was published in 2014. She has addressed themes such as the loss of parents, wrestling with one's faith and trust issues.
In her research for "indigo," Wagner was intrigued to find minimal fictional material at bookstores on the topic of bullying. It is a topic that is often on the news and is frequently mentioned on social media forums, but the dialogue is quick and short, she said.
"[As a reader] you're disconnected when you're talking about snippets from the news," Wagner said. "In a novel you're immersed in that world … you're able to slow down and really concentrate on that idea and really explore it."
Bullying is painful for those people who face it, but they find it difficult to talk about, Wagner said.
"I like being able to help people through a fictional world," Wagner said. "I'm writing about relatable things while still entertaining."
Wagner hopes that her readers will be able to find a way to overcome the pain of the past, let go of the guilt and accept forgiveness.
"They will realize their worth in God by recognizing that it doesn't come from man," Wagner said.
Seminar offers perspective to employers, future employees
"When [employees] say a 'great place to work,' it doesn't mean having your HR team put in a lot of training programs and a lot of perks. It means mentoring and coaching," Dr. Gaynell Vanderslice, organizational change management specialist at Esri, told a California Baptist University audience.
Vanderslice spoke as part of the Leadership Seminar Series for the Bonnie G. Metcalf School of Education on Feb. 6. Vanderslice travels the country addressing conference audiences on topics focused around change management.
"Employers must provide development opportunities and also provide leadership training at every level," Vanderslice said.
Hiring employees who think like an entrepreneur is the key to successful work culture, Vanderslice said.
"When you bring people into your organization think entrepreneur. You want them to be creative, you want them to have a vision and then you want them to take that vision and align it with your vision," Vanderslice said.
Vanderslice also offered advice for students who will soon be seeking employment.
"There is a huge gap between the experience and the soft skills that you need, those professional skills that you will need outside of your education." Vanderslice said.
Students should be proactive about developing those soft skills such as communication, she said.
"You have to take it upon yourself and ask where can I get those skills?" Vanderslice asked. "Volunteer within your own profession and outside your profession. Communications is communications no matter what field you're in, so a lot of your soft skills you can glean in any field."
Family Updates
Dr. Joe Putulowski, visiting professor of business and marketing, and Dr. Robert Crosby, assistant professor of psychology, both for Online and Professional Studies, presented a paper at the 2017 International Conference on Education in Lahaina, Hawaii. Their paper, Building Strong Faculty-Student Relationships: A Path to Lower Attrition Rates at Online Universities, received the Best Presentation Award through a peer-review process.
Dr. Trevor Gillum, associate professor of kinesiology, along with graduate students Zachary McKenna and Micaela Castillo and undergraduate students Alex Jordan-Patterson and Caitlin Bohnert co-authored an article in the Journal of Sports Sciences. The title of the article was Exercise does not increase salivary lymphocytes, monocytes, or granulocytes, but does increase salivary lysozyme.
Dr. Lesley Mayne, assistant professor in the department of allied health, presented at the California Speech Language Hearing Association District 7 conference in Covina, California, on Jan. 28. The presentation was titled, What to Do on Monday Morning? Articulation A-Z: Articulation Tool Kit, A Course Designed for SLPAs and Students.
Dr. Yeesock Kim, associate professor of construction management and civil engineering, and Dr. Jong-Wha Bai, associate professor of civil engineering, co-authored a book chapter in Computational Methods in Earthquake Engineering (January 2017). The chapter was titled Seismic Fragility Analysis of Faulty Smart Structures.
For the second year in a row, Lancer wrestler Nolan Kistler was named the Rocky Mountain Athletic Conference (RMAC) Summit Award winner. Kistler, a junior, earned the honor for having the highest grade-point average of any wrestler competing at the RMAC Championships.
Caron Rand, adjunct professor of art, was invited to display three pieces from her series of "bee" art at the BackStreet Art District's Art Walk in Caughlan Art Lab on Feb 1, in Palm Springs. The series looks at the global demise of bees.
Dr. Fred Pontius, professor of civil and environmental engineering, served as a science fair judge at the St. Catherine of Alexandria Science Fair in Riverside on Jan. 5.
Dr. Thomas Frederick, associate professor of psychology, Dr. Susan Purrington, assistant professor of psychology, and Scott Dunbar, assistant professor for human resource management, all for Online and Professional Studies, published an article in Mental Health, Religion & Culture. The title was Differentiation of self, religious coping, and subjective well-being.
Jenelle Vine, regional manager – external relations for Online and Professional Studies, was named Ambassador of the Month in December by the Rancho Cucamonga Chamber of Commerce. Ambassadors volunteer their time to help with Rancho Cucamonga Chamber events.
Rich Simpson, registrar for Online and Professional Studies, presented at the Blackboard Analytics Symposium held Feb. 1-2 in Austin, Texas. The title of his presentation was Using Analytics to Track Non-Attending Students.
Dr. Glenn Pickett, associate professor of music, was honored in December by the mayor of Corona and the City Council for composing the Circle City Suite. The Corona Symphony Orchestra commissioned Pickett to compose a five-movement suite, which the orchestra debuted in October.
Dr. Heather Hamilton-Stilwell, assistant professor of journalism, and Victoria Brodie, visiting professor of public relations, made presentations at the Impact Conference on Feb. 4 held at Azusa Pacific University. Hamilton-Stilwell's presentation was titled Breaking boundaries of marginalization: Stories of self-worth, hope, and love. Brodie's presentation was titled Public relations: Communicating effectively in times of digital disruption. Also, Randy Plavajka, a journalism and new media student, presented a paper titled Is there a difference between truth and honesty? A critical look at the importance of fact-checking in modern political communication.
Dr. Julie Browning, associate professor of accounting for Online and Professional Studies, gave a presentation at the Hawaii International Conference on Education in Honolulu, Hawaii, on Jan. 3-6. The title of the presentation was Lions and Tigers and Rubrics, Oh My! Lessons Learned in Taming the Assessment Bear.
Dr. Dominick Sturz, associate professor of public health for Online and Professional Studies, collaborated with the Southern California Public Health Association in developing and hosting the first of a quarterly Public Health Webinar Series: Talking Public Health. The purpose of the series is to improve the field of public health through education, promotion and advocacy.
Dr. Kenneth Minesinger, associate professor of law for Online and Professional Studies, wrote the introduction and served as reviewer and final approver for Issue 4, 2016, of the Business Law News, the official publication of the State Bar of California's Business Law Section.
Dr. Torria Davis, instructional designer, and Dr. Monica O'Rourke, visiting professor of kinesiology, both for Online and Professional Studies, presented for Christian Society for Kinesiology and Leisure Studies, a webinar series hosted by OPS. The presentation was titled Pedagogical approach to technology and kinesiology in university instruction. Joe Cameron, online learning systems administrator, was presider and assisted with the technology during the webinar.
A newly released video documents CBU's Cheer team's fourth straight Division II championship. The team will compete for its fifth championship in April.
Nine CBU employees participated as group in a SoCal Spartan Sprint Race on Jan. 28. The team was made up of Josh Morey, director of Financial Aid; Andy Musser, financial aid assistant director; Joel Brown, financial aid special programs coordinator; David Little, graduate admissions counselor/recuiter; Melissa Beals, financial aid counselor; Sandy Frazer, NCAA financial aid coordinator; Daley Roche, financial aid counselor; Melissa Dick, financial aid counselor; Shane Paulson, financial aid counselor; and his wife, Amber Paulson. The race consisted of 5 miles and 24 obstacles, such as running in mud, carrying buckets of gravel and climbing ropes.
Laura Linos, gifts administrator for University Advancement, and her husband, Alex, welcomed a daughter on Jan. 13. Katelyn Addison Linos weighed 6 pounds and measured 20.5 inches long.
Personnel Updates