In this issue…
Current News
CBU kicks off new student orientation for fall semester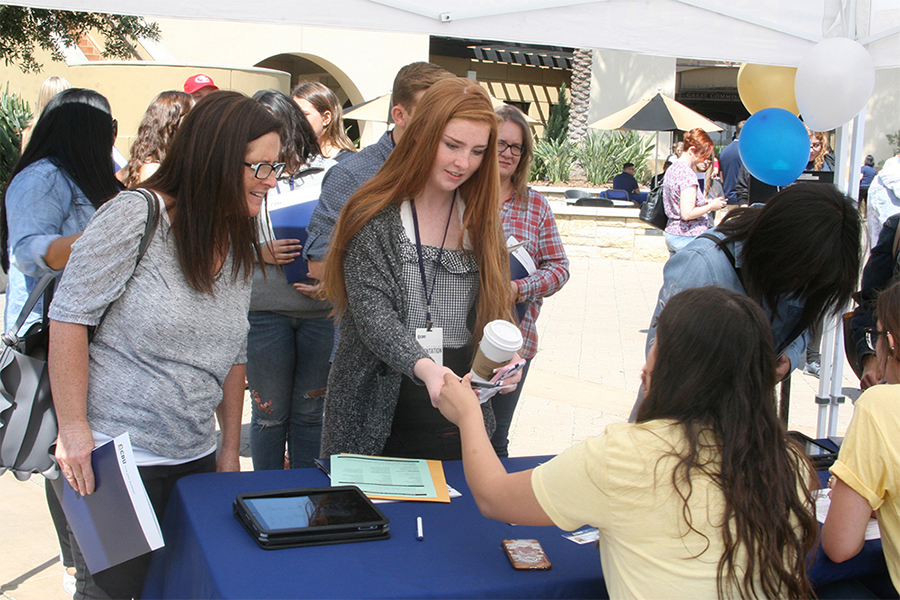 The 2018 fall semester at California Baptist University is still more than a 100 days away. However, new incoming freshmen were eagerly preparing for their upcoming college career on May 14 at New Student Orientation.
More than 280 students, along with their parents, registered to attend the first orientation for the fall semester at CBU.
The day offers benefits for both students and parents, said Jay Stovall, director of new student programs.
"Students benefit because they are able to start making steps towards the journey God has in place for them," Stovall said. "Parents benefit because we have specific programming that equips them to help their students' transition to college."
Dustin Lowe, director of undergraduate admissions, said orientation is an opportunity for students to take their first step in their college career.
"Students have the opportunity to receive clarity on all final steps to become a Lancer," Lowe said.
Throughout the day, students and parents received information about student services, financial aid and CBU's mission and purpose. The students also had the opportunity to register for classes and obtain their student ID cards.
Marissa Sannipoli, an incoming photography freshman, said she selected CBU for its Christian values. Her mom, Janet, is thankful for the college choice.
"We've been to campus several times now and every time I come, it just confirms her decision to come here," Janet Sannipoli said. "There's nowhere else like CBU."
Sarah Munoz, a Menifee, California, resident, will be a liberal arts freshman.
"When I first stepped on campus, I felt at home and that God put me here, Munoz said. "I'm excited to be independent and find my own path."
Her mom, Veronica Munoz, said she appreciated hearing during orientation that college is an adjustment for both the students and the parents.
"I feel more confident in her decision to come here," Veronica Munoz said. "It's time for their own journey, and [orientation] helps us as parents prepare for that journey with them."
Orientation will be offered six more times for first-time students and five for transfer students before the start of the fall semester.
CBU, City of Riverside donate laptops to Cuautla, Mexico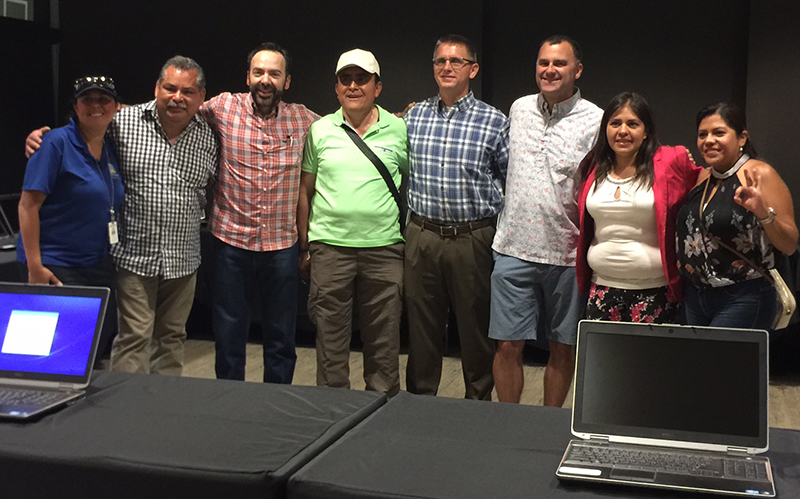 California Baptist University donated 25 laptop computers to the city of  Cuautla, Mexico, on May 6 to celebrate the 50th anniversary of its sister city relationship with Riverside. Cuautla is nearly 65 miles south of Mexico City and has a population of more than 160,000.
The mayor's office in Riverside, after discovering the main library in Cuautla needed computers, decided to donate multiple computers. The office also contacted CBU to see if they could add to the contribution.
Dr. Tran Hong, associate vice president of technology for Online and Professional Studies division at CBU, said that his team put the donated laptops through a reimaging process that included a clean installation of Microsoft Windows operating system.
Dr. Charles Sands, provost and vice president for academic affairs at CBU, with Riverside Mayor Rusty Bailey presented the gifts to representatives from Cuautla who were visiting Riverside for the anniversary.
Sands said the recipients were thankful for the laptops.
"CBU is committed to community and global engagement in a very intentional and purposeful way," Sands said. "One of the core four outcomes we strive to impart at CBU is to be 'Globally Minded' and thus participating in providing opportunities for others to gain access to information fits extremely well with our mission and purpose as an educational institution."
The Office of Student Success offers resources for students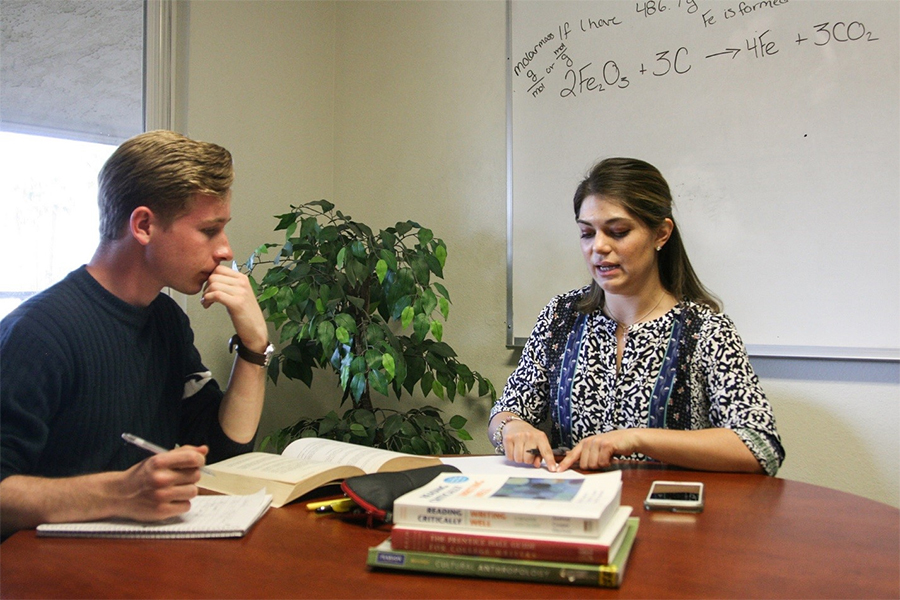 The Office of Student Success at California Baptist University is committed to helping students excel academically throughout their entire Lancer academic career.
"Our primary mission is to get students from the first day in the classroom all the way to commencement," said Dr. Jeff Barnes, dean of Student Success. "We provide the resources necessary to come alongside them and help make that happen."
The office offers services such as tutoring, exam proctoring, academic guidance in addition to coordinating study groups and workshops. Additionally, Student Success offers study rooms and computer workstations for students to use. Moreover, the office provides several disability services, such as academic coaching and notetaking services, for individuals who have documented learning, physical and psychiatric disabilities.
Michael Osadchuk, coordinator of the Office of Student Success, said the office is not only for students who need help but also for those who want to take their studies to the next level.
"We're always trying to help students be successful and to see success as more than not failing," Osadchuk said.
Student Success has more than 70 tutors available. All the tutors are students who have passed classes with a B+ or higher and most come with faculty recommendations. In the fall 2017 semester, more than 2,000 students used the tutoring services.
Students who need tutoring can make an appointment or go the tutoring center in the evening on a walk-in basis.
"All of the things that we're trying to do are centered on creating community for our students, specifically within academics," said Steve Neilsen, assistant dean of student success.
CBU dispatches first wave of global service project teams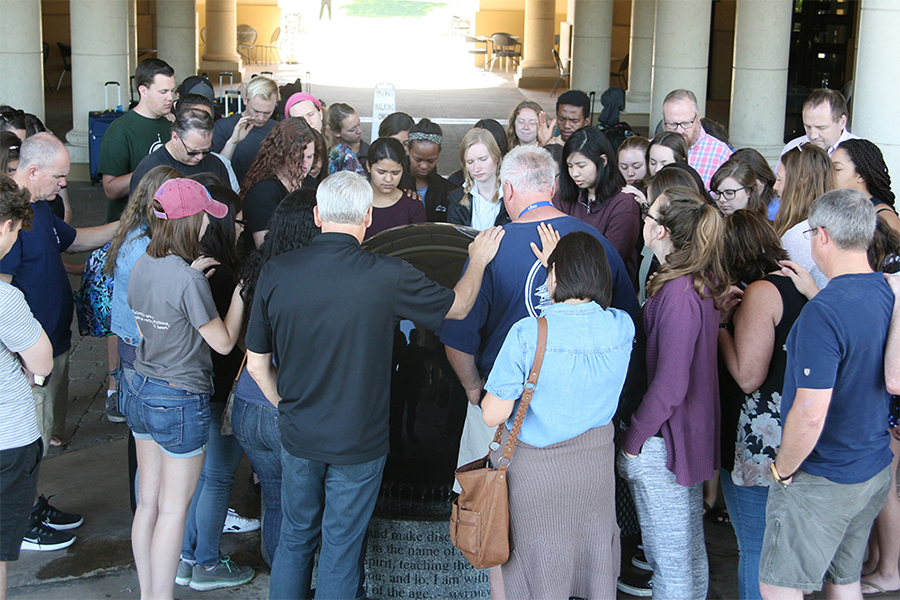 The Office of Mobilization at California Baptist University kicked off its 2018 summer of service with the traditional send-offs at the Kugel over the weekend.
Per CBU tradition, before their International Service Project (ISP) departure, teams gather to pray at the Kugel, a globe that rests on a base with the scripture from Matthew 28:19-20 etched in stone, symbolizing CBU's commitment to the Great Commission. This year, more than 300 volunteers, comprising 37 ISP teams, will serve in 24 different countries.
This summer marks the 23rd year of global outreach by students, staff and faculty members at CBU.
Teams typically serve in areas such as conducting sports camps, teaching English to university students, providing healthcare and engineering skilled service and assisting with various children's ministries. The purpose is to work with the indigenous church and its leaders to form connections with community members.
"Our goal is to see and recognize how God is already at work, making His name known amongst the nations, with hearts grateful to be a part of what He is doing," said Kris Smith, assistant director of Mobilization at CBU.
Teams during the first and second wave for ISP will depart from CBU throughout the month of May. Teams will go to Asia, Taiwan, Middle East, Spain, Uganda, United Kingdom, Canada, Dominican Republic and South America.
This year's theme is "Advance," inspired by Philippians 1:12-13.
"We used a reference from Philippians where the Apostle Paul relays the idea of advancing of the gospel," said Jeff Lewis, director of Mobilization at CBU. "We can focus on gospel development and the idea that as a follower of Christ, we're to be strategic participants in the advancement of the gospel.
Lewis said service helps students mature in their faith.
"Global service should be a part of a natural maturity process as a follower of Christ," Lewis told a group of friends and family members at the send-off event on May 5. "Thank you for supporting your students to go abroad and serve."
For Chloe Mazakas, a nursing junior, this will be her first ISP trip. Her team of nursing majors will serve in mobile clinics in Southeast Asia.
"I'm excited to serve and put my faith into action," Mazakas said. "I've been praying about going on an ISP trip and finally decided to go for it."
Brittney Perkins, a nursing senior, is serving on her second ISP team.
"I grew so much spiritually during my first ISP trip that I wanted to go again," Perkins said. "I also believe that this is what God is calling me to do and I want to be obedient."
CBU holds inaugural spring commencements at Events Center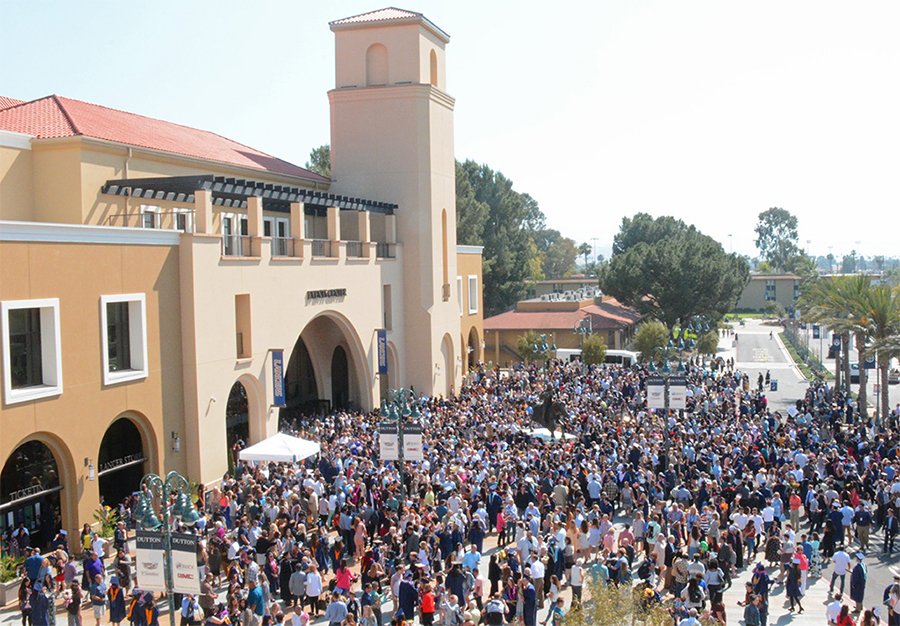 California Baptist University wrapped up three days of celebration this week at the first spring commencement ceremonies held at the CBU Events Center. Students received cheers and praise in front of thousands of friends and family members at four ceremonies May 2-4.
An estimated 13,000 individuals attended the spring commencement ceremonies at CBU.
In his commencement address, Dr. Ronald L. Ellis, CBU president, said the ceremonies in the Events Center were an example of the building blocks CBU has assembled over the years that benefit students.
"Creating and maintaining strong academic programs is another crucial building block at CBU. Not only does it enhance the reputation of CBU as a premiere comprehensive Christian university, it also drives enrollment that fuels the growth and development of the institution—all of which undergird and boost the value of the diplomas you graduates soon will be receiving," Ellis said.
Jenna Cray, a Bachelor of Science in Software Engineering graduate, recently landed a job as a software engineer with Amazon in Austin, Texas. Cray said CBU was instrumental in her development as an engineer.
"Everything I know about software, I learned at CBU," Cray said. "I appreciate the instructors at the university. They were great and caring."
Naomi Villagran, a Bachelor of Science in Biology graduate, will be pursuing a medical degree. She said her time at CBU was beneficial.
"It's been a good journey. I've enjoyed getting involved with campus programs such as being a FOCUS (First year orientation and Christian university success) leader and going on an ISP (International Service projects) trip to Spain," Villagran said.  "I will miss the professors and the interactions I had with them."
David Zavala, a Bachelor of Arts in Film graduate, is excited about moving to Los Angeles to pursue a career in the film industry.
"My passion for film only grew at CBU," Zavala said. "I believe that the foundation that I've built at CBU has prepared me to be as ready as I can be."
Dr. Steve Davidson, chair of the CBU Board of Trustees, encouraged graduates on behalf of the board to use the Great Commission training they received at CBU to benefit others.
"My hope for each of you is that the return on that investment will be great through the blessings that you receive and as you bless others throughout your lives. May each of you continue to seek and to 'Live Your Purpose,'" Davidson said.
The Class of 2018 represents CBU's largest graduating class ever with 2,549 students eligible to participate in fall, spring and summer commencement ceremonies.
Distinguished Professor, Scholar and Staff of the Year honored
California Baptist University presented key awards to two faculty and a staff member during its annual faculty and staff awards banquet on May 3.
Each year, Board of Trustees for CBU selects the Distinguished Professor and Distinguished Scholar award recipients.
Dr. Jong-Wha Bai, associate professor of civil engineering and construction management, was named Distinguished Professor, a faculty member who has established a record of distinguished service to CBU.
Bai is chair of the Department of Civil Engineering and Construction Management and faculty advisor for American Society of Civil Engineers student club. He recently won the ASCE Outstanding faculty advisor award at the regional level—all of California—for his engagement and impactful leadership with the ASCE student chapter at CBU.
"His students are inspired by his excellence," Dr. Ronald L. Ellis, CBU president, said at the awards ceremony.
Dr. Erin Smith, assistant professor of psychology, was named Distinguished Scholar. She is being recognized for her research proposal titled "Considering the Great Commission: An Exploration of the Social-Cognitive Influences on Science Engagement among Christians."
Smith has written an instructional module for students in psychology on the development of scientific knowledge that affirms the importance of engaging multiple perspectives in science for advancing knowledge.
Smith expects that her research "will help us better pursue Christ's Commission in all corners of the world, even the corners filled with beakers, lab coats, and potential hostility to religious belief," she wrote in her application.
Beth Morabito, administrative secretary for school of nursing, was named Employee of the Year. CBU's Executive Council selects the Employee of the Year recipient from those staff members who have been named employees of the month during the academic year.
Morabito was recognized for her faithful service as administrative secretary and as key point person with the Nursing Education Consultant at the California Board of Registered Nursing. She also has participated in CBU's International Service Projects.
"Beth exemplifies the Lancers' Spirit as well as the CBU values of excellence, teamwork and customer service," Ellis said.
Additionally, 137 employees received service awards for combined service of 1,345 years to CBU. The longest-serving faculty member, Dr. Alan Fosset, professor of chemistry, was recognized for 30 years of service.
Chem-E-Car places third at regional event, advances to nationals
Students at California Baptist University, along with their "VW Bus," earned a third-place finish at the Chem-E-Car competition held April 28 at the American Institute of Chemical Engineers (AIChE) Western Regional Conference. The team earned a spot at the national competition held in October.
An additional CBU student team earned a 5th place finish at the event.  The CBU teams competed against 13 other cars.
The Chem-E-Car competition challenges students to build shoebox-sized vehicles that are self-powered and can stop by a chemical reaction. Additionally, the car must travel a specified distance within two minutes, typically 15 to 30 meters, while carrying an assigned amount of water. The car that ends up closest to the designated finish line wins the competition.
Chemical engineering students at CBU, who are part of the student chapter of American Institute of Chemical Engineers (AIChE), built and designed the cars. The third place winner featured students: James Suzuki, Sarah Hrovat, Luis Rodriguez, Kristine Sellona and Edward Mikenas. The team designed the exterior as a tribute to the Volkswagen Classic bus.
The body of the car was constructed with carbon fibers, which provided strength while remaining lightweight, said Dr. Sarah Zhao, assistant professor of chemical engineering and the AIChE club advisor.
Zhao said that the students powered the car by a customized lead-acid rechargeable battery.
"Students demonstrated that they grasped the concept of electrochemical reactions within the chemical engineering domain," Zhao said.
Zhao said she was proud of the students' collaborative work.
"Our students performed very well in the competition. They have showcased knowledge across engineering span in their design, and demonstrated their abilities to precisely control chemical reactions," Zhao said.
Family Updates
Mary Ann Stahovich, assistant professor of physician assistant studies, spoke at the Riverside Community Diabetes Collaborative meeting in Riverside on April 16. The title of her presentation was Got Insulin? It's Ok.
Dr. Sandra Romo, assistant professor of communication for Online and Professional Studies, co-wrote an article published in the International Journal of Education and Social Science (Vol. 5 No. 3). The article was titled Standardizing Higher Education Curriculum for Effective Learning in Online and Face-to-face Courses: A Critical Analysis and Introduction to Master Course Shell Models.
Julie Jones, assistant director of Academic Advising, and her husband, Jonathan Jones, adjunct professor for political science, presented at the Rebirth Homes' Human Trafficking 101 Workshop in Riverside on April 21. Her presentation included an overview of human trafficking and its impact on the community. His was on the Biblical perspective of human trafficking and the depravity of mankind.
Dr. Cammy Purper, associate professor of education, and Dr. Greg Bowden, associate professor of education, both for Online and Professional Studies, presented at the annual WASC (Western Association of Schools and Colleges) Academic Resource Conference in Burlingame, California, on April 26. They presented results from their research Metacognitive Journaling in the Online Classroom.
Dr. Michelle Nielsen Hernandez, associate professor of mathematics, co-authored an article that was published in the Potential Analysis Journal.  The article is titled Stopping Time Convergence for Processes Associated with Dirichlet Forms.
Dr. Dominick Sturz, associate professor of public health for Online and Professional Studies, was appointed the Binational Education Advisory Board by the Consul of Mexico in San Bernardino. The board provides an outreach that entails participation of educational institutions and organizations that strive to serve the diverse communities of Riverside and San Bernardino Counties. The board focuses on addressing, developing and sharing best practices and resources that support the educational attainment of local students and quality of life for all.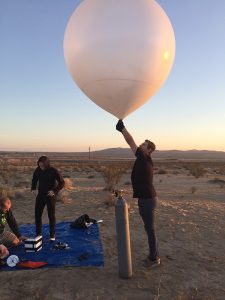 Dr. Leslie Wickman, professor of aerospace, industrial and mechanical engineering, and members of Students for Exploration and Development of Space (SEDS) club designed, built and tested a high altitude balloon system. Wickman, and CBU students Zach Benstead, Austin Courtney and Robert King launched the balloon in the desert near Helendale, California, on May 4. They were able to recover the payload very close to their predicted location.
Dr. Robert LaChausse, associate professor of public health sciences, wrote an op-ed published in the Highland News on May 2. The article about the program aimed at spreading awareness of the dangers of driving under the influence of drugs and alcohol was titled Every 15 Minutes programs don't work.
Dr. Lily Lee, adjunct professor of kinesiology for Online and Professional Studies, successfully defended her dissertation at Loma Linda University School of Public Health. The title was Employer/Staff and Community Health Worker Perceptions on Organizational Readiness and Intention For Health Care Integration.
Dr. Melissa Wigginton, associate professor of health science, and students from the Public Health Club collected pajamas, blankets, stuffed animals, coloring books, crayons, pens/pencils and hygiene products in April. They packed 30 backpacks to be delivered to a local agency to be distributed to children who are entering into foster care.
Dr. Matthew Rickard, professor of bioengineering, and Dr. Creed Jones, professor of computing, software and data sciences, presented a paper at the ARVO Imaging in the Eye Conference in Honolulu on April 28.  The title was Scleral strain measurements near the limbus using in vivo imaging. CBU student authors on the paper were: Naim Lazkani, Laura Macy, Joshua Park, Jonathan Key, Chardythe Gipson-Bean, Jacob Gentry and Marleigh Saenz.
Emily Anderson, an actuarial science senior, passed the Probability actuarial exam (Exam P), which is administered by the Society of Actuaries, on May 8.  The exam tests knowledge of the fundamental probability tools for quantitatively assessing risk. Anderson is the first reported actuarial science student to pass an exam.

Alpha Tau Sigma, CBU's chapter of Sigma Tau Delta, an international English honor society, inducted 19 new members on April 17: Sydney Aguas, Nia Attanasio, Brian Chidueme, Diana Corona, Jessica Devine, Madison Haugland, Emily Key, Riley Nevarez, Aaron Siemens, Peter Wilkinson, Jr., Alejandra Andrade, LaVees Best, Ethan Cook, Sarah Dane, Sonia Luiz, Alison Sales, Tracie Shaw, Sophia Wayne and Brooke Young. Also, Sarah Rodriguez, Alpha Tau Sigma president, was presented with the English department's annual A.J. Staples Award.
Dr. Chris Morgan, dean of the School of Christian Ministries, and Dr. Anthony Chute, professor of church history, contributed an article for the CSB (Christian Standard Bible) Worldview Study Bible (Holman Bible Publishers, May 15). Morgan wrote The Bible and Intellectual Pursuit, and Chute wrote Fall and Redemption.
Dr. Erika Travis, associate professor of modern languages and literature and behavioral sciences, facilitated a round table discussion at the Conference on Christianity and Literature's 2018 regional conference in Newberg, Oregon, on April 13-15. The discussion was titled Wheat and Chaff? Special Topics, Trendy Texts, and the Fate of Traditional Literature Class.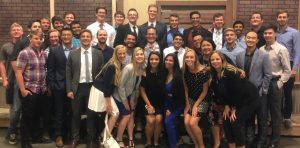 CBU's American Society of Civil Engineers (ASCE) student chapter participated in the Pacific SouthWest Conference in Tempe, Arizona, on April 11-14. Forty CBU students competed against 17 other schools in 18 events including steel bridge competition, concrete canoe, and numerous sports activities. CBU teams placed first in Kan Jam (a Frisbee game), Obstacles, and Mystery event; second in the Impromptu and Tug of War; and fifth in Surveying competition.
Dr. James J. Lu, professor of English, presented a paper at the 2018 Western Regional Conference on Christianity and Literature in Newberg, Oregon, on April 13-15. It was titled Virginia Woolf's "Between the Acts": A Trauma-Theory Case Study.
Dr. Amanie Abdelmessih, professor of aerospace, industrial and mechanical engineering, served as a panelist at the SWE (Society of Women Engineers) Professional Development Conference in Anaheim on April 21. The title of the panel Soaring to New Heights from the Foundation you have Built.
The CBU chapter of Alpha Kappa Delta (International Sociology Honor Society) is the 2017-2018 recipient of the Chapter of the Year award. The chapter will receive $500 for chapter development and service activities. Dr. Carol Minton-Ryan, professor of sociology, leads the chapter.
Dr. Michael Chute, professor of journalism, and his wife, Dr. Kathie Chute, adjunct professor of journalism, welcomed their third grandchild on April 7. Emma Grace Tillman weighed 6 pounds, 13 ounces. Emma's parents are Kristen and Jon Tillman.
Personnel Updates