In this issue…
Current News
CBU welcomes thousands to spring commencement ceremonies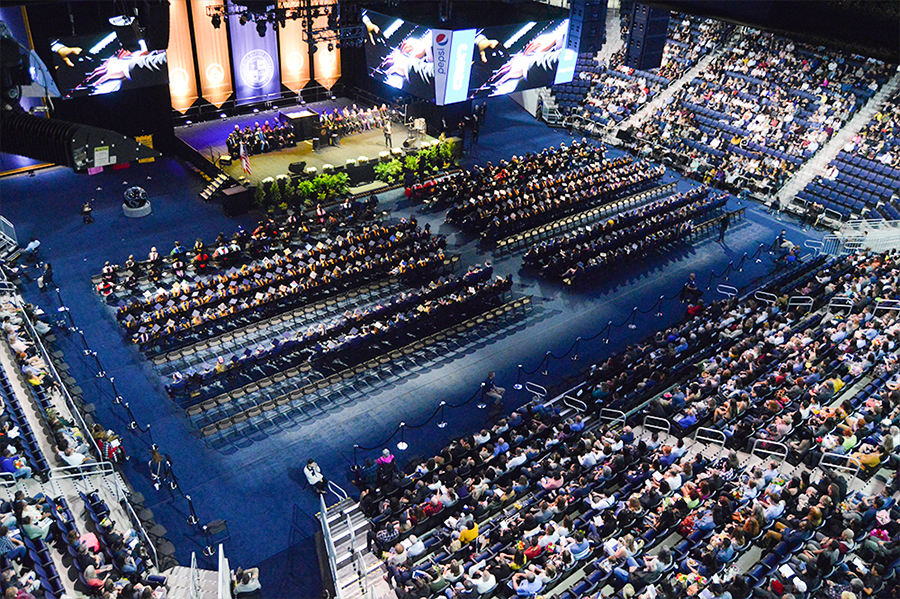 California Baptist University hosted four commencement ceremonies over two days that drew an estimated 12,000 individuals. Students received praise and encouragement in front of crowds of friends and family members on April 30 and May 1.
Combined applications for graduation for spring commencement ceremonies included seven candidates for doctoral degrees, 537 for master's degrees and 934 for undergraduate degrees for a total of 1,478 applicants.
Dr. Ronald L. Ellis, CBU president, said during the ceremonies that the accomplishments for the students have come with sacrifices.
"Each of these graduating students has arrived at this point because of a shared commitment to the challenging, yet rewarding endeavor of higher education. Each one has overcome obstacles to achieve this goal," Ellis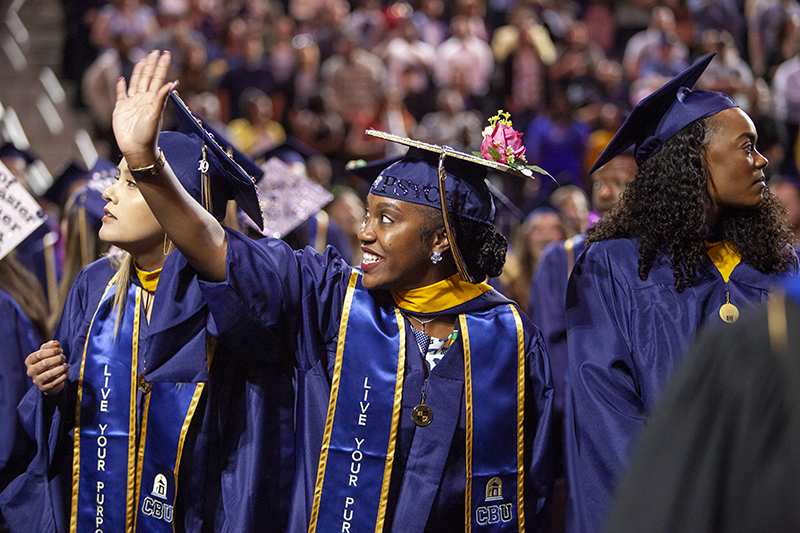 said. "Graduates, you have faced many difficulties and yet you persevered. We congratulate each one of you. The faculty and the entire university family join me in saying we are proud of you and we pray God's blessing upon you."
Ellis also took a moment to recognize a special guest in attendance at the 2 p.m. ceremony on April 30—Juanice Brister Williams, a member of the first graduating class at then California Baptist College. CBC opened in September 1950 and hosted its first commencement ceremonies on May 31, 1954, at the First Southern Baptist Church of El Monte, California. Ellis noted that Brister received her Bachelor of Arts in Music degree and went on to serve with her husband, Glenn, for 53 years in church music ministry.
"Juanice Brister Williams now resides in Tucson, Arizona. An item on her bucket list was to sit on stage in the CBU Events Center during commencement. Today, that dream is realized," Ellis said.
CBU recognized the efforts of several students that achieved excellence in their academic accomplishments.
Alexis Ohmar, an international student from Yogyakarta, Indonesia, received the Min Sung Kim International Student Award that is presented to an international student who has made outstanding contributions to the CBU community. Rebekah Bernal of Winchester, California, was the recipient of the 2019 Outstanding Senior Award. Bernal earned a Bachelor of Science in Biochemistry and Molecular Biology with a 4.0 GPA. Jose Macias, an early childhood studies student within the Division of Online and Professional Studies, earned the division's Student of the Year recognition. Macias is graduating with a 4.0 GPA.
Dr. Michael Nolen, chair of the CBU Board of Trustees, encouraged graduates on behalf of the board to use the Great Commission training they received at CBU to benefit others.
"Graduates, my hope is that for each of you the return on the investment will be great through the blessings that you experience, and as you bless others throughout your lives. May each of you continue to seek and to 'Live your Purpose,'" Nolen said.
Dr. Kevin Ezell, president of the North American Mission Board, served as the spring commencement speaker.
"Today is a day to celebrate and to be thankful," Ezell said. "Thankful for the professors that have poured into your lives and thankful for your parents who have made sacrifices along the way."
"God has a purpose for your life and many doors are going to open as a result of your training at CBU," Ezell said. "Life also has challenges and how you respond to that is going to determine how successful you are… our circumstances do not reveal our view of God but God can shape the way we view our circumstances."
Ezell encouraged the graduates to fulfill the Gospel's mandate to fulfill the Great Commission.
The Class of 2019 represents CBU's largest graduating class ever with 2,581 students eligible to participate in fall, spring and summer commencement ceremonies.
CBU architecture students display their creative works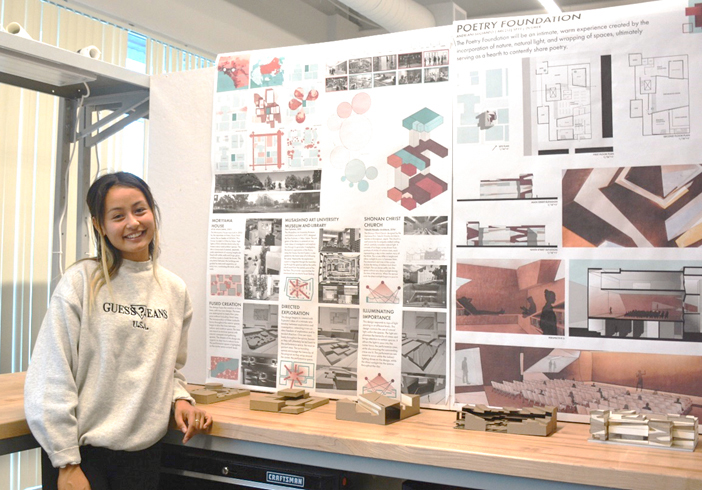 The College of Architecture, Visual Arts and Design at California Baptist University hosted its annual open house, displaying projects of more than 70 architecture students. The evening also featured an award ceremony that recognized excellence in the students' work.
Andriani Sugianto, an architecture junior, won the Faculty Award for Highest Performance Second Year for her site analysis diagram project she worked on in her Design Studio II course.
Sugianto said the diagram, of a fictitious poetry foundation in downtown Riverside, was a semester-long endeavor. Sugianto implemented several unique designs into her site plan including a café, a public collection space, a library and a performance area.
"I worked really hard and in the end it paid off," Sugianto said.
Keelan Kaiser, architecture program director, said the award ceremony is meant to recognize students for their academic performance and their academic improvement.
"Some students are going to get awards, but this is also a time of fellowship. Supporting each other and cheering each other on," Kaiser said. "Winning awards is part of academic education and architectural advancement. To be competitive and be recognized for their good work is an important part of their practice and developing one's practice of architecture."
Jacob Gonzalez, an architecture sophomore, also worked on the poetry foundation project. In his project, he focused on providing separate spaces within the building for both public and private audiences.
"I gained experience in studying the area and seeing how lighting worked in certain areas in the day and night, which was great because in future projects I can use more natural lighting rather than artificial," Gonzalez said.
William Hunnel, an architecture graduate candidate, was recognized at the awards ceremony for completing his degree.
"During my time at CBU, I learned a lot about design, life and how you interact with people," Hunnel said.
Second Annual CBU Architecture Awards:
University Program Award in Architecture
Ashley Palaiyan
Highest Academic Honors
Wesley Yngsdal
Daniel Keinert
Outstanding Leadership Award
Joshua Greene
Jack Gonzalez
Outstanding Academic and Service Award
Kaylan Cummins
Researcher Excellence Award
Jacob Slagil
Directors Award of Professional Promise
Diego Corona
Dean's Award for Leadership and Engagement
Alex Gordon
Faculty Award for Highest Academic Performance First Year
Keiren Wright
Faculty Award for Most Improved Performance First Year
Ariadne Zepeda
Kate Reyes
Liana Campa
Faculty Award for Highest Academic Performance Second Year
Adriani Sugianto
Faculty Award for Most Improved Performance Second Year
Aaron Gamez
James Brisco
Faculty Award for Highest Academic Performance Third Year
Abigayle Ashby
Faculty Award for Most Improved Performance Third Year
Jacob Arellano
Amy Espino
Faculty Award for Highest Academic Performance Fourth Year
Daniel Keinert
Faculty Award for Most Improved Performance Fourth Year
Paul Reyes
Faculty for Highest Academic Performance Fifth Year
Wesley Yngsdal
Faculty Award for Most Improved Performance Fifth Year
Ashley Palaiyan
Students Completing a Bachelor's Degree and Moving Directly into Practice:
William Hunnel
Christopher Peterson
Master's hooding ceremonies celebrate students' achievements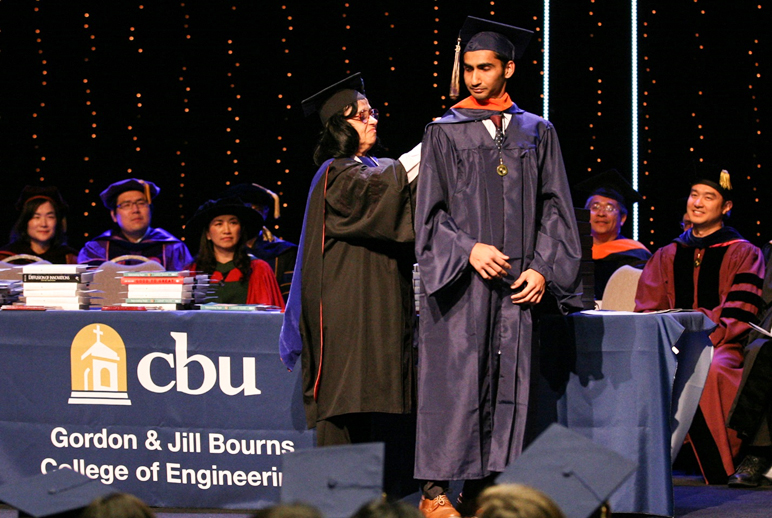 Hundreds of master's degree candidates at California Baptist University celebrated their academic achievements at department specific hooding ceremonies, leading up to commencement ceremonies April 30-May 1.
Nearly 540 master's degree candidates and seven doctoral candidates were eligible to participate in the spring commencements. At CBU, colleges and schools hold individual hooding ceremonies to recognize their candidates and also give students their distinctive colored hoods to wear at their commencement ceremony.
The College of Behavioral and Social Sciences had the largest group of master's candidates with 182. The Bonnie G. Metcalf School of Education had the second largest group with 108 candidates. Additionally, the Online and Professional Studies division had 95 master candidates and seven doctoral candidates for graduation throughout its various programs.
"I don't know what is in your future. But I know you're going out with a blessing, and if you receive it and act in obedience, you'll accomplish things you didn't even think were possible," Dr. Anthony Donaldson, dean of the Gordon and Jill Bourns College of Engineering, told the graduate candidates. "Hopefully in some way you've grown in your understanding of who this God is, so that you can go out and serve the one who created you."
Shailesh Uchale, who earned a Master of Science in Software Engineering, said that during his time at CBU, he learned about different cultures and his purpose in life.
"The people here at CBU supported me in my ups and downs," Uchale said. "I feel prepared to go onto my next phase of life."
Shubhada Katke, who also earned a Master of Science in Software Engineering, credited CBU faculty with helping reach her goal of earning a master's.
"The professors made sure I was on track and doing the right things. I think that's very important," Katke said. "When professors help increase students' skills, that's the biggest blessing for anybody. Getting skills adds a lot of dimension to life."
Four students selected to ring in commencement ceremonies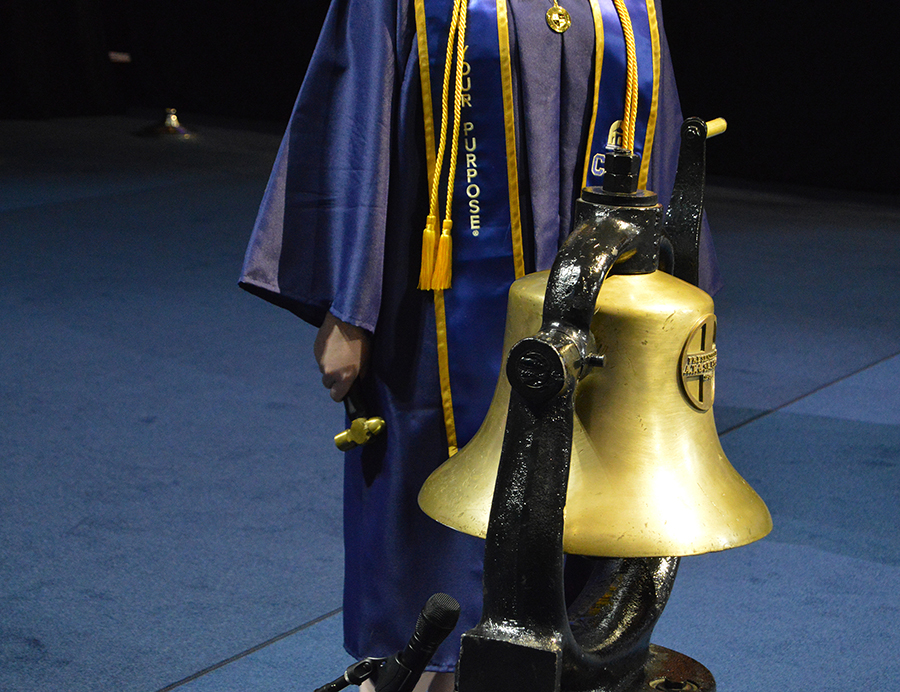 California Baptist University celebrated spring commencement from April 30–May 1 for nearly 1,500 students who qualified to participate in four ceremonies. Tradition called for a distinguished scholar to ring the bell prior to each ceremony.
Each toll of the bell represents one decade of the university's existence. The bell rang six times at each of the ceremonies to commemorate the six decades of academic excellence. CBU was established in 1950.
Michael Koval, a Bachelor of Science in Electrical and Computer Engineering candidate, rang the bell at the April 30, 9:30 a.m. ceremony, and Owen Brown, a Bachelor of Arts in Christian Studies candidate, was chosen for the April 30, 2 p.m. ceremony. Colin Sheahan, Bachelor of Science in Applied Statistical Analysis candidate, rang the bell at the May 1, 9:30 a.m. ceremony, and Miranda Ortiz, a Bachelor of Arts in Psychology and Business Administration candidate from the division of Online and professional Studies, did so at the May 1, 2 p.m. ceremony.
Sheahan, who has a current 4.0 GPA, said he was surprised to be selected as a bell ringer. He plans to enroll in a graduate program in economics.
"The humanities and philosophy courses I took as general education really helped me to understand how I, as a Christian, need to spend time contemplating my own beliefs so that I can be confident in the life I'm living and what I'm accomplishing for God," Sheahan said.
Ortiz, whose current GPA is 3.74, said professors helped her as she faced personal struggles during her studies. She is seeking a career as a neuropsychiatrist and a psychotherapist for children with special needs.
"CBU shaped me to find a way to integrate a spiritual perspective into any given situation," Ortiz said. "It shaped my values and thoughts of how I want to be when I pursue a future career."
Brown, a 4.0 student, said it was a tremendous honor to be selected as a bell ringer. He plans to attend seminary in the fall.
"My professors had a profound impact on my development as an individual, both through the lectures and the personal relationships I developed with them outside of class. My ability to dissect and interact with ideas has been greatly developed during my time at CBU," Brown said.
Koval, whose current GPA is 4.0, will work for Raytheon, a technology and innovation company. He said his time at CBU shaped him in many ways.
"It helped me to grow in my knowledge and skills as an engineer. It also helped me grow closer with Christ," Koval said. "God was very gracious to grant me success in many areas like my school work, my job as a tutor and my friendships."
Book looks at Christian model for psychotherapy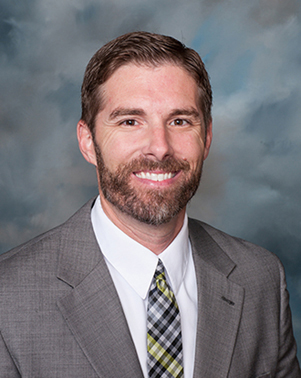 Dr. Joshua Knabb, director of the Doctor of Psychology program at California Baptist University, believes that the Christian tradition has a lot to offer in the realm of mental health treatment.
"In the last decade or so, I've been increasingly convinced that the Christian tradition, spanning the last two millennia, offers a wide variety of strategies for positive psychological change," Knabb said. "Although many Christian psychologists first turn to secular psychotherapy models, only to add on Christianity, post hoc, I believe God has called me to operationalize and empirically investigate distinctly Christian approaches for Christians experiencing psychological suffering."
Knabb along with Dr. Eric L. Johnson, professor of Christian psychology at Houston Baptist University; Dr. M. Todd Bates, dean for the School of Christian Thought at Houston Baptist University; and Dr. Timothy A. Sisemore, president of the Society for Psychology of Religion and Spirituality, co-authored the book "Christian Psychotherapy in Context: Theoretical and Empirical Explorations in Faith-Based Mental Health."
Knabb said the book promotes a Christian psychology rather than an integrationist approach to addressing a patient's Christian faith.
"Our book offers a distinctly Christian approach by starting with Christianity as the foundation, enhancing a biblical worldview with evidence-based elements of psychotherapy, regardless of the theoretical orientation of the psychotherapist," Knabb said. "When working with Christians with depression and anxiety, we argue that psychotherapists can best meet the unique needs of Christian clients by starting from this Christian framework."
Knabb served as the first author and primary editor for "Christian Psychotherapy in Context," in which he worked to develop the Christian psychotherapy model with its co-authors.
"We start with a Christian understanding of God's attributes and actions, reality, knowledge, humanity, values, and redemption and healing, then draw from the psychology literature to help psychotherapists working with Christian clients move through three stages of therapy—a supportive, relational stage; a learning and insight-oriented stage; and a behavioral action and change stage," Knabb said.
"I pray that God continues to use me to help Christians draw strength from their own faith tradition, employing the scientific method along the way to reveal what works in the therapy room," Knabb said.
Students enjoy traditional late-night break from finals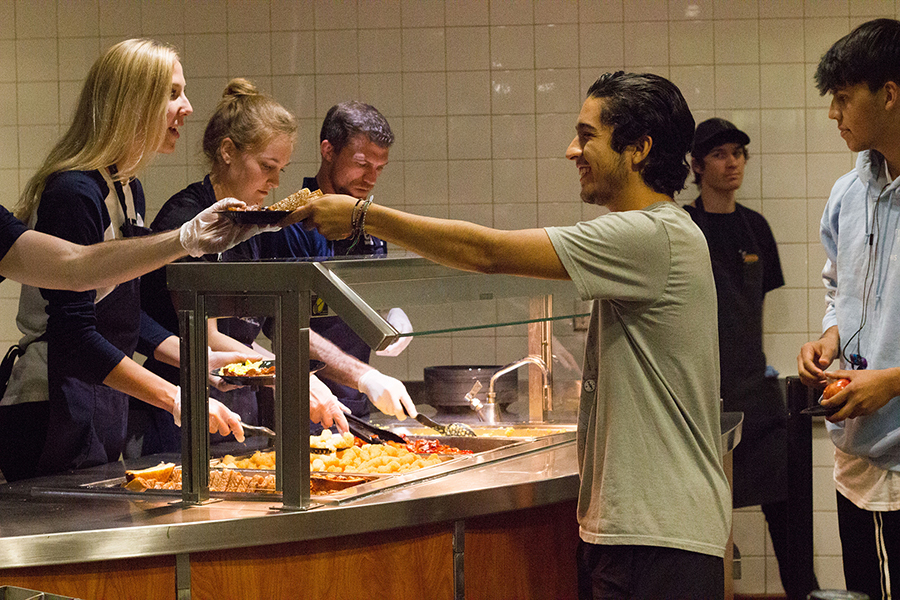 Hundreds of students took a break from final exam preparations to indulge in a late-night breakfast served by California Baptist University faculty and staff on April 23.
The meal, served from 9-11 p.m., is a CBU tradition that gives faculty and staff an opportunity to encourage and serve students during finals week. Students dined on eggs, French toast, bacon, Tater Tots and doughnuts at the Alumni Dining Commons.
Mekari Cogdell, a kinesiology senior, said she appreciated that the faculty members and staff served the students.
"The late-night breakfast means that I am almost done with my time at CBU. It's been a long couple of years and this is like a celebration of being almost done," Cogdell said.
Dr. Doreen Ferko, professor of special education, said she enjoyed serving the students.
"It is exciting. It is a good time of year and serving is always fun and gives us an opportunity to show students that we really care about them," Ferko said.
Ocean Lee, a software engineering senior, said it was a bittersweet moment to share a meal with friends whom he will miss seeing frequently at the Alumni Dining Commons.
"This place is known for good food and community," Lee said.
Engineering students display their robotic creations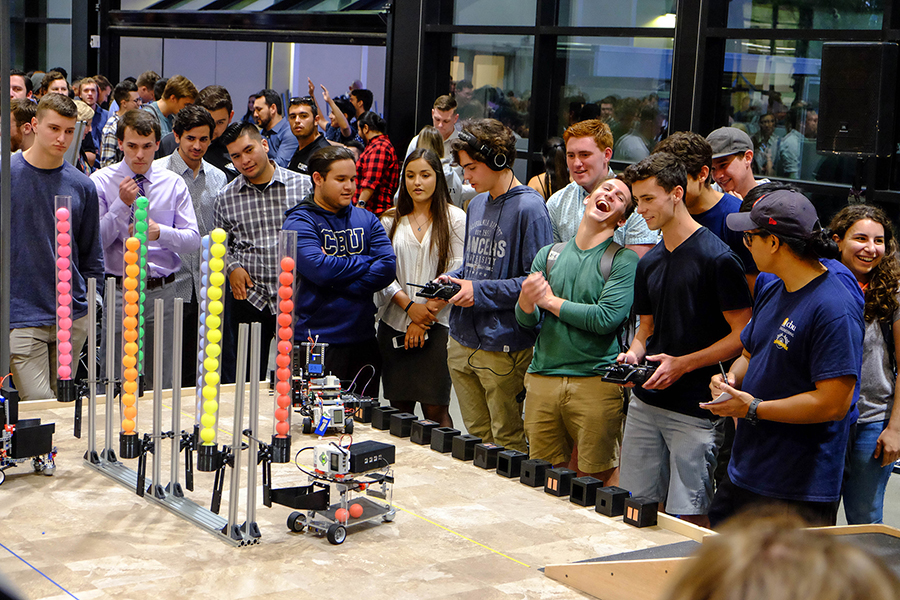 Tyler Lawton, a mechanical engineering freshman at California Baptist University, felt confident of his team's robot creation heading into the Design Showcase's Orb-O-Mania competition. His team worked throughout the semester to construct and program a robot that could collect small balls or orbs in an efficient manner.
"I thought we were going to win because we designed the fastest and most stable bot," Lawton said.
Lawton, along with team members that were present at the competition—Zachary Foster, Jonathan Gibson, Casey Harrison, Arya Singh, Josiah Salgado and Deepansh Samuel Lal, succeeded in their endeavors. The team won the annual competition hosted by the Gordon and Jill Bourns College of Engineering on April 17.
The event is a competition open for the first-year students within the College of Engineering. Teams were tasked with using Legos, laser-cut and 3D printed parts to create their robots.
Gibson, a civil engineering junior, said teamwork was an important factor in his team's success.
"You have to rely on your team as much as your own robot. In creating the robot, it helped me gain the knowledge and willingness to work with others," Gibson said.
The competition is meant to give students hands-on experience in designing and engineering, said Dr. John Butler, assistant professor of electrical and computer engineering.
"Since all the competitors are engineering students, it gets them designing and engineering things early in their academic careers. We teach them an integrative design process where they are continually tweaking things," Butler said.
Art exhibit features fine art seniors' expressive works
California Baptist University hosted an opening reception for the Senior Fine Art Exhibit at the Rose Garden Gallery on April 16.
The display features work by fine art seniors James Gooch, Miracleous Owens and Michaela VanSant. The show features a variety of art pieces ranging from sculpture, oil canvas paintings and comic illustrations. Fine art seniors at CBU are required to display their work in an exhibit before graduating.
Duncan Simcoe, professor of fine art, said the exhibit features art created by the students' own inspiration and not by a class assignment.
"Fine art means we are teaching students how to make a variety of objects whether they are sculptural, two dimensional or other kinds of mediums. And to be exhibiting artists, that is the end game," Simcoe said.
VanSant said she created her color paintings around the theme of Immanence.
"God is immanent throughout nature, this world and our lives," VanSant said. "While creating this work, I used colors and abstract imagery to convey my personal experiences in the mountains of Colorado, where I grew up. My work is inspired by, and references, specific places in the mountains that are the dearest to my heart."
"It is an exciting feeling and nerve-wracking to see my paintings be displayed. I feel very vulnerable because it is something that I spent a lot of time on and it is coming from my heart," VanSant said.
Family Updates
Dr. Steve Posegate, professor of music, presented at the California Music Education Association CASMEC (California All-State Music Education Conference) conference in Fresno on Feb. 15. The presentation was titled The Perils of a Paycheck: The Plusses and Minuses of Teaching before Completing a Credential.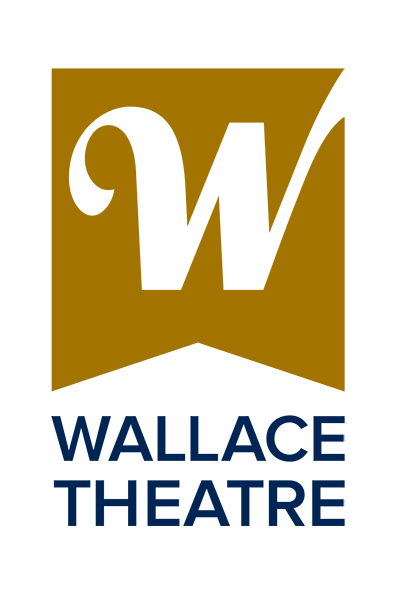 The CBU theatre program received 27 awards from the Inland Theatre League on April 14: Into the Woods—Daniel Beimford as Jack (acting category), Desmond Clark for Musical Director, Ethan Park as The Baker (acting), Julie Ann Oleson as The Witch (acting), Lee Lyons for Set Design, Lisa Lyons for Director, Machir Lakofka for Costume Design, Maddison Rickard as Little Red Riding Hood (acting), Samantha Shrool as Cinderella (acting); Lost in Yonkers—Alexis Safoyan as Bella (acting), Caleb J. Leal as Jay (acting), Frank Mihelich for Director, Garret Replogle for Set Design, Isaiah Torres as Arty (acting), Scott Rydelski as Louie (acting); The Beams are Creaking—Caleb J. Leal as Dietrich Bonhoeffer (acting), Frank Mihelich for Director, Garret Replogle for Set Design, Lee Lyons for Lighting Design, Lisa Lyons for Projection Design; Macbeth—Frank Mihelich as Macbeth (acting), Kim Eberhardt as Lady Macbeth (acting), Lee Lyons for Lighting Design, Michael Voyu as Macduff (acting), Patrick Brien for Director; The Tempest—Chris Coon as Caliban (acting), Garret Replogle for Director.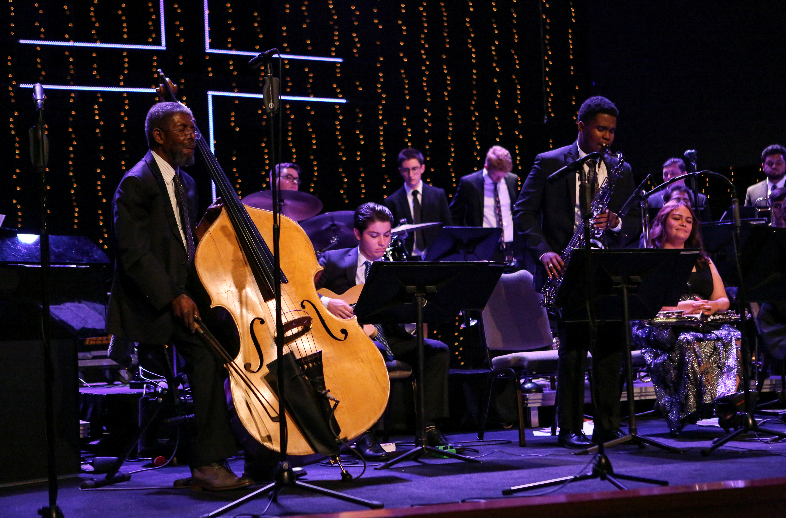 Marshall Hawkins, chair of the Idyllwild Arts High School Jazz Program, worked with the CBU jazz students in a master class setting, then performed as a guest artist at a CBU Jazz Ensemble concert on April 8. Hawkins, who plays the bass, worked with the Miles Davis Quintet, alto saxophonist Richie Cole, Roberta Flack and is founder of the Seahawk Modern Jazz Orchestra.
Kasaan M. Hammon, a liberal studies student, received the 2019 President's Award for Excellence in Writing. The title of her paper was paper Knowledge Proceeds from I Am: A Philosophical Journey. Joseph M. Arriaga, an English major, was named first runner-up for his submission, Young Adult Literature and Jung's Shadow. Second runner-up was Emily Anne Stewart, a philosophy major, for Grace Upon Grace: Aquinas' Theological Revitalization of Aristotelian Virtue Ethics.
Dr. Tae Sung, assistant professor of English, presented at the International Conference on Christianity and Literature at Harvard Divinity School on March 29-30. The paper was titled Conditions of Grace: The Impossibility of the Gift in Herman Melville.
Dr. Shawn Wilhite, assistant professor of Christian studies for Online and Professional Studies, served as editor and contributor to Apostolic Fathers Greek Reader series (Glossa House, 2019). Volumes 5 and 6 were recently published.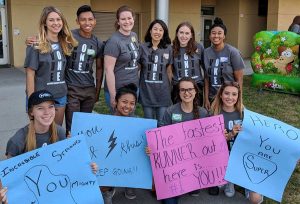 Dr. Namhee Kim, associate professor of communication sciences and disorders, and undergraduate students from the National Student Speech Language Hearing Association CBU Chapter volunteered at Inland Empire Autism Hero Walk on April 14. They worked children with autism at an arts and crafts booth, a face painting booth and bounce play structures.
Dr. Marc Weniger, associate professor business, and Dr. Tad Hove, assistant professor of management, presented at the NASBITE International Business Conference in Savannah, Georgia, on April 10. The presentation was titled Cross Cultural Connection Success with Global Cultural Data Sources – A Deeper Look.
Dr. Virgo Handojo, professor of psychology, presented seminars at the 15th Anniversary of Saint Paul Evangelical Church, La Mirada, California, on March 30. The seminars were titled Faith and Science: Love, Spirituality, and Happiness.
Dr. Seth Jenny, adjunct professor of health science for Online and Professional Studies, gave a keynote presentation at the American Medical Society for Sports Medicine Annual Meeting in Houston on April 14. It was titled eSports and the Sports Medicine Physician.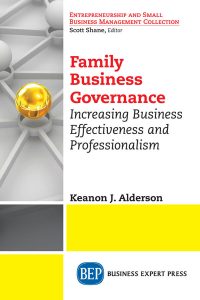 Dr. Keanon Alderson, professor of business, had a book on family business published last month. The title is Family Business Governance: Increasing business effectiveness and professionalism (Business Expert Press, 2019).
Dr. Mary Crist, professor of education, and Dr. Cammy Purper, associate professor of education, both for Online and Professional Studies, presented two sessions at the California Association for the Education of Young Children Annual Conference in Santa Clara, California, on April  12-13. The presentations were titled Teaching Preschoolers Empathy in the Digital Age and Supporting Parents and Young Children in Grief.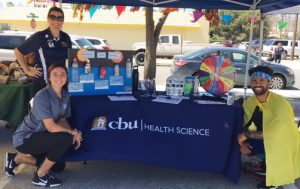 Lauri Hauck, visiting professor of kinesiology, Michael Robinson, assistant strength and conditioning coach, and Laura Linares, kinesiology student, taught health educational games at the "Day of the Child" event at the Rubidoux Community Resource Center on April 17. The games educated families on the importance of physical activity and proper nutrition.
Dr. Kathryn Norwood, dean of assessment and accreditation, and Dr. Dirk Davis, associate vice president of academics, both for Online and Professional Studies, conducted two presentations at the WSCUC Academic Resource Conference in Garden Grove, California, on April 11-12. They presented Streamlining Faculty & Administrative Work at California Baptist University and Moving the Proverbial Needle: Reliable Data for Sustainable Evaluation from Basics to Automation.
Dr. Joe Way, director of multimedia services for Information Technology Services, delivered the keynote Address at the Northwest Managers of Educational Technology conference in Las Vegas on April 19. It was titled Because of MY Podcast: Seven Lessons Learned and Three Predictions. He also was the featured interview in the Church Production Magazine, 5 Minutes with… (April 2019) and had an article, titled "How to Leave a Tech Job with Love and Grace, published in the Church Production Magazine.
Dr. Fred Pontius, professor of electrical and computer engineering, and CBU students Tony Ngabo and Noah Jackowitz served as judges for the final high school student team presentations of the 2018/2019 Science, Technology, Engineering and Math (STEM), Law Enforcement and Public Safety (LEAPS), and Public Utilities Learning Lab (PULL) Mentorship Program. Five teams presented at the event held at the Bourns Technology Center in Riverside on April 19. Jackowitz, Reuella Jacob and Jason Sigaran, also CBU students, served as team mentors for the program throughout the school year guided by Rhonda Clement, industry liaison for the College of Engineering.
Nathaniel Small, a civil engineering junior, received an $8,000 scholarship from the American Council of Engineering Companies, LA section, on April 24. He received the scholarship based on his academic performance and leadership.
Dr. Jacqueline Gustafson, dean of the College of Behavioral and Social Sciences, Dr. Antonio Mejico, assistant professor of social work, and Jennifer Costello, assistant professor of social work, presented at the Ismael Villegas Community Center in Riverside on April 17. They presented on the Legacy Project, which is a collection of oral histories shared by the senior adults of the Casa Blanca Community.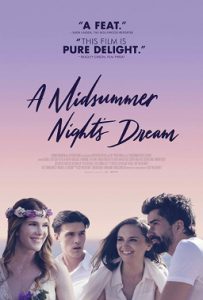 Dr. Melissa Croteau, professor of film studies, attended the 47th Annual Meeting of the Shakespeare Association of America in Washington, D.C., on April 17–20. She moderated a screening of a recent film adaptation of A Midsummer Night's Dream (2017) with the film's director, Casey Wilder Mott, and presented a paper titled Tinsel Town Histories: Casey Wilder Mott's "A Midsummer Night's Dream" in Hollywood.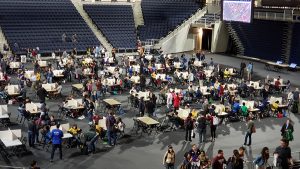 The Gordon and Jill Bourns College of Engineering hosted the Southern California State Mathcounts Competition on March 30. More than 165 students from middle schools across the Southland competed. Dr. Ziliang Zhou, professor of aerospace, industrial and mechanical engineering, coordinated the event; Dr. Grace Ni, professor of electrical and computer engineering, gave the keynote speech on the topic of How We Apply Math in Robotics; and Dr. Anthony Donaldson, dean of the College of Engineering, spoke about CBU's engineering program and handed out awards. Nearly 100 CBU students served as volunteers.
Personnel Updates