In this issue…
Current News
CBU scores high in state, national 2021 Niche college rankings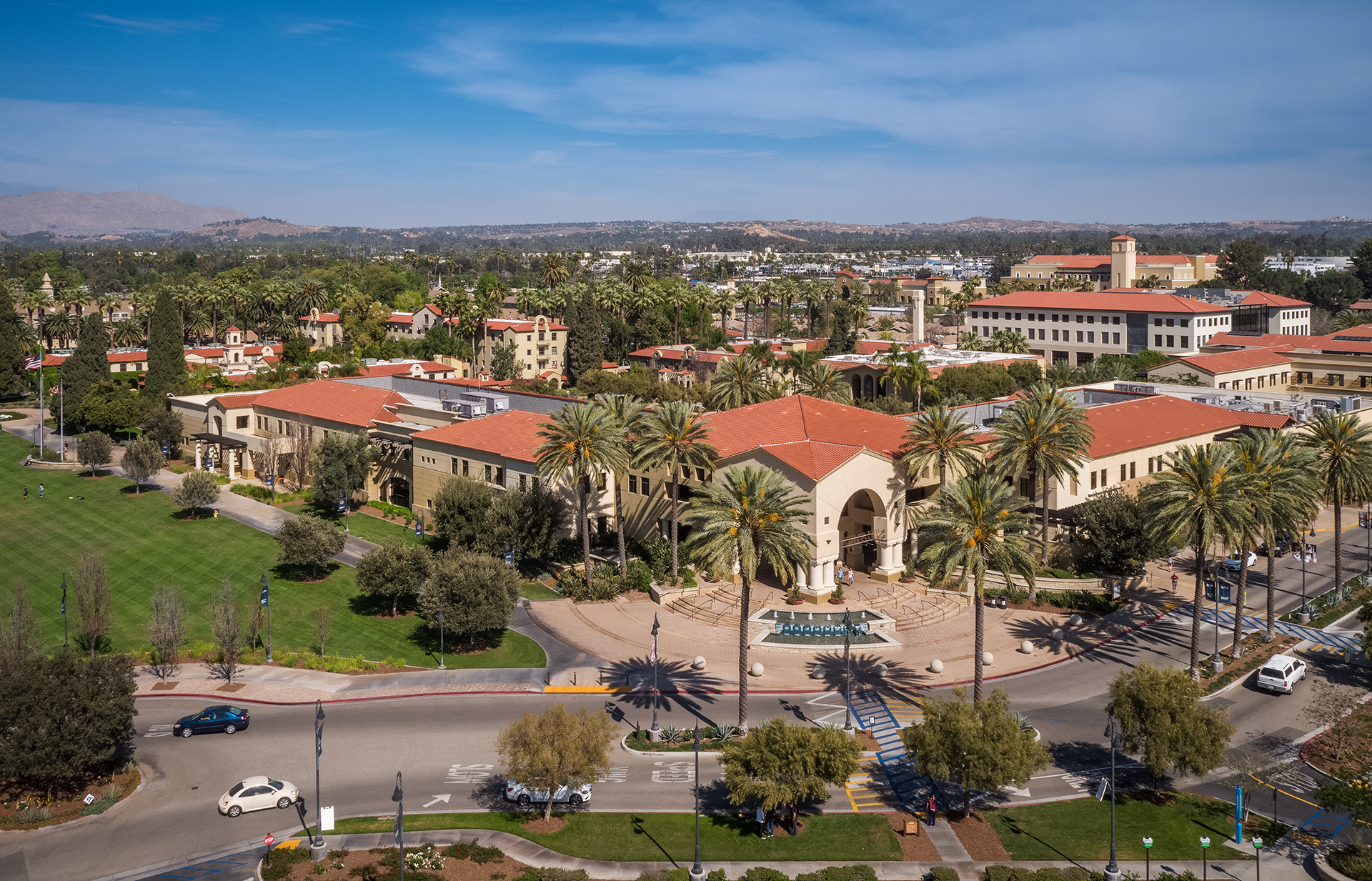 California Baptist University has once again received high marks for campus life in national rankings, coming in at No. 5 for "Best College Campus," No. 5 for "Best College Food" and No. 22 for "Best College Dorms," according to a 2021 Niche Best Colleges list.
The Niche 2021 Best College rankings are based on numerous statistical analyses per category, according to the site. The Best College Campus category, for instance, uses key statistics and student reviews in addition to data from the U.S. Department of Education. The Niche Best College Campus standings also take into account the quality of housing, food services and students' reviews of the campus.
"CBU is a fantastic school. Everything about it blows all others out of the water. Come here to further your faith, build godly friendships, have an insane amount of fun, get involved in … well, everything, watch excellent athletic or music performances, create lasting memories, learn about the subjects you love, hone your craft, get real-world experience, become well-rounded and prepared for your future, and connect with professors as mentors and friends. I couldn't ask for a better school," wrote a student reviewer on Niche.com's profile page for CBU.
CBU placed No. 15 as "Best Online Colleges" and No. 24 for "Best Hispanic-Serving Institutions" in the national rankings. CBU also placed high among the Niche rankings for California colleges, including No. 1 for "Best Online Colleges," No. 2 for both "Best College Campus" and "Best College Food." CBU placed No. 3 in the state for "Best College Dorms," No. 8 for "Best Christian Colleges," and No. 11 for "Best College Athletics in California."
Career Center prepares students for the virtual job interview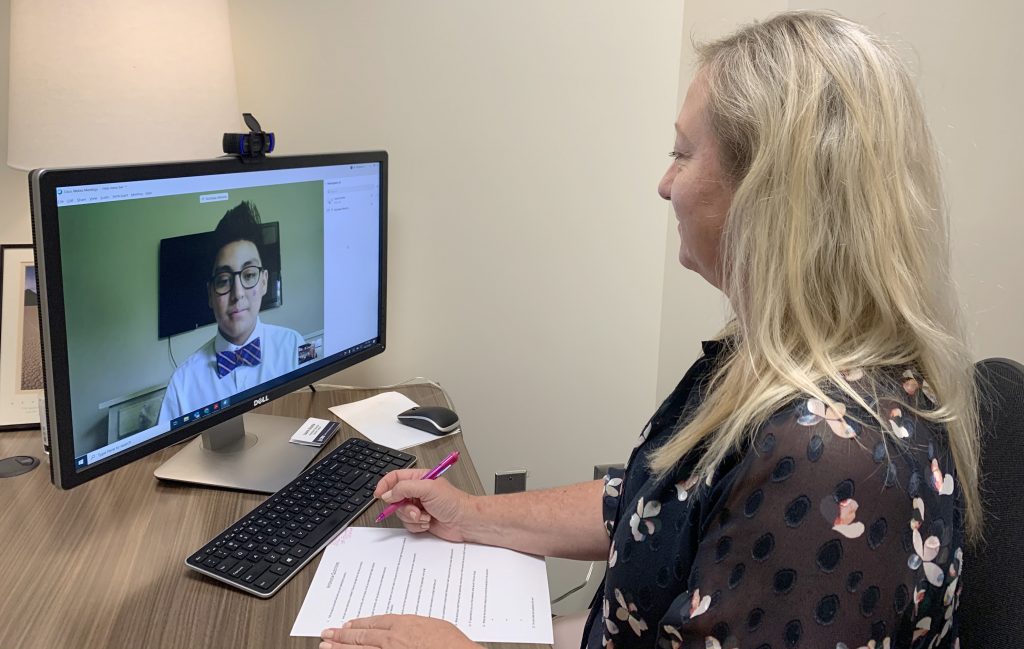 Sam Ganji ('20) became comfortable behind a webcam while spending years playing online video games.
However, he turned to the Career Center at California Baptist University for the finer points of conducting a virtual interview. Doing a mock interview, Ganji learned the importance of body language and eye contact and that the background should not be distracting.
"It helped me become more aware of my strong suits and also areas where I needed to improve. In short, it helped my confidence," said Ganji, who graduated in April with a Master of Science in Software Engineering.
As job interviews went virtual because of COVID-19, the Career Center pivoted as well by providing virtual mock interviews for students and alumni.
"Virtual interviews have proven to be an exceptional experience for students in the COVID environment as this is the format most organizations are using initially to screen their job candidates," said Mike Bishop, senior director of the Career Center.
Tips for preparing for a virtual interview include testing technology prior to the interview and creating a pleasant visual setting. Dress professionally as if for an in-person interview, and make sure the location chosen for the interview will be free from interruption and noise.
"Obviously no handshake will occur, so the first impression for an employer will come from the candidate's professional dress, a warm smile and solid eye contact," Bishop said. "These simple steps will exude confidence to the employer and help them to look forward to their screen time with you."
In-person networking is limited right now and employers have scaled back on their in-house recruiters, so how you represent yourself on your resume and LinkedIn profile are more critical, Bishop said.
Bishop provided additional tips:
Do your best to showcase skills that will set you apart, especially if those skills are needed for a specific job.
In the current environment, don't get too picky about working in a specific job for a particular organization. If a job is available in the organization but it is not what you had in mind, it still may be good to take it to become part of the organization.
Make sure you have a full Handshake profile completed. Handshake, a career-services platform, offers more than 5,000 employment opportunities for CBU students.
Use the Career Center for any professional development job advice you may be looking for.
The Career Center will host several virtual career fairs and other events this year. Check the Career Center website for information. 
CBU welcomes students from around the world virtually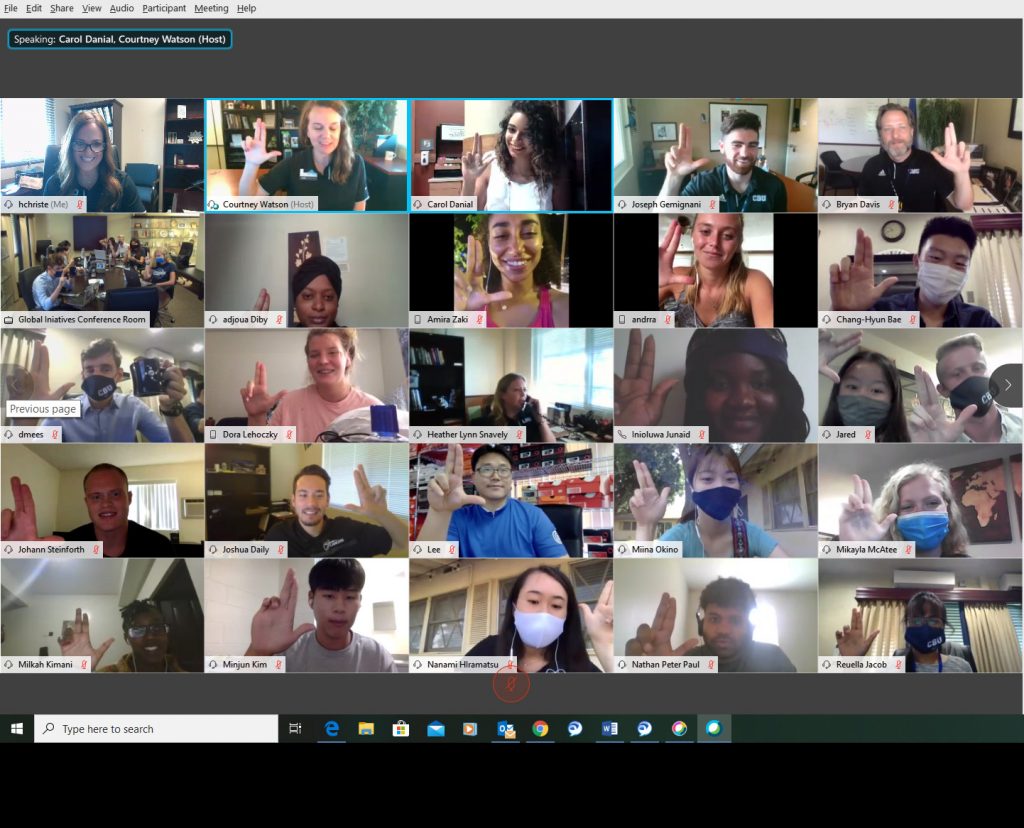 More than 90 new international students from 33 countries are being welcomed at California Baptist University for the fall 2020 semester. Approximately half are on campus while the others are beginning classes online outside of the United States because of the COVID-19 pandemic.
International Student Services held its first-ever virtual orientation for new students on Aug. 20. The entire six-hour online orientation was live, although it was recorded for future reference. About half the new students in various locations around the world attended the live event.
Orientation covered the basics of what international students will need to find success as they acclimate both to CBU and the United States, said Courtney Watson, director of International Student Services.
Staff reviewed CBU policies and immigration regulations for students and covered topics such as navigating culture shock, logging into Blackboard, finding InsideCBU and "Lancing Up." The new students also heard from a panel of current international students.
There was a lot to coordinate logistically, but more challenging was communicating how much the speakers care for students, Watson said.
"Trying to build in a personal touch, and that CBU-family-feel via a screen can be hard, but I think we communicated the heart of CBU to our students, even from far away," Watson said.
"We hope that our international students felt cared for and connected despite the virtual nature of the event."
This fall, approximately 325 international students from 52 countries will be logging into classes at almost any hour of their day or night in order to be a part of the Lancer Nation.
New students welcomed into Lancer Nation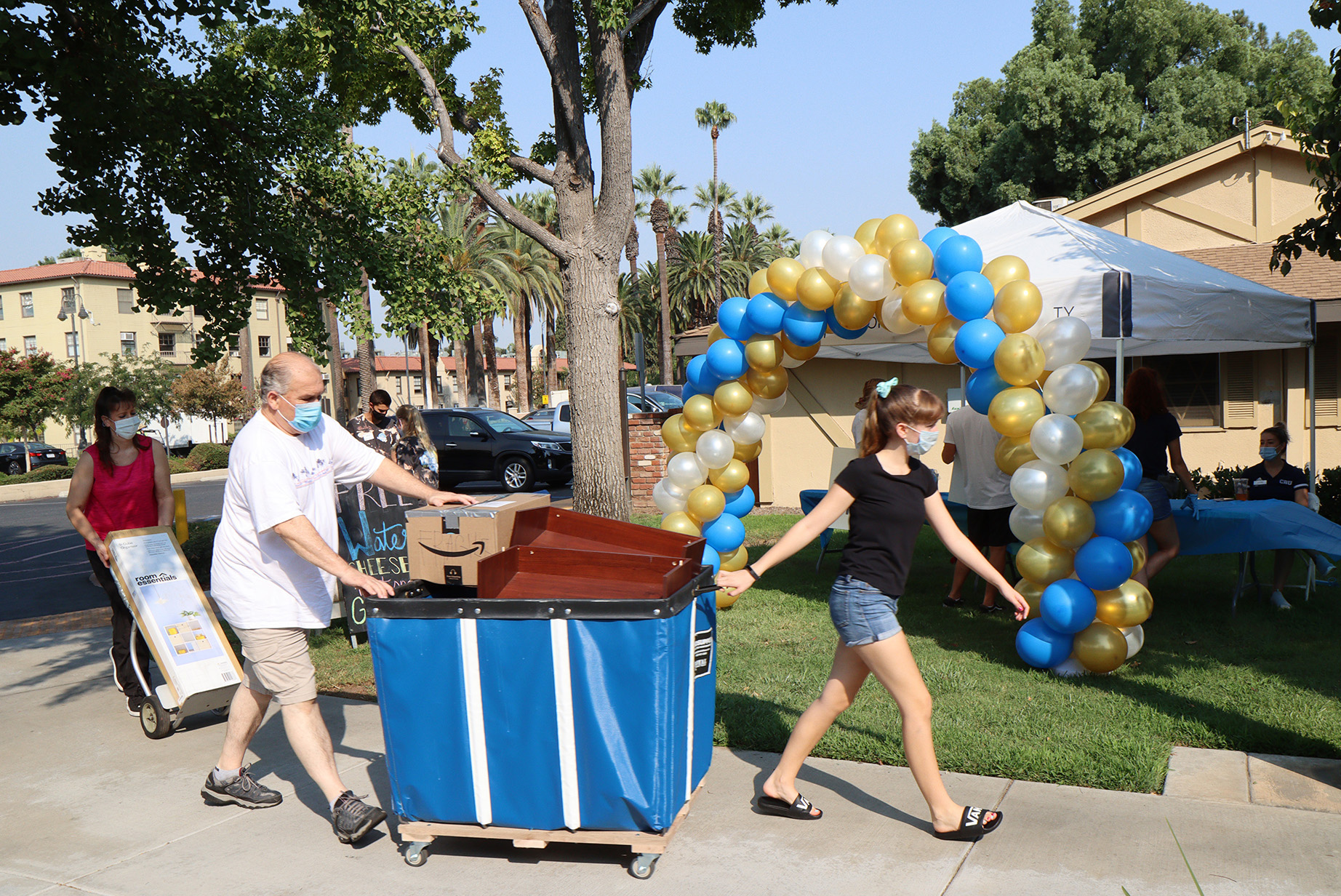 It was more than just the summer heat that gave the newest Lancers a warm welcome as they moved onto campus at California Baptist University on Aug. 20-21.
Residential advisors and First Year Experience (FYE) interns welcomed the new students and helped move them into their residence housing. Move in was split over two days to allow for social distancing.
Although traditional welcoming activities were canceled because of the COVID-19 pandemic, the RAs and FYE interns were eager the new students felt at home on campus for the fall semester.
Mikayla Morehead, an RA for Tower Hall, said everyone was doing their best to make the students feel welcome and excited to be on campus.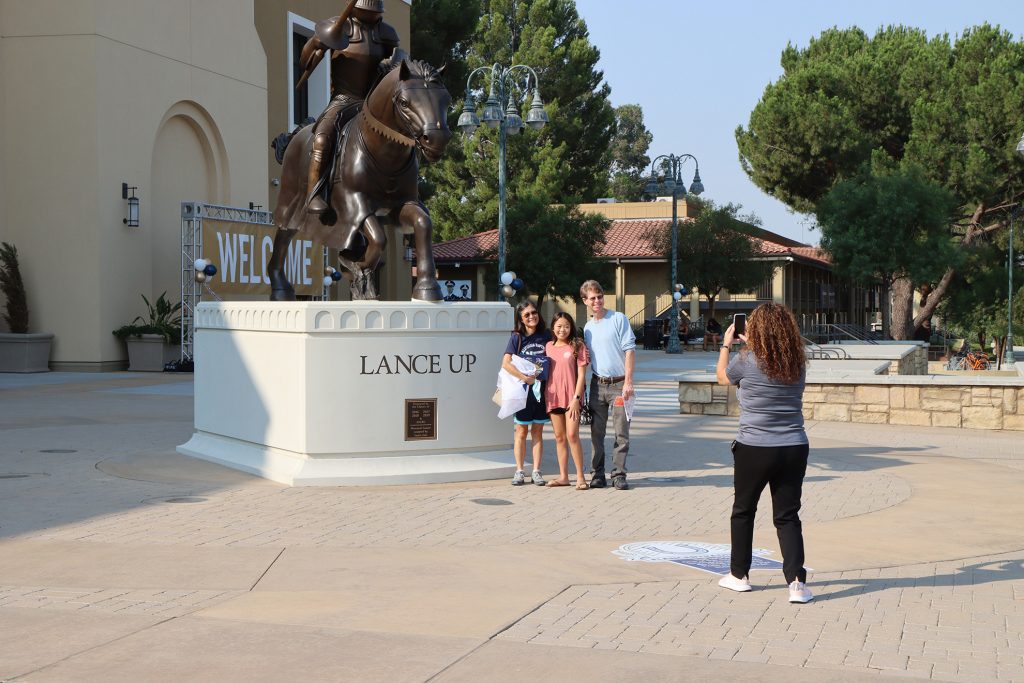 "Having to stay safe and unable to hang out with the freshmen as much as we would in a normal year will be a challenge, but we are making the most of it to welcome them all, and it is really going well," Morehead said. "We are looking forward to a good year with a good team."
Daniel Garcia, assistant director of new student programs, emphasized that CBU staff wants to get to know and assist students.
"Although the circumstances around us have changed, who we are and why we do what we do have not. Students remain the focus of our efforts and we plan to enhance their experience in any capacity we can," Garcia said.
Ivy Weekley, a health science freshman, found the appeal of meeting people in person and being immersed in a Christian environment reason enough to move onto campus.
"I really wanted to meet people, and everyone has been really sweet and friendly, it's exciting
and encouraging to be around this atmosphere," Weekley said.
Jennifer Blessing, an exercise science freshman and a member of the CBU volleyball team, said she is most excited about the college experience and taking her volleyball training to the college level.
"I'm looking forward to the whole college experience and getting to work with my teammates," Blessing said. "We really get to take our training to that next level."
This year the New Student Welcome was virtual. Videos provided information on topics such as academics, campus offices, Athletics, the Inland Empire region and local churches.
Classes for the fall 2020 semester, primarily being held via live/synchronous remote instruction, begin Aug. 24.
CBU earns consecutive tree conservation award
For the sixth consecutive year California Baptist University has earned recognition as a 2019 Tree Campus USA.
"We celebrate your diligence in improving the environment and quality of life at California Baptist University in 2019," Dan Lambe, president of the Arbor Day Foundation, wrote to CBU. "We know that 2020 has brought unprecedented challenges—but you have shown that your commitment to trees is unwavering. Now more than ever, thank you for contributing to a healthier planet for all of us."
To obtain this distinction, CBU met five core standards set by Tree Campus USA in order to maintain an effective campus forest management. The requirements consist of having a tree advisory committee, a campus tree-care plan, dedicated annual expenditures for its campus tree program, an Arbor Day observance and student service learning projects.
Tree Campus USA, a national program launched in 2008 by the Arbor Day Foundation, honors colleges and universities and their leaders for promoting healthy trees and engaging students and staff in the spirit of conservation.
Professors release book that looks at psychology and religion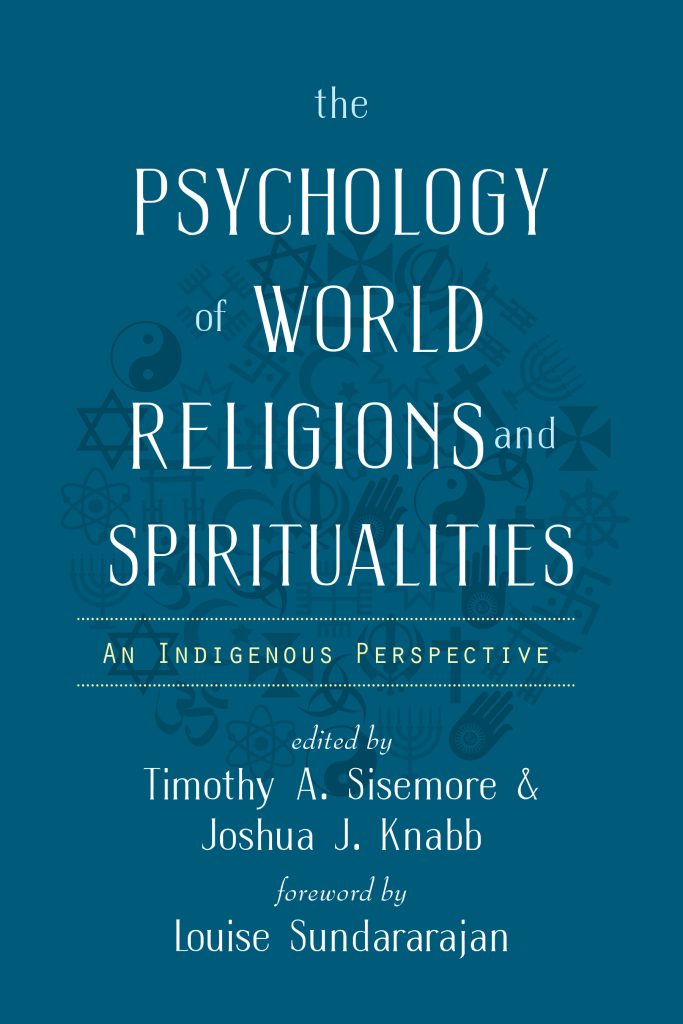 Two psychology professors at California Baptist University recently released a book that argues psychological science is not able to properly understand religious groups due to its methodology.
Dr. Timothy Sisemore, director of Psychological Services of Riverside, and Dr. Joshua Knabb, director of CBU's Doctor of Psychology program, co-edited "The Psychology of World Religions and Spiritualities."
The goal of the book is for psychological science to respect religions more and to adapt its methods to understand faith better, Sisemore said. The world's major religions are featured in separate chapters, each written by a psychologist who practices or is culturally connected with that religion.
Sisemore provides a closer look at the book.
Why do this book?
Western psychology has worked so hard to be seen as scientific that it tends to take science too far and assume it can understand religious faith from its agnostic worldview. In so doing, it compromises its ability to understand people of faith—or worse, distorts or colonizes those groups with its ideas. So all religions share a concern that science, denying anything transcendent, cannot truly understand them. This book intends to critique science and give major religions an opportunity to speak for themselves so psychology can better understand them and adapt its methods so as to produce more accurate knowledge of faith. Clinicians face the same dilemma: Often trained only in science, they do not know how to appreciate the role of faith in the lives of clients.
Who is it aimed at?
First, scholars from various disciplines who study people of faith can be informed about the limits of their measures and methods, leading to a more robust psychology of religion and spirituality. Second, clinicians are aided in work with religious clients by having a better understanding of their way of seeing the world. Finally, the book serves as a helpful introduction to world religions and the limitations and prospects for studying them scientifically.
Why was it important to include world religions?
The book rallies people of a variety of faiths to the ways we share being misunderstood and devalued by secular psychology. To that end, we all share the goal of being better understood by science.
How did you choose the contributors?
Through my work in psychology of religion and spirituality, I had a number of connections who were either willing to contribute or connect me to someone who was an expert in the areas needed. We are most honored to have such a renowned and diverse group of scholars involved with this project.
Anything else you would like to add?
The material is helpful for numerous classes on world religions, sociology, psychology and scientific method, and ultimately is a tome that challenges science's assumptions rather than simply defending Christianity—and other faiths—against it.
Family Updates
Dr. Robert Shields, assistant professor of computer information technology, and Dr. Dirk Davis, associate vice president of academics, both for Online and Professional Studies, presented at the 2020 Distance Teaching and Learning Annual Conference held virtually on Aug. 4. Their presentation was titled Measuring the Effectiveness of Do-It-Yourself Course Design Training.
Dr. Raquel Ellis, assistant professor of social work, had a book review published in the Social Work & Christianity journal (Fall 2020). She reviewed Mystery and the Adopted Child.
Dr. Candace Vickers, professor of communication sciences and disorders, was an invited author for a special edition of the Philippine Journal of Allied Health Sciences. Her article was titled Speech Pathology Services in Time of Pandemic (August 2020).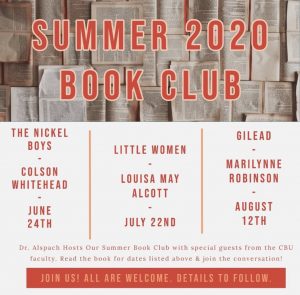 The department of Modern Languages and Literature hosted a summer book club, facilitated on WebEx and Flipgrid by Dr. Berniece Alspach, associate professor of English. The group, which was open to faculty, staff, students and alumni, read three books: The Nickel Boys, Little Women and Gilead.
Dr. Dennis K. Bideshi, professor of biological sciences, recently co-authored two papers. Agave: A natural renewable resource with multiple applications was published in the Journal of the Science of Food and Agriculture (April 2020). A cellulolytic Streptomyces sp. isolated from a highly oligotrophic niche shows potential for hydrolyzing agricultural wastes was published in BioEnergy Research (July 2020).
Dr. Joshua Knabb, associate professor of psychology, co-edited a special issue of the Journal of Psychology and Christianity (Spring 2020) on Christian meditation, prayer and contemplation in clinical practice. In the issue, he also co-authored an article, titled "Holy Desire" within the "Cloud of Unknowing": The Psychological Contributions of Medieval Apophatic Contemplation to Christian Mental Health in the 21st Century. Additionally, Dr. Tim Sisemore, professor of psychology, co-authored an article, Experiencing God through Head and Heart: The Puritan Practices of Meditation and Contemplation and Their Relevance to Modern Psychology, and Dr. Veola Vazquez, professor of psychology, co-authored an article, Practicing the Jesus Prayer: Implications for Psychological and Spiritual Well-Being.
Dr. Krystal Hays, assistant professor of social work, conducted a webinar presentation on Race and Mental Health for Mt. Zion Baptist Church of Ontario (California) on Aug. 15.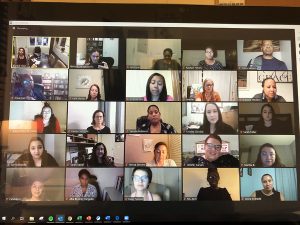 The Doctor of Social Work program welcomed 45 new students with a virtual orientation on Aug. 13.
Robyn Glessner, adjunct professor of history, served as a scoring leader for the College Board's AP United States History Reading Conference in June. Additionally, she helped make hospital gowns with The Grove Community Church during the months of May through July.
Dr. Erin Smith, associate professor of psychology, was an invited speaker and science advisor for the virtual retreat hosted by Dialogue on Science, Ethics, and Religion on Aug. 10-13. She spoke on Psychology and Neuroscience for Church Leaders.
Brian Bovee, assistant professor of computer information technology, and Thomas Jernejcic, associate professor of computer information technology, both for Online and Professional Studies, facilitated a group discussion on a paper they co-authored at the 2020 Annual Conference of the Association for Information Systems held virtually on Aug. 13. The paper was titled A Method for Gamifying Online Discussions.
Lisa Singer, associate director of employer relations in the Career Center, partnered with the City of Moreno Valley Workforce Development and Employment Resource Center to teach virtual workshops bimonthly. Since March, Singer has presented to military veterans, professional and vocational candidates on topics such as strategic job hunting, LinkedIn, networking, interviewing and first impressions. Additional workshops are scheduled until December.
Philip Breitenbucher, assistant professor of social work, facilitated a panel discussion on a national webinar hosted by the U.S. Department of Health and Human Services, Administration for Children and Families on Aug. 13. The session was titled Distance/Remote Training and Learning for Comprehensive Child Welfare Information Systems Roll-Out and Implementation. It provided an overview of key strategies for effective and engaging distance learning models for training and user support.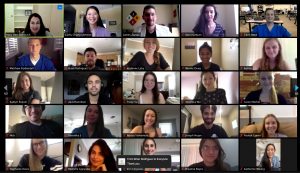 Mary Ann Stahovich, assistant professor of physician assistant studies, moderated an Ultrasound Seminar on Aug. 13. Catherine Letherer, associate professor of physician assistant studies, also assisted. Open to students from CBU and University of California, Riverside, the seminar covered emergency medicine techniques in ultrasound.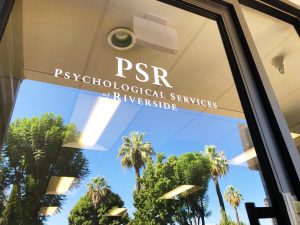 Psychological Services of Riverside —the CBU Doctor of Psychology (PsyD) in Clinical Psychology Program's community clinic—is offering teletherapy services to CBU faculty and staff (and dependents) at a discounted rate of $30 per psychotherapy session. Services are provided by second-year PsyD students, who are being supervised by licensed psychologists affiliated with the CBU PsyD Program. For an appointment, please call the office at (951) 552-8137.
Personnel Updates