In this issue…
Current News
CBU places high in 2021 "Best Colleges" rankings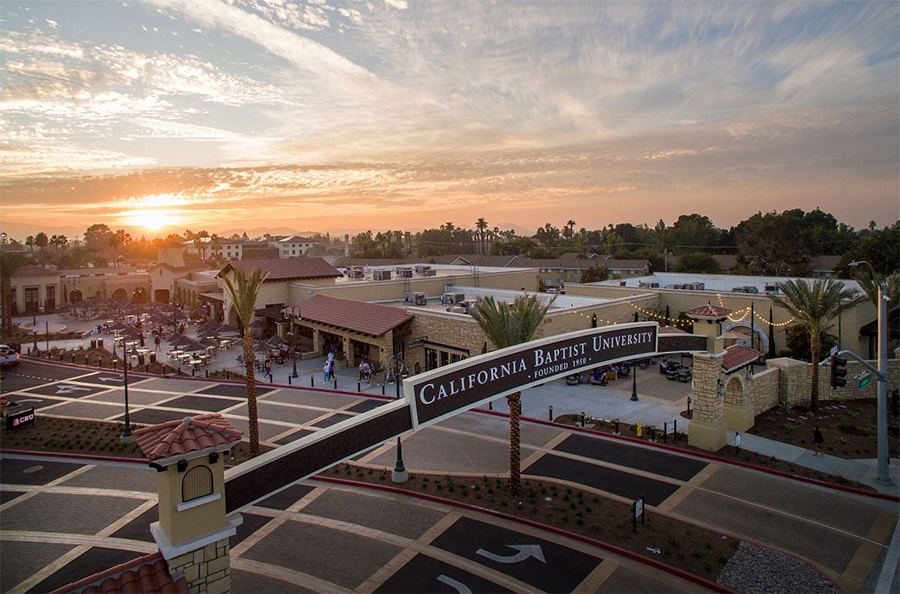 California Baptist University has again been named one of America's Best Colleges in rankings announced Sept. 14 by U.S. News & World Report (USN&WR).
The latest rankings place CBU at No. 40 for Best Regional University. The 2021 rankings mark the seventh consecutive year that CBU has received a top-50 ranking in the publication's "Best Regional Universities" category for public and private colleges in the West. Previously, CBU was ranked No. 43 for 2020.
The 2021 rankings mark the 15th year that CBU has appeared in the Best Colleges list.
CBU also earned significant placement in several other 2021 USN&WR rankings, including: No. 13 for "Most Innovative Schools"; No. 23 for "Best Colleges for Veterans"; No. 25 in the "Best Value Schools" category; No. 52 for "Top Performers on Social Mobility" (graduating large proportions of disadvantaged students awarded with Pell Grants); and No. 68 for "First-Year Experience" (special programs that are linked to student success).
CBU offers seven doctoral programs and more than 40 graduate programs as well as more than 150 undergraduate majors, minors and concentrations.
The "Best Regional Universities" category compares nearly 600 institutions in four regions of the nation that offer a broad scope of undergraduate degrees and master's degrees but few, if any, doctoral programs.
U.S. News & World Report publishes the Best Colleges rankings each year to aid prospective students and their parents looking for the best academic values for their money. Now in its 36th year, the annual comparative listing uses a system of weighted indicators of academic excellence to rank universities. Those indicators include student selectivity, retention and graduation rates; assessment by peer institutions; faculty resources; financial resources and alumni giving.
CBU clubs connect with students virtually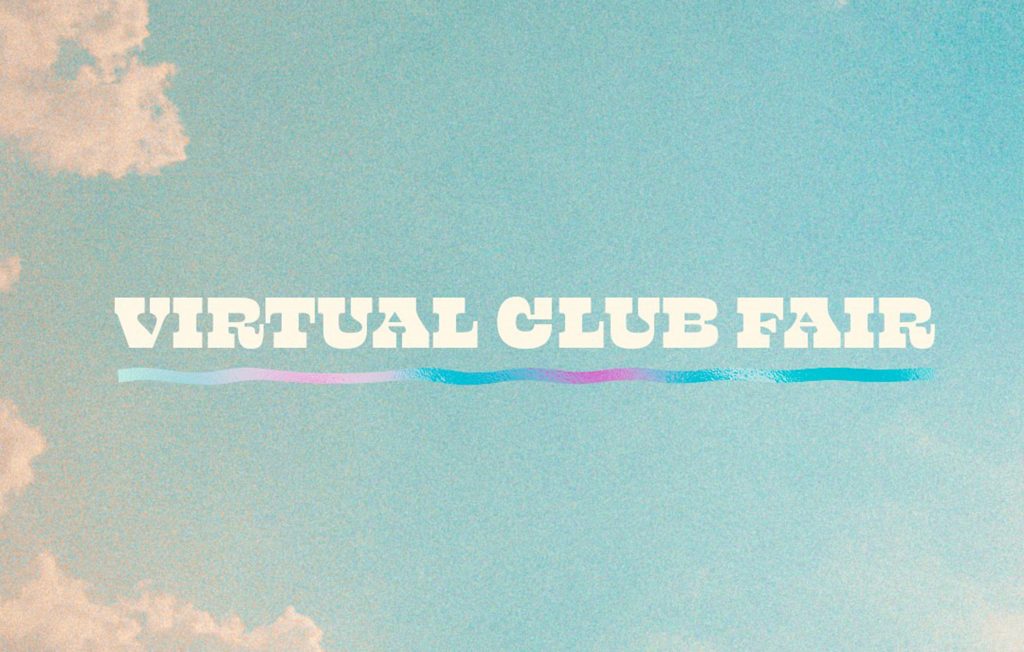 The Club Fair at California Baptist University took a different form this fall. Instead of booths filling Stamps Courtyard with representatives from the 60-plus student organizations, the event was held online due to the coronavirus pandemic.
The Virtual Club Fair took place Sept. 7-10 on Instagram. Community Life created a virtual club catalog on its Instagram highlights (@cbu_commlife), said Taylor Altizer, assistant director of campus activities in Community Life. Students can sign up for the clubs through InsideCBU, the online portal for CBU students, faculty and staff.
Community Life also hosted Instagram Live segments, teaching students how to start and join clubs as well as interviewing club leaders representing each of the club categories: cultural, co-curricular and academic.
"Clubs give students opportunities for building community, professional development and healthy work and life balance," Altizer said. "Our club presidents are great at engaging their members and making their club meetings fun and interesting, so I encourage students to check out at least one meeting or event if there is a club that piques their interest."
Presidents from four clubs shared the purpose of their group and reasons why to join a club.
Art Club: "Called to create, as God has created us"
The Art Club, seeks to connect CBU students from all disciplines with a creative outlet and place to experience different artistic mediums while having fun, said Emme Evans, an art therapy studies junior and president of the Art Club.
"We believe that we are called to create, as God has created us," Evans said.
This fall the club has planned virtual workshops that will use mediums such as watercolor, acrylic, collage and clay.
"I think it is important to get connected with a club to experience community, meet new people and learn a new skill or hobby," Evans said.
Chemistry Club: Creating a community among chemistry majors
"The purpose of our club is to encourage everyone to give science a try. We want to get rid of the stigma that chemistry is just equations," said Amanda Sanchez, a biochemistry and molecular biology senior.
Members can stay connected via social media, a new website and virtual events. A mentorship program was created this fall for students who are taking Orientation is the Discipline (CHE101). This program pairs CHE101 students, who are primarily freshmen, with an upperclassman to provide insight on how to navigate CBU and how to succeed in the chemical sciences.
"I think it is important to join a club because connecting with other students can provide motivation and offer connections to teamwork," Sanchez said. "When I was a freshman, I wanted to find a place where I felt seen and I believe that clubs are great for that."
Disney Club: Bringing the "happiest place on Earth" to CBU
Mary Shanks, a liberal studies senior, said the club will host a virtual event each month, including a game night, a Disney food night and an art night. The club is working to post weekly via Instagram updates about future events and Disney news.
"We know that with clubs going virtual, student connection is more important than ever," Shanks said. "Clubs are another way for students to meet new people and to bond with others who have similar interests."
Asian & Pacific Islander Club: meet new friends and have new experiences
"The purpose of our club is to cultivate acceptance and appreciation for Asian and Pacific Islander cultures on the CBU campus," said Alohi Chong, a biomedical sciences senior.
The club is planning virtual events this fall such as movie nights, game nights and study sessions.
"Clubs help students to get involved on campus and are one way we are able to influence what our campus represents," Chong said.
CBU student puts his own spin on portrait photography
Before coming to California Baptist University, Raymond Alva, a photography junior, thought he would go directly into freelance and make "cool-looking images."
He still wants to take those type of photos, but now he wants them to have meaning.
"Going into photography, I just wanted to make cool images, from a commercial standpoint," Alva said. "[A professor] opened my eyes, that I could do this to help people and to actually shed light on God and bring glory to Him."
Alva categorizes his photography style as "experimental portraiture." He experiments with different techniques, such as shooting the same shot with three types of cameras and merging the photos in Photoshop; shooting through material, such as film paper or Mylar; or shooting a person's reflection.
"I like to take portraits of people, but I don't want it to look like a photograph," Alva said. "I think it's important to be individual as an artist and as a photographer, to have your own certain spin on it."
He was recently featured in VoyageLA, an online magazine that focuses on artists, local entrepreneurs and small businesses.
"The response has been amazing," Alva said. "I've gotten a ton of uplifting and encouraging comments. It's truly been a blessing."
In January, he put on his first gallery show, "Finding Beauty," at a CBU studio space. The show looked at the idea of beauty and how it is perceived.
"I want to take meaningful images so when people are drawn in, it will help them think about a certain subject," Alva said.
He has taken photos and created promos for churches and a mayoral candidate, though he mainly works with musicians, creating promos and album covers and taking tour photos.
To stay creative during quarantine, he tried still-life photography for the first time. He also got into film photography and learned to develop his own photos.
The past two years, Alva has learned that all art can bring glory to God in some way.
"The cool thing about creating as a follower of Christ is it turns more into a collaboration with God instead of by yourself," Alva said. "God gave everyone the gift of creativity and we are obligated to give it back to Him and use it for His glory. All artists would agree that there is a little bit of them in their own work. If this is true, then Jesus should shine through any Christian's work easily."
To see more of his photos, go to raymondalva.com.
Past offerings helped ease CBU's pivot to virtual chapel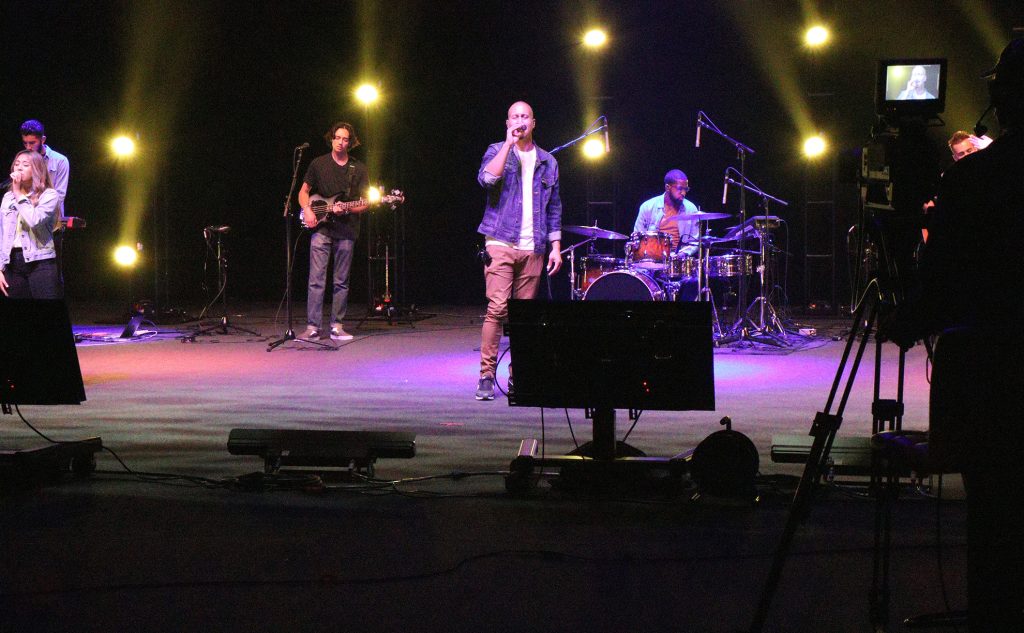 For Dr. John Montgomery, dean of Spiritual Life, chapel is one of the unique aspects of California Baptist University.
"Because we're a Christian institution of higher education, we integrate the Christian faith in the classroom," Montgomery said. "But another way that we're distinctive is by chapel."
Although gatherings are prohibited this fall because of the COVID-19 pandemic, Montgomery and Spiritual Life staff were easily able to pivot to virtual chapel. This is due to their experience of offering an alternative chapel the last 13 years for students unable to physically attend chapel. Students must attend 15 chapels a semester.
Alternative chapel started as an audio podcast then moved to video in January 2019. It included a welcome from Montgomery, an interview with the speaker, the message and music. The videos also incorporated TechSmith Knowmia, a learning technology that prompts students to answer questions throughout the pre-recorded videos.
"We learned what works and what doesn't," Montgomery said. "Our goal is to draw the student into the experience."
Previously, video would be pulled from live chapel. This fall, however, everything will be taped without a live audience. The band and the speaker will instead focus on the camera as if addressing the students individually, Montgomery said. The band will be taped in the Events Center while speakers will be taped on campus or at their church.
To keep the students engaged, the message will be given in three 8-minute segments and the entire chapel will last approximately 45 minutes.
"The idea is let's have different segments so we keep things moving and keep people's attention," Montgomery said.
Worship will still include diverse musical styles, said Hector Gabriel Jimenez, assistant professor of music and chapel worship leader.
"The purpose of worship music is to glorify God and that will remain the same even in a virtual context," Jimenez said. "We're really excited and optimistic that our student body is going to engage with the songs, be inspired by them and be challenged by them."
The chapels will be posted on Blackboard most Tuesdays and some Thursdays. Students will have a week to watch the video and answer the questions.
Speakers will include pastors Greg Laurie (Harvest Christian Fellowship, Riverside), Matt Brown (Sandals Church, Riverside), Ricky Jenkins (Southwest Church, Indian Wells) and Noe Garcia (North Phoenix Baptist Church, Phoenix).
"It's not everything that it could be if it was in person, but it's better than not doing anything at all," Montgomery said. "It's so important that we're reminded every week of who we are, who made us who we are and who we owe that debt to."
Chapels will be posted for the public at https://calbaptist.edu/spiritual-life/chapel/
Magnolia Crossing, a new living area, opens to CBU students
A spacious lobby and a grab-and-go marketplace welcomes students to Magnolia Crossing, California Baptist University's newest living area.
The building's first students moved in Aug. 22-23. Located near the intersection of Magnolia Avenue and Monroe Street, the four-story building can hold up to 540 residents. However, only about 250 students currently are living in the new residence because of COVID-19. Construction on the 161,415-square-foot residence began in March 2019 and cost $43.35 million.
The 93 apartments each have two or three bedrooms, a kitchen, a living area, and two or three bathrooms. Other features include a large lobby that holds multiple TVs; tables that students can use to study or eat on; several study rooms on each floor; and a dining option called The Market at Magnolia Crossing, a grab-and-go food venue.
Joe Ojeda, resident director for Magnolia Crossing, said the place made quite the impression on move-in day.
"Everyone was enamored by the look and feel of the building, which is similar to a hotel," Ojeda said. "I had parents going 'Is this a Marriott or a students' living area?' It was literally jaw-dropping for them and you could see the expressions on their faces and tell the students were excited to be here."
Mackenzie Hernandez, a communication sciences and disorders sophomore, said The Market is one of her favorite aspects of the new building.
"The Market is really cool and nice. I like that we have our own shop so we don't have to go to main campus for meals if we don't want to," Hernandez said.
Hernandez said she also enjoys the residence for other reasons.
"It's big, luxurious, and the lobby has sports playing on big screens," Hernandez said. "I also like that it is not far from the main campus, so we still have access to everything the main campus provides. We can just also spend our downtime in a new and beautiful place."
Taylor Salazar, a liberal studies sophomore, said she appreciates the newness of Magnolia Crossing.
"There's more space and the furniture is upgraded, which is nice," Salazar said. "Meeting people that I didn't know last year and the new study spaces are probably what I'm most excited for."
Family Updates
Andrew Cress, director of special projects in the Office of Educational Effectiveness, was selected to serve as vice president of the California Association for Institutional Research on Aug. 28. He will start in January 2021, then serve as president in 2022 and past president in 2023.
Dr. William Boyer, assistant professor of kinesiology, Dr. Trevor Gillum, professor of kinesiology, Dr. Amy Miller, associate professor of kinesiology, and Dr. Marshare Penny, professor of public health, published their manuscript in the Journal of Physical Activity and Health (Volume 17, Issue 9). It was titled The Independent and Combined Effects of Aerobic Physical Activity and Muscular Strengthening Activity on All-Cause Mortality: An Analysis of Effect Modification by Race-Ethnicity. The study was also selected by the editor-in chief as a special feature write-up in the International Society for Physical and Health's GlobalPAnet newsletter.
Dr. Raquel Ellis, assistant professor of social work, was recently appointed as chair of the board of directors for the Southern California Branch of Bethany Christian Services. She will serve in that role for three years.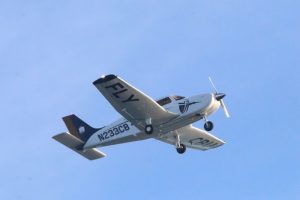 Due to increased enrollment in the Department of Aviation, an additional two new aircraft from Piper Aircraft Inc. were acquired. The flight crew, comprised of CBU flight instructors and students, flew the aircraft from Vera Beach, Florida, to the Riverside Airport. The new aircraft are technically advanced aircraft able to be used in all training, such as private/instrument/commercial. This brings CBU's fleet to 16 aircraft. There are approximately 120 aviation flight students.
Dr. Kendra Flores-Carter, assistant professor of social work, was selected to serve on the City of Fontana Police Department Chief's RoundTable committee. The committee voted her as chair of an advisory committee. The new group was formed in the wake of the George Floyd killing and will focus on community public safety concerns and implementing tangible activities to improve service to residents, according to police Chief William Green.
Dr. Ashley Parks, associate professor of public health sciences, presented at a service learning webinar for the Society for Public Health Education on Aug. 18. The title of her presentation was Best Practices for Preparing Students for the Health Education Workforce through the Integration of Practice and Theory.
Engineering professors, staff and students assisted in Riverside's STEM Summer Learning Labs Program held virtually July 13-31. More than 100 high school students participated in the program that offers opportunities to engage with local professionals in a variety of public service arenas. CBU faculty and staff provided instruction and developed parts of the program. CBU students created lab kits for the high school students, instructional guidance in basic coding, and judged the projects designs presented by the high school students.
Dr. Shawn Wilhite, assistant professor of Christian studies, was interviewed on a podcast for Shepherd the Sheep. The topic was on the use of patristic history for the local church.
Sarah Shahan, adjunct professor of English, had an article published in the journal Anor of the Cambridge Tolkien Society (Issue No. 56). It is called Joyous Turns: Episodic, Fatal, and Ultimate Eucatastrophes in "The Lord of the Rings."
David Little, assistant director of graduate admissions, and his wife, Jolene, welcomed a son on Aug. 16. Wesley James Little weighed 8 pounds, 12 ounces and measured 21 inches. He joins sister Arayah, 3.
Personnel Updates