In this issue…
Current News
Intramurals still provide a way for students to play and connect
This time of year, Jacob Klarke is usually playing intramural flag football at California Baptist University. Klarke, a business administration junior, said he has participated in almost every intramural sport offered at CBU, including basketball, football and volleyball.
"It is such a great way to meet new people and develop new friendships. It's also crazy fun for a competitive person like me," Klarke said.
This fall, however, CBU had to adjust the way it conducted intramurals due to COVID-19. CBU's Recreation is offering both esports and one-day, in-person tournaments.
Esports are essentially organized video game competitions, said Marnie Kavern, program coordinator of intramurals. Programming has included Rocket League (vehicular soccer), NFL Pick 'Em and a virtual run.
"These events are designed to engage students who may be living off campus and have a desire to participate in CBU intramurals," Kavern said.
In-person sports have minimal contact among participants to ensure proper distancing, Kavern said. Other precautions include limiting the number of participants and cleaning of the equipment. Tournaments include spikeball, soccer tennis, Kan Jam, pickleball and badminton.
Students have been grateful for programming to return, Kavern said.
"Recreation strives to create places that foster healthy relationships and cultivate community," Kavern said. "Our goal is to demonstrate a sense of belonging to the university, and we have heard of and witnessed friendships created and maintained through intramurals."
Last year, Marissa Hunter, an electrical and computer engineering sophomore, played a variety of intramurals, from dodgeball to flag football. This year she has played soccer tennis and Kan Jam.
"I'm excited that they are having intramurals this year," Hunter said. "I really like sports in general and I like that intramurals allow me to do more than just one. Also the people are really great."
Josiah Franklin, a Christian studies and business administration senior, has played soccer, basketball, volleyball, archery tag and ultimate Frisbee among others in past years.
"The main reasons I play intramurals are for the community it provides and for the sense of competition," Franklin said. "When I was choosing what college to attend the thing that stood out to me the most was how important community was to CBU and that is what sold me in coming here."
So far this year, Franklin has played spikeball, soccer tennis and Kan Jam and is looking forward to more.
"I was really saddened when it was announced that CBU would be going online, primarily because I was fearful that there would no longer be opportunities to play sports and have community with others," Franklin said. "Even though they do not look like they did in years past, I am glad there is an option for something to play."
Students experiment in labs—with extra safeguards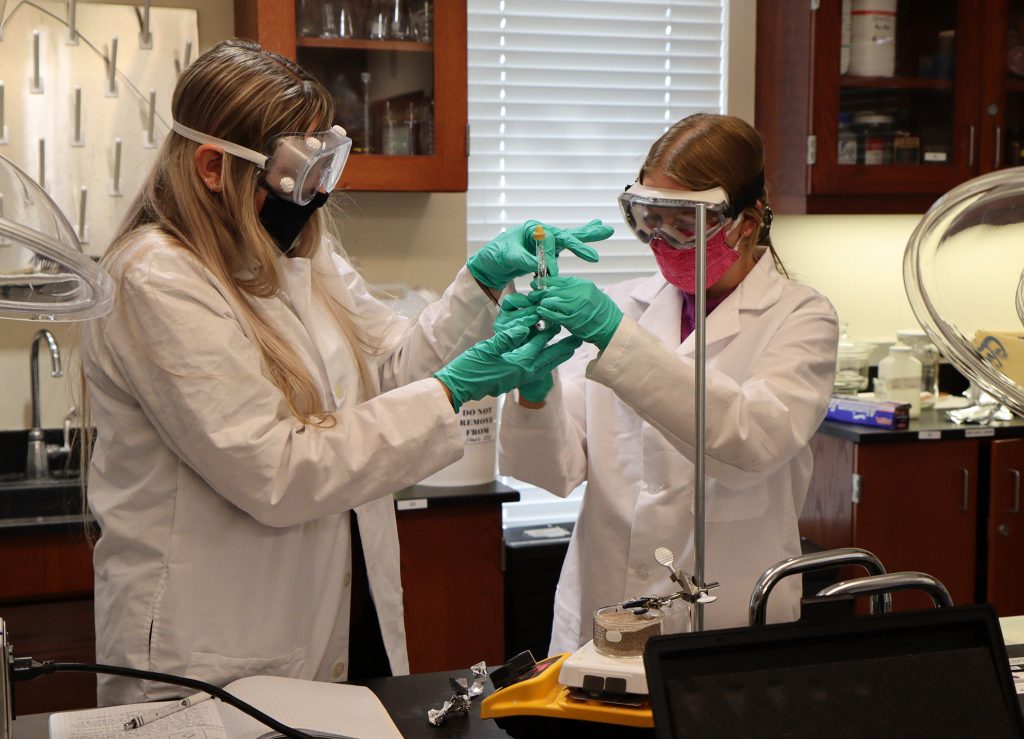 Students focused on their work as they prepared for a distillation experiment in an Organic Chemistry I lab (CHE351). With students wearing lab coats, gloves and goggles, it seemed like a regular lab. Except for the masks they also wore.
This fall semester at California Baptist University, most classes are being conducted through live/synchronous remote instruction due to COVID-19. But there are some in-person courses, which are mostly lab-based or experiential in nature. In these, safety protocols must be followed. Everyone must wear a mask and face shield, wash their hands, wipe down equipment and countertops and limit their movement around the lab.
Chloe Beedy, a biology junior, has labs in Organic Chemistry I and Molecular Biology.
"I was really glad to be back in the lab. This is the one thing that makes me feel like I'm back at school and things are normal again," Beedy said.
In Materials and Manufacturing Process (EGR344), the lab includes measuring physical samples, mixing components of a solution and performing destructive testing.
Collaboration in the field of engineering is vital on projects, said Dr. Phil Van Haaster, assistant professor of mechanical engineering. However, in the current environment, students have worked independently. To remedy this, lab instructors are finding alternate ways for cooperation, such as requiring students to work off a shared document and collaborate remotely, he said.
"While instructing [in-person], a professor can get real-time feedback from the students," Van Haaster said. "This interaction is even more valuable in a lab environment, where students are often conducting real-world experiments for the first time. … When the instructor is present and observing the student, the instructor can point out and explain events that would normally be overlooked."
Dr. Jenifer Nalbandian, assistant professor of chemistry, said while the masks can make it hard to know who asked a question or to read a student's face, the rest of the lab is similar to usual.
"We're already wearing gloves, we're already wearing lab coats. There already is a certain level of hygiene that has to be involved," Nalbandian said.
The students have adapted to the additional rules, she said.
"I am thankful that we get to have time together face-to-face, since this allows me to get to know each of my students on a deeper level. It has been nice to be able to still safely meet for lab sessions, even in the midst of COVID," Nalbandian said.
Although social distancing can make collaboration more difficult, Aidan Longridge, a biomedical sciences junior, said he appreciates the measures CBU has taken to mitigate the risk of COVID.
"I definitely enjoy my laboratories," Longridge said. "Although online learning is really well done, I think it does help to have our labs in person because it helps to cement that tactile, visual learning aspect. Especially when you're a science student."
Record CBU fall enrollment defies pandemic disruptions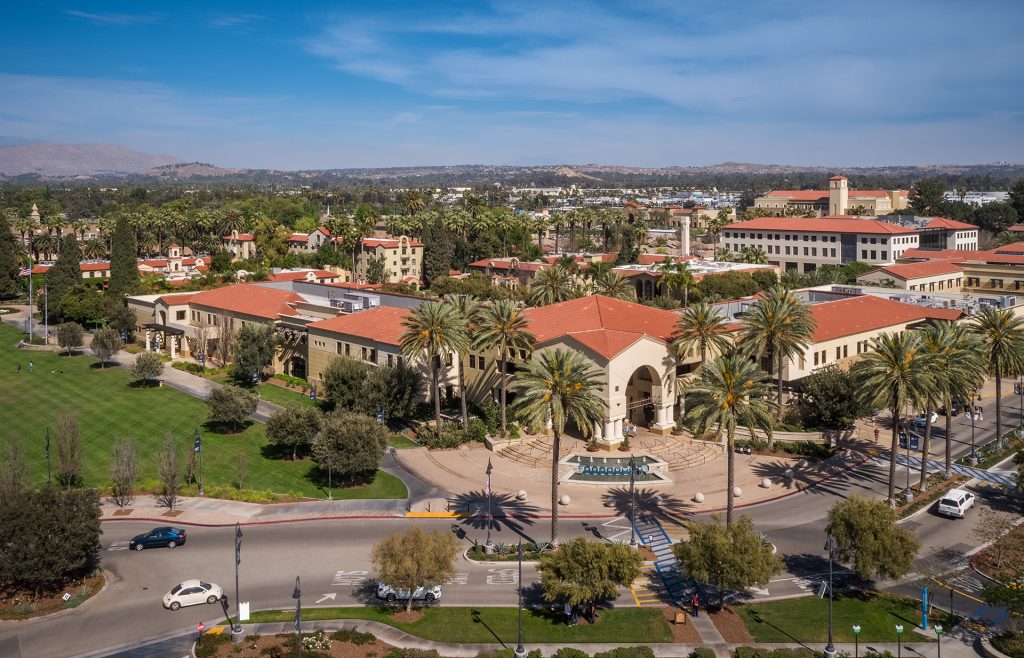 California Baptist University recorded its largest fall enrollment ever this year despite significant disruptions related to the coronavirus pandemic, President Ronald L. Ellis, Ph.D., announced Sept. 25.
Fall 2020 enrollment at CBU totaled 11,317 students, Ellis reported during a virtual meeting of University trustees. That figure is 272 more than the previous record enrollment of 11,045 students in fall 2019, an increase of 2.5 percent.
"Fall 2020 is another record-breaking enrollment increase on top of a sustained 26 years of significant growth," Ellis said. He noted the increase puts CBU ahead of schedule to reach an enrollment goal of 12,000 students by 2025.
Trustees established the current goal in 2015 after CBU surpassed its previous enrollment target of 8,080 by 2020 five years early.
Ellis reported this year's enrollment growth follows three years of 600-plus increases (610, 698, 618), one four-digit increase (1,113) and five years of three-digit increases (813, 584, 616, 784, 545), followed by yet another three-digit jump last year (559). With the latest increase of 272 students, CBU enrollment has grown 7,212 on a base of 4,105 in fall 2009—an increase of 176 percent in the past 11 years.
In CBU's 70-year history, all 20 year-over-year triple digit or greater increases have occurred since fall 1995.
Since Ellis became president in November 1994, enrollment has increased from 808 to 11,317. That means current CBU enrollment is more than 14 times greater than at the start of the Ellis presidency.
This semester, due to COVID-19, nearly all CBU academic programs are being delivered via live/synchronous remote instruction. In-person instruction is limited to essential program features such as labs, studios and clinical placements.
Classes began Aug. 24, two weeks earlier than previously scheduled. The revised start date means the fall semester will conclude before Thanksgiving, allowing an extended break before the spring semester begins in January. CBU officials said the modified schedule will help reduce the campus population during the traditional influenza season when some health officials also predict a possible new wave of the COVID-19 virus.
CBU offers seven doctoral programs and more than 40 graduate programs as well as more than 150 undergraduate majors, minors and concentrations. CBU officials said this year's greatest enrollment increases were recorded in traditional graduate and online programs.
CBU names Ron Prettyman as interim athletics director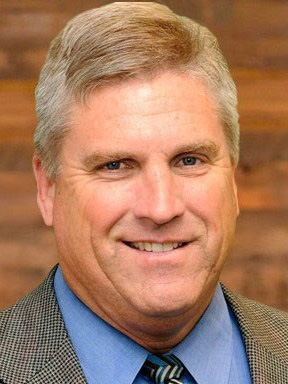 California Baptist University President Dr. Ronald L. Ellis announced that 38-year intercollegiate athletics industry veteran Ron Prettyman will serve as the interim athletics director beginning on Sept. 28.
"Ron Prettyman has a tremendous history of success for promoting athletic and academic excellence at multiple institutions," said Ellis. "We are looking forward to having his advice and counsel on campus as we seek a permanent leader for Lancer athletics."
Prettyman has 33 years of experience as an athletics director with stints at Indiana State (2005-2015), Cal State Dominguez Hills (1995-2005) and Vanguard University (1983-95). He was honored by the National Association of Collegiate Directors of Athletics as an Under Armour AD of the Year in 2004 and 2011.
"I am looking forward to working with president Ellis and vice president [Kent] Dacus during an exciting time of transition at CBU," Prettyman said. "They are committed to building a successful Division I athletics department, and I am eager to help advance the cause in this role."
Read the full story here.
Homeboy Industries founder: tenderness needed for all people 
Tenderness is important when ministering to people in the margins, Father Gregory Boyle, founder of Homeboy Industries, told a California Baptist University audience. Boyle spoke during the first Culture and Justice Lecture Series event of the semester on Sept. 17.
"We go out to the margins, so no one is left standing outside of the circle of compassion," Boyle said. Boyle is also an award-winning author and Jesuit priest. His organization, Homeboy Industries, was the recipient of the 2020 Conrad N. Hilton Humanitarian Prize.
Located in Los Angeles, Homeboy Industries helps gang members re-enter the work-force through an 18-month employment and re-entry service that teaches them basic work skills. Other free services include tattoo removal and substance abuse resources.
Homeboy Industries is now the largest rehabilitation, gang intervention and re-entry program in the world.
"Every single person who walks through our doors comes in barricaded behind a wall of shame and disgrace, and the only thing that can scale that wall is tenderness," Boyle said. "There is nothing that reflects the God we actually have than the tender heart of this God."
Boyle shared stories he came across during his ministries, giving examples of how his approach of kindness and understanding helped young men and women turn their lives around.
One man Boyle helped had been beaten so badly every day by his mother he had to wear three shirts to school to cover the blood. He grew up to join a gang. But after his rehabilitation, he now helps other youth and young men leave gangs behind.
"What he once was ashamed of, he grew to be proud of because he overcame it. His wounds and scars are a reminder of what he accomplished," Boyle said. "If we do not welcome our wounds, we may be tempted to despise the wounded."
Boyle reminded students and guests of God's compassion and kindness and what their mission should be.
"You are invited to embrace the highest form of spiritual maturity, which is an extravagant tenderness. You are invited to take seriously what Jesus took seriously: inclusion, non-violence, unconditional loving-kindness and compassionate acceptance. You are invited to understand that belonging is more than inclusion and that we belong to each other," Boyle said. "You go to the margins and you imagine a circle of compassion and you cease to care about anyone accusing you of wasting your time."
The College of Behavioral and Social Sciences hosts the lecture series, which is being presented virtually this semester. Luke Womack, founder of The GO Fund, is featured speaker for the next lecture that will be held Oct. 15.
Professor examines exercise of religion for Constitution Day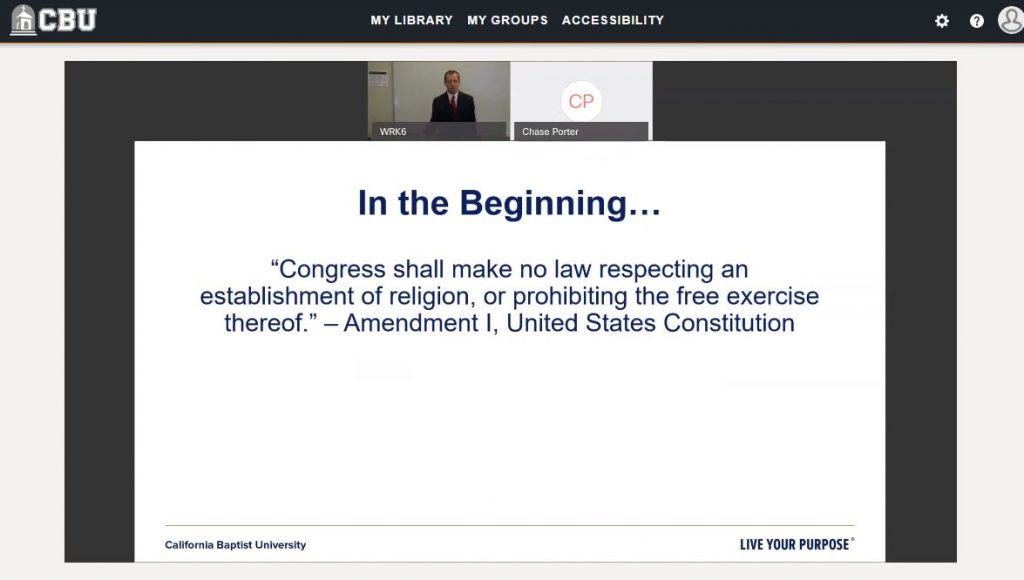 A Supreme Court ruling in 1990 explains why churchgoers are probably meeting outdoors for church this Sunday, Dr. Chase Porter told an audience at California Baptist University on Sept. 17. Porter spoke at a virtual Constitution Day event, marking the signing of the U.S. Constitution on Sept. 17, 1787.
Thomas Jefferson is responsible for how the Supreme Court interprets the establishment of religion and free exercise, said Porter, assistant professor of political science at CBU. In his writings, Jefferson said the government cannot regulate belief but it can regulate action.
"Your belief doesn't harm anyone in the view of Jefferson but your actions might," Porter said. "So government cannot regulate belief of religion but is able to regulate the action that flows out of belief in religion. That becomes a very important distinction."
Porter talked about Supreme Court cases that have touched on free exercise of religion and public health. The cases involved matters such as polygamy, peyote, vaccines and the Amish. In the vaccine case, the court ruled states have the right to protect the health, safety, welfare and morals of its residents.
In one of the most recent ones, Alfred Smith was denied unemployment benefits when he was fired from his job for ingesting peyote in a Native American religious ceremony, which was a crime in Oregon. The case landed in the Supreme Court, which ruled for Oregon, in 1990.
"It said as long as the law is a valid and neutral law of general applicability, then a religious person is not allowed to opt out of that law," Porter said. "If the law targets religion specifically, that is a different story. The law against peyote wasn't targeting the religion, it applied to all Oregon residents."
The court said people cannot opt out of obeying a law that applies to everyone equally for religious purposes, Porter said.
"The opinion is that in a society where there is a variety of religious beliefs, and we are trying to respect all of them, if we allow people to start opting out of valid and neutral laws of general applicability on the basis of their religious belief, we're going to start courting anarchy," Porter said.
In the midst of the pandemic, states have regulated church worship, leading to cases going to court. Rulings have gone to both sides, depending if the court said churches were being targeted or not, Porter said.
In California, Gov. Gavin Newsom has put churches and indoor movie theaters in the same category in regards to restrictions.
"Gov. Newsom has wide latitude to treat those two entities the same in the middle of a public health crisis, because the state government has the right to protect the health and safety of its citizens," Porter said.
Family Updates
Dr. Mary Ann Pearson, professor of communication, along with the Lancer Media Group coordinates a Certificate in Public Relations Principles Mentoring program. Students who complete the program earn a certificate from the Public Relations Society of America and the Universal Accreditation Board. Valerie Hernandez ('19) and Nathaniel Gibson ('20) were the first CBU students to complete the program.
Robyn Glessner, adjunct professor of history, had an article published as a devotional for Oak Valley College on Aug. 29. It was titled Monuments, More than Memory.
Dr. Matthew Rickard, professor of bioengineering, co-published research in the Association for Research in Vision and Ophthalmology conference paper (June 2020). It was titled Development of a novel wearable intraocular pressure monitor based on image tracking of exposed sclera.
Dr. Veola Vazquez, professor of psychology, published an article in the American Association of Christian Counselor's Christian Counseling Connection newsletter (Vol. 23, Issue 2). It was titled Religious/Spiritual Well-Being, Stigma, and the Black-White Interracial Marriage.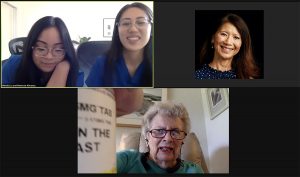 First-year students in the physician assistant studies graduate program provided the first virtual health screening event to a group of senior citizens from Mt. San Antonio Gardens, a senior community in Claremont/Pomona. The event covered cardiovascular risk assessments and an adult immunizations update. Cathy Chang Letherer, associate professor of physician assistant studies, gave an educational presentation. Students then met with the seniors in break-out rooms to review medical histories, labs and immunizations.
Dr. Torria Davis, adjunct professor of education, and Dr. Thomas Frederick, professor of psychology for Online and Professional Studies, published an article in the Online Learning Journal. The title is The Impact of Multimedia in Course Design on Students' Performance and Online Learning Experience: A Pilot Study of an Introductory Educational Computing Course.
Dr. Sandra Romo, associate professor of communication for Online and Professional Studies, presented at the 34th Children's Network Conference held virtually on Sept. 17. The title of her presentation was Fostering Positive Communicative Experiences During High Stress Environments.
Dr. Gretchen Bartels, associate professor of English for Online and Professional Studies, had a short story published by Every Day Fiction, an online magazine (Sept. 19). It was titled International Talk Like a Pirate Day.
Dr. Gary Steward, adjunct professor of history, published a book. It is called Reforming Culture: J. W. Alexander's Christian Approach to Social Reform (Joshua Press, July 2020).
Dr. Ed Garrett, associate professor of kinesiology for Online and Professional Studies, spoke to Loma Linda University's Leadership Study Group, comprising future leaders within the medical profession, on Sept. 23. The topic was Utilizing empathetic leadership towards developing team cohesion: A reflection in self-awareness.
Dr. Amanie Abdelmessih, professor of mechanical engineering, served as a panelist at the Society of Women Engineers Professional Development Conference held virtually Sept. 19. She shared her experiences and views as a woman engineer in both the industry and academia.
Russell Meek, adjunct professor of Christian studies for Online and Professional Studies, had an article published in the Criswell Theological Review (2020). It was titled Reading Psalms with Survivors of Abuse.
Dr. Ian Clary, adjunct professor of Christian studies for Online and Professional Studies, had his doctoral dissertation published. It is titled Reformed Evangelicalism and the Search for a Usable Past: The Historiography of Arnold Dallimore, Pastor-Historian (Vandenhoeck & Ruprecht, September 2020).
Dr. Ricardo Cordero-Soto, associate professor of mathematics, had a paper published in the ACMS conference proceedings. The proceedings of the biennial conference that took place on 2019 were published during the summer of 2020. The title of the paper is The Applicability of Mathematics and the Naturalist Die.
Diana Ha, adjunct professor with the Department of Modern Languages and Literature, published four poems in The Writing Disorder (Sept. 22), an online literary journal.
Ruth Noemy Wheeler, lecturer for the School of Music, took part in a panel at the virtual III International Symposium of Women Conductors on Sept. 15-20. She spoke on Efficiency and Balance Between Batons and Vessels.
Personnel Updates