In this issue…
Current News
CBU theatre program bringing its production to the screen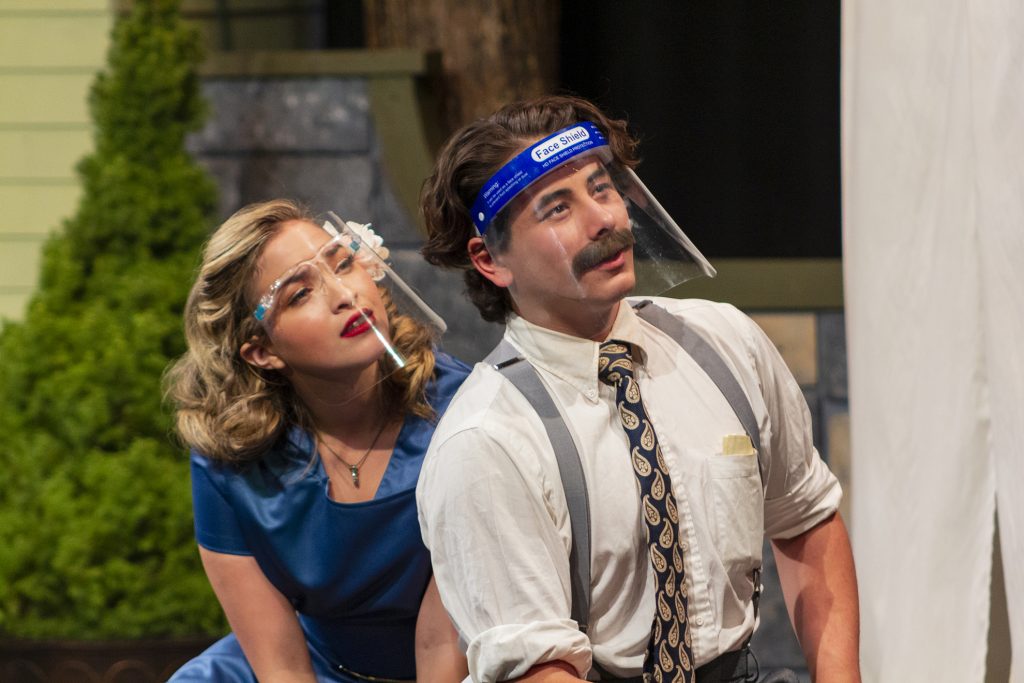 The COVID-19 pandemic has closed theatres and quieted stages across the country. However, students at California Baptist University have been busy rehearsing for William Shakespeare's "Love's Labour's Lost."
Though instead of performing before a live audience, the CBU cast filmed its production on Nov. 14 to make it available for streaming. During rehearsals, everyone wore a mask or a face shield, but those came off for filming.
"I tell the students, there are actors all over the country right now who want to be in rehearsal," said Frank Mihelich, associate professor of theatre and the show's director.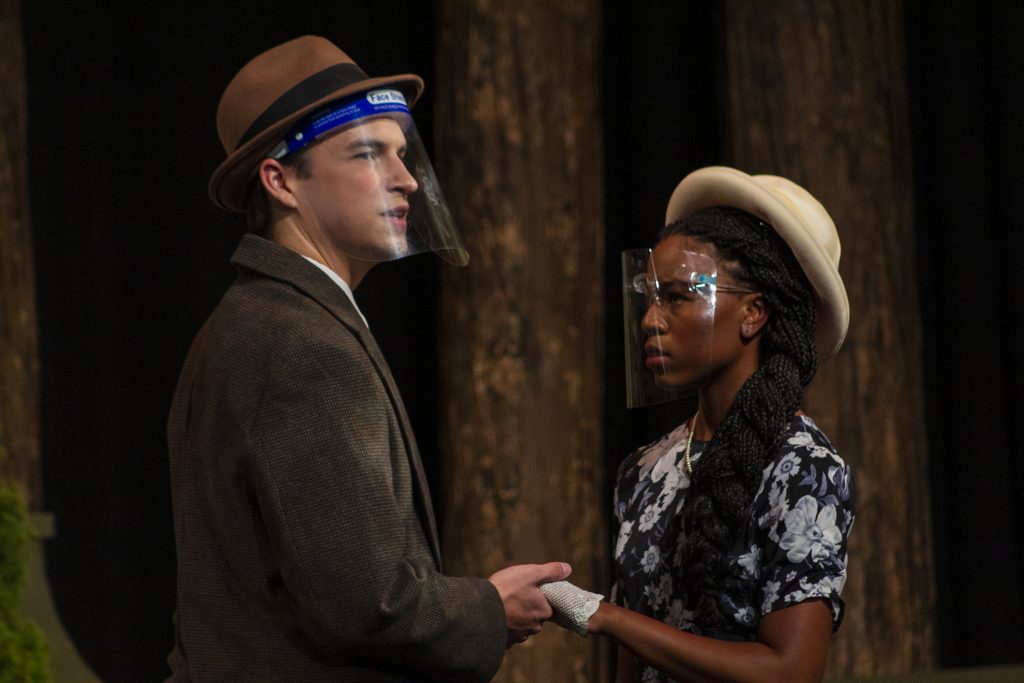 "Love's Labour's Lost" is a romantic comedy. The play was written in the 1590s, but the CBU production is set in 1938 in the Hamptons outside of New York. Instead of royalty, the characters are upper-class New York sophisticates.
"It's a fun play, and we need a comedy right now," Mihelich said.
For Daniel MacDonald, a film senior who plays Ferdinand, learning the language of Shakespeare was a challenge. So was learning how to dance, act and sing with masks and face shields.
"Acting without the ability to see the other person's mouth affects the performance a lot. However, masks and shields have forced us to act with our eyes, eyebrows and bodies more to accommodate for what the masks cover up," MacDonald said.
Jordan Brayboy, a theatre junior who plays the Princess, enjoyed being back on stage.
"It was great to see friends again and to be able to have this opportunity to perform on a stage because many do not have this luxury right now," Brayboy said. "It's a great opportunity to continue to work and grow within my craft."
Joshua Rodriguez, assistant professor of music theory and composition, wrote music for the production. Additionally, the theatre program rented a professional video camera system for the filming. Along with Mihelich, there was a film director and editor. They plan to have the finished product available for streaming via ShowTix4U shortly before Thanksgiving.
Brayboy plans to watch the production with family and friends.
"I hope that the audience finds some time to laugh and enjoy the moments that life gives us," Brayboy said. "We are all navigating difficult times right now and as cliché as it may sound, love is something that can help us get through life's tough moments."
Mihelich wants the viewers to enjoy the show and see that the theatre program is still at work.
"I want the audience to be able to stop, especially around the holidays, and have a good time," Mihelich said. "I also want our regular audience to see we're not hiding under a rock. We're trying to be nimble; we're trying to be flexible. We're looking forward to being back in the room with them."
As students rehearsed, many have wondered about the future of theatre with a pandemic.
"What I keep telling the students is, if you want to be an actor and innovator, if you want to rebuild the industry, that is great. Luckily, we have a lot of students who get excited about that," Mihelich said. "Universities are in a special place to do this because we have time. Just the fact that we're doing [this play] I hope is teaching them how to be an entrepreneur, how to think outside the box."
CBU to offer a Bachelor of Social Work in fall 2021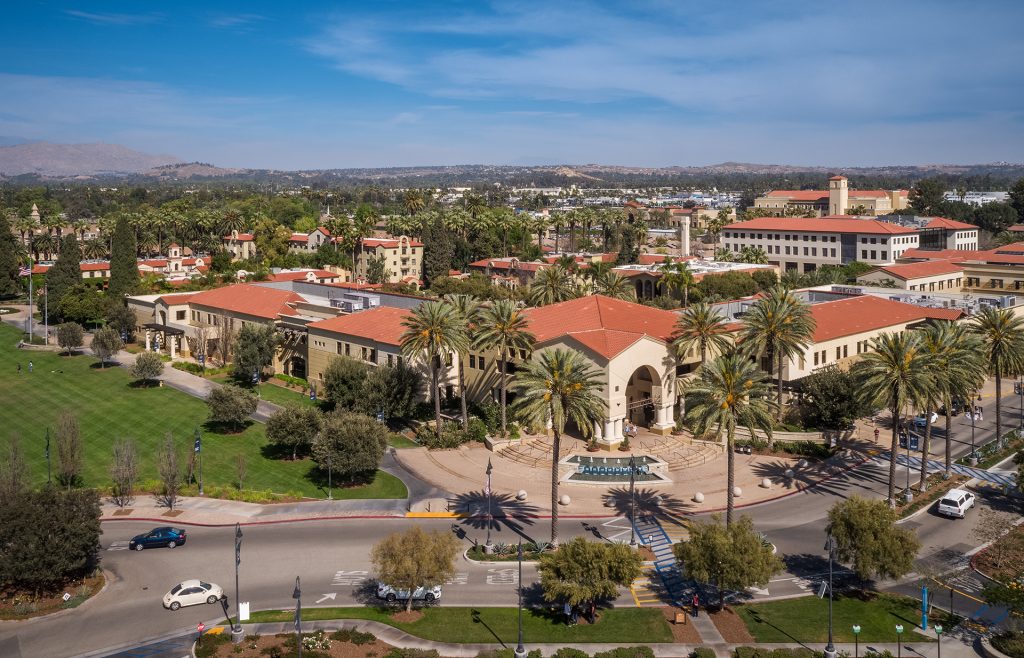 California Baptist University will offer a Bachelor of Social Work starting in the fall of 2021 to meet the growing need for social workers.
The state of California has a significant shortage of social workers, said Dr. Jennifer Costello, BSW program director. The demand grows more significant in the Inland Empire with higher rates of poverty, single parenting and health disparities, she added.
"We just desperately need more social workers," Costello said.
Social work is diverse—social workers are needed in areas that involve children, medicine, veterans and policy, among others. The pandemic and racial division have also exacerbated the challenges people face, Costello said.
"There are no easy fixes, but we need people who are willing to get in there and do the work," she said.
One unique aspect of the CBU program will have students be part of an interprofessional education collaborative. BSW students will work alongside other students in various health-care majors. The goal is for students to learn how to better communicate in multidisciplinary teams, Costello said.
Students also will have the option of adding a congregational social work emphasis.
"We know our churches are on the frontlines of addressing social needs in our community," Costello said. "Why isn't a social worker sitting next to the pastor to help address the underlining issue of what brought this person in and why they have this need?"
The bachelor's program will join the Doctor of Social Work, which began this fall, and the Master of Social Work at CBU.
"We are thrilled to add the Bachelor of Social Work degree to our already robust social work programs at the graduate level," said Dr. Jacqueline Gustafson, dean of the College of Behavioral and Social Sciences. "By offering the full spectrum of social work education and training, graduates of CBU will be equipped to serve the myriad of needs for children and families in our community and beyond."
CBU remembers veterans on Veterans Day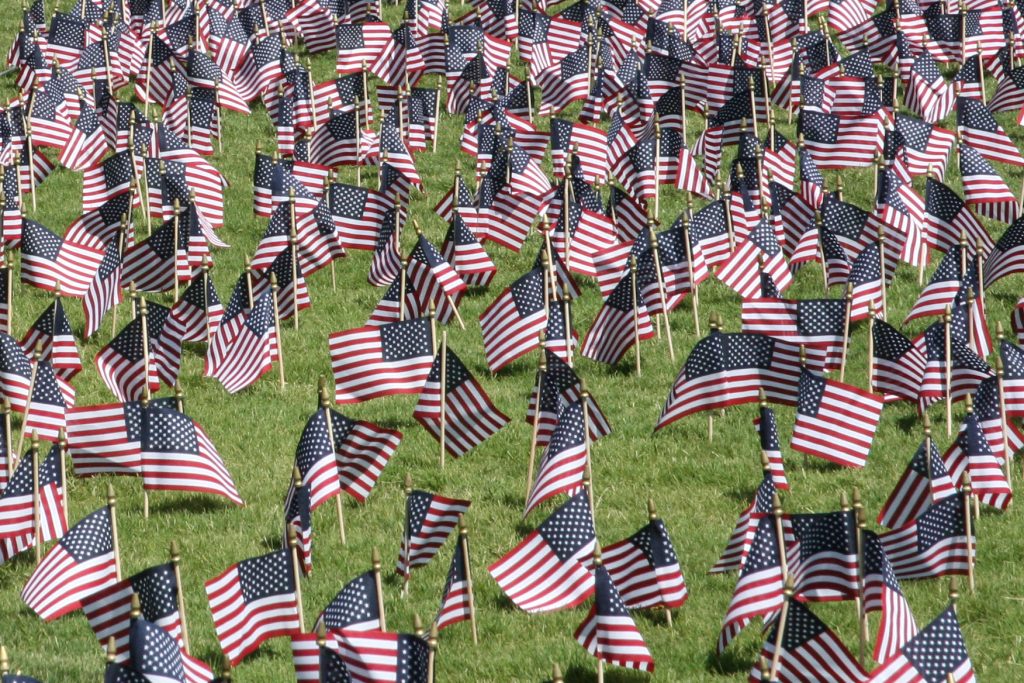 More than 350 military veterans attend California Baptist University.
In previous years, CBU's Veterans Resource Center held celebrations for Veterans Day. Because of COVID-19, this year looked different.
Jay Villasenor, Army veteran and director of the Veterans Resource Center, said it was his duty to make sure the veterans still have the recognition they deserve. On Nov. 11 in Stamps Courtyard, he handed out free meal tickets to student veterans for on-campus restaurants.
"We were unable to do the normal events we did in the past, but COVID is not going to stop us from recognizing and honoring our veterans," Villasenor said.
Grant Agabon, aviation flight sophomore, served in the Marine Corps for five years prior to his time at CBU.
"I learned a lot in the military," Agabon said. "My family was from the Philippines and we did not know a lot about America when we moved here. Originally when I joined the military it was because of money, but that completely changed once I was in. I'm extremely grateful because everything that I have now is because of the military."
Agabon said Veterans Day is a day to remember those who served.
"To me, Veterans Day is to say thank you to those who have offered their lives for our freedom," Agabon said. "I don't see it as a normal holiday. It's a day to go 'look at this guy, it's because of him that I am free.'"
Mark Santos, aviation flight sophomore, also served five years in the Marines as a flight technician, specializing in safety equipment.
"I was always fascinated with flight, and it's been my passion ever since I was a child. I realized that if I could not afford college right away, I could join the military and learn about flight from that standpoint first," Santos said.
Santos said his proudest moment in the Marines was receiving his Eagle, Globe and Anchor pin.
"It was like I was being tested on everything up until that point and I could finally be called a Marine," Santos said.
Sgt. 1st Class Luis Perez, military science instructor, has been in the Army for 22 years. Perez teaches freshmen in the Reserve Officers' Training Corps (ROTC) the foundations of the Army.
Over the past 22 years, Perez has been stationed in countries such as North Korea, Afghanistan, Iraq and Germany. He has also been stationed around the United States, most recently in Hawaii before starting at CBU.
"It gave me an opportunity to teach. I love giving my knowledge to students," Perez said. "I hope when they graduate that they remember what they learned here, what it takes to be a leader and apply that to their stations."
Perez said Veterans Day is a way to honor all soldiers.
"Veterans Day is not about me but the people who came before and the people who come after, to show the nation what sacrifices soldiers have to endure to have the freedom we have," Perez said. "This is starting back in the Revolutionary War, they are the ones who had to set the scene for what we do. This is about honoring them, the ones who fought in previous wars and to show everyone in the country that these people have to pay a price."
The Veterans Resource Center, located in Lancer Arms, has a lounge, computer lab and assistance for student veterans in need of government aid.
CBU campus publications earn multiple national awards
By Victoria Buszinski
The Lancer Media Group (LMG), which comprises several student-run publications at California Baptist University, recently earned six Pinnacle Awards from the College Media Association and five Pacemaker Awards from the Associated Collegiate Press.
At the Pinnacle Awards, announced Oct. 23, Reagan Lee won first place in Best Sports News Photo for her work in The Banner newspaper. CBU TV, the broadcast news team, won second place for Best Video Newscast for its story on the impact of COVID-19 on local businesses, as reported by Dyana Villa. The Banner also won third place overall in the Four-Year Less-Than-Weekly Newspaper of the Year category.
Students won third place in the Pacemaker Awards on Oct. 22 in Multimedia Story of the Year. Kelly McKittrick, Phillip Ndowu and Azucena Orozco used text, photo and video to report a story on the memorial of basketball star Kobe Bryant.
Students also earned seven honorable mentions for their work.
"The Pacemakers and Pinnacles are amazing competitions," said Sonya Singh, assistant director of student publications. "It's an exciting privilege to be included alongside other universities telling such important and compelling stories."
Lee, a strategic communication graduate student, said the LMG students put their utmost effort into their work.
"We worked really hard as a staff and the effort that everyone put in created the perfect conditions to create these award-winning creative pieces," Lee said.
Dr. Mary Ann Pearson, interim director of the journalism and public relations program, said the group has a record for winning awards.
"The student-produced publications at California Baptist University have a long history of winning awards. The faculty and students involved with the publications are dedicated, hardworking and committed to achieving excellence," Pearson said.
Pearson described the year as being different but consistent with the original mission of LMG: to tell the story.
"We have been intentional about keeping our Lancer Media Group team motivated about telling the story," Pearson said. "The stories we cover now may not be the typical CBU stories, but it is important that we document this historic year."
(Editor's note: Victoria Buszinski is a public relations major)
Environmental Science Club receives award from city program
The Environmental Science Club at California Baptist University received the Spirit of Volunteerism Award from the Keep Riverside Clean and Beautiful (KRCB) program.
Connie Librenjak, executive director of KRCB, presented the award on Oct. 28. She said CBU's Environmental Science Club received the award for its exemplary service.
"For the last five to six years, you have consistently come out for the Santa Ana River cleanup and for the Ward 5 cleanup," Librenjak said. CBU is located within Ward 5 of Riverside. "Anytime we have ever called over the years, this Environmental Science Club is right there."
KRCB is a community program sponsored by the City of Riverside and the Greater Riverside Chambers of Commerce. Its mission is to foster a sense of community pride by creating partnerships that work toward the beautification of the city.
Miranda Johnson-Phillips, president of the Environmental Science Club, said she felt honored to receive the award.
"It's nice at times to see the fruit of your labor manifest into an award," Johnson-Phillips said. "It's awesome because although I'm accepting this as the current president, I'm also representing those who came before me and honoring the work they've put in and done."
The Environmental Science Club hosts many events throughout the year, from Arbor Day at CBU (an event that plants trees on the CBU campus) to participating in the Santa Ana River cleanup and cleaning up local parks.
Tara Duncan, vice president of the club, said she was excited to receive the award.
"I'm from Texas and coming here, I wanted to get involved so I joined this club," Duncan said. "We don't volunteer or do these things to get recognized but when it happens we really appreciate it."
Dr. Bonjun Koo, professor of environmental science and the club's faculty advisor, said he was proud of the club receiving the award.
"CBU is a Christ-centered university. As a part of that mission we as a club act as Christian stewards who take care of God's creation through our local community and environment," Koo said. "It's a very rewarding experience taking part in keeping our local community clean and I think our students are doing great at that."
Theatre program turns classes into multicamera production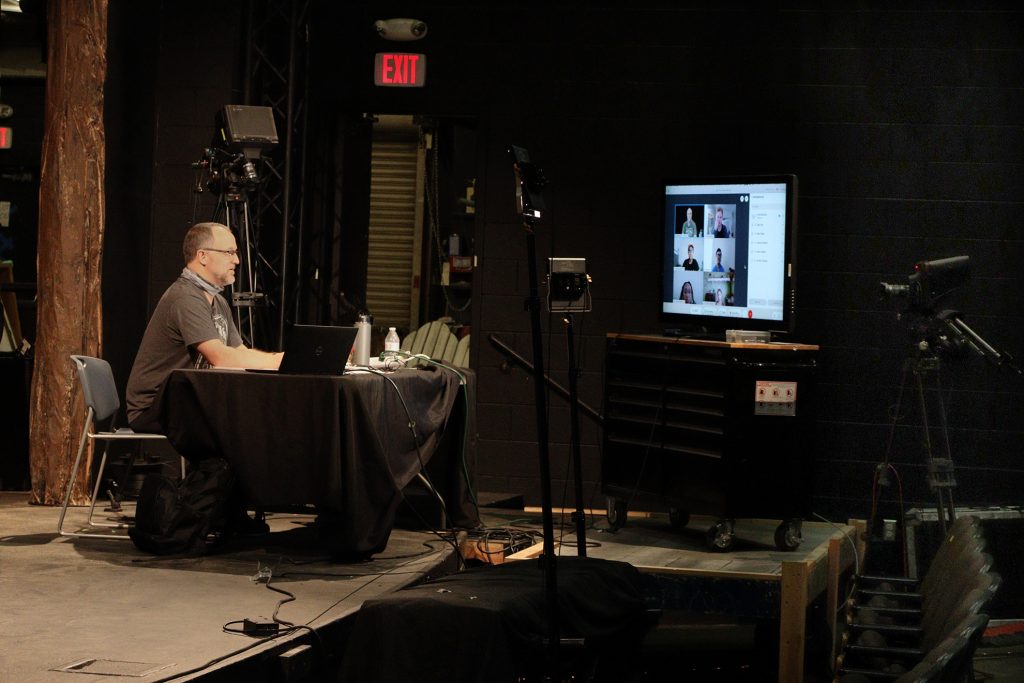 Professors in the theatre program at California Baptist University had to improvise this semester to teach their stage classes remotely.
Frank Mihelich, associate professor of theatre, would usually teach alone. Now he has at least one camera operator, a teacher's assistant and someone in the control booth switching between the program's three broadcast video cameras. One camera is focused on the professor sitting at a table, another is aimed at documents on the table and the third one is directed at the stage, where Mihelich's assistant helps illustrate techniques and exercises.
"It's like having your own little TV show every class," Mihelich said.
Mihelich is teaching all acting classes this semester. Normally, his students would be rehearsing and interacting together on the stage in scenes. Now they are doing solo performance work.
"They are doing monologues from previously published plays or excerpts from novels. Some in the advance class are writing their own 10-minute show," Mihelich said.
One of the classes is Acting IV: Departures from Realism (THE483), or avant-garde theatre.
"What is more avant-garde and weird than having to do it online?" Mihelich said. "One of the genres is site-specific theatre. I've had kids do monologues in their bathtubs—appropriately clothed—or from their car. In the classroom they would have had to create something."
Scott Rydelski, a junior who is a comedic arts and theatre double major, is taking Departures from Realism.
"With that, there are many wacky movement principles that we must learn and exercise to allow the actor to train in that style," Rydelski said. "Having the multi-camera set up and having the opportunity to do exercises and necessary physical training virtually alongside my professor and peers is very helpful."
Lee Lyons, a professor of theatre who teaches a makeup class, said the theatre program's camera equipment provided more options for teaching this semester. For his class, makeup kits were given to all the students to practice wherever they are. He demonstrates techniques with the help of a student model. Students take photos of their work and send it in for review.
"Our theatre kids want to do [things]," Lyons said. "We've taken what COVID's given us and we're trying to keep the kids cohesive."
Eden Sides, a theatre sophomore, said she was anxious going into the semester, wondering if her two theatre classes would be productive.
"I'm so pleased with what they came up with to help us get the most out of the class," Sides said. "Hands-on learning sticks the best in my brain. Reading about acting and doing all the text work for a play is great, but then getting up and experimenting with what it feels like in my own body and voice is where the magic happens."
Family Updates
Shayda Hernandez, financial aid technician, was named employee of the month for November. Her nomination included the following statements: "Shayda always asks for additional work when she has completed her daily tasks and always strives to understand why something is done, rather than just understanding the process. This allows her to understand and have a foundation on what is happening to help fix and create more efficient processes. Since her promotion to technician earlier this year, she has reviewed/completed over 4,250 FAFSA verifications, which is a record in a single year."
Mary Ann Stahovich, assistant professor of physician assistant studies, presented a peer-reviewed poster at the annual national Physician Assistant Education Association Forum on Oct. 20. The poster was titled Assessing PA Students' Cultural Competency Toward Pediatric Native Americans. Stahovich and Dr. Sangmin Kim, professor of public health sciences, conducted the research.
Dr. Mary Ann Pearson, professor of communication, presented at the virtual University of New Mexico Mentoring Conference on Oct 20. Her presentation was titled Adversity Quotient and Mentoring While Leading Student Teams.
Dr. Erin Smith, associate professor of psychology, was interviewed for the New Wine, New Wineskins Institute for Cultural Engagement. The interview was titled Conflicts between faith and science: Are they all in the head?
Dr. Kendra Flores-Carter, assistant professor of social work, and Philip Breitenbucher, assistant professor of social work, held a workshop for the National Association of Social Workers – California Chapter virtual conference on Oct. 16-17. It was titled Complexities Related to Substance Abuse & Mental Health Among Pregnant Women. Additionally, Flores-Carter led another workshop, titled Improving Perinatal Mental Health in Primary Care Settings.
Dr. Viola Lindsey, associate professor of social work, published an article in the Social Work Advocates magazine. It was titled Deconstructing/Constructing Working Alliance Between Police and Social Workers (October-November 2020).
Dr. Bonjun Koo, professor of environmental science, co-authored two papers. Silicon Fractionation of Soluble Silicon in Volcanic Ash Soils That May Affect Groundwater Silicon Content on Jeju Island, Korea was published in Water (September 2020). Silicon and Aluminum Mobility in Soils of Jeju Island, Korea was published in Applied and Environmental Soil Science (October 2020).
Dr. Ashley Parks, assistant professor of public health science, and Matthew Lazari, adjunct professor of public health science, made two presentations at the virtual American Public Health Conference on Oct. 24-28. One was titled Physician and Staff Responses to Non-facility Specific Patient Experience Feedback with Post-acute Care Transitions. The second, a poster presentation, was titled Self-reported mentorship needs and preferences of health administration and public health students.
Dr. Jacqueline Gustufson, dean of the School of Behavioral and Social Sciences, Philip Breitenbucher, assistant professor of social work, and Jennafer Larsen, Master of Social Work alumnae, presented at the National Association of Social Workers-California Chapter conference virtual conference on Oct. 16-17. The workshop's title was Dare to Change the Word: How Social Workers Can Engage in Social Enterprise.
Erin Kirk, adjunct professor of piano, presented papers at two conferences. Gershwin's Cuban Overture & Copland's Danzón Cubano: Two Cuban Peas in a Pod? was presented for the fall conference of the Pacific-Southwest chapter of the American Musicological Society on Oct. 24.  She presented Mining Hidden Depths: Copland's Passacaglia for Piano for the Society for Musicology in Ireland on Oct. 30.
Dr. Jee Young Noh, assistant professor of education, had an article published in Merrill-Palmer Quarterly: Journal of Developmental Psychology (Volume 66, Issue 2). It was titled Children's Evaluations of Necessary Harm: The Roles of Maternal Disapproval and Friend Relationship Status.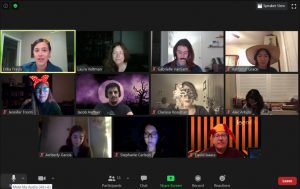 The English and Creative Writing programs hosted its annual Unhappy Hour poetry reading via Zoom on Oct. 27. Students participated in trivia, read famous poems and presented original work. As part of the programs' effort to keep students connected, students were previously sorted into one of four literary-themed houses—House (Jack) London, House (John) Steinbeck, House (Amy) Tan, House (Octavia E.) Butler—that earn points when participating in various events. These events have included a virtual escape room, social media postings and poetry readings.
Sandeep Kaur, a physician assistant studies graduate student, received a $1,000 scholarship from the PA (Physician Assistant) Foundation. Nearly 600 PA students submitted applications and 26 students received one.
Personnel Updates