In this issue…
Current News
CBU celebrates 2020 graduates with virtual commencement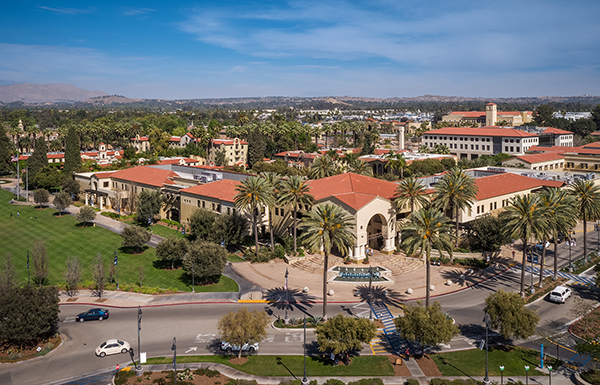 California Baptist University held a virtual commencement on Dec. 12, celebrating graduates from 2020 spring, summer and fall semesters.
Because of the coronavirus pandemic, CBU was unable to hold in-person commencement ceremonies this year.
"CBU's class of 2020 will be forever bonded by these unique circumstances––but each of you will be defined by how you respond and apply your God-given gifts and purpose as you move forward," said Dr. Walter Price, vice chair of the California Baptist University Board of Trustees.
Combined applications for graduation included 23 candidates for doctoral degrees, 1,282 for master's degrees and 1,889 for undergraduate degrees for a total of 3,194 graduates.
Dr. Anthony Dockery, chair of the California Baptist University Board of Trustees, said the response from students, faculty and staff in adapting to changes has been inspiring.
"I especially thank our graduates, families and guests for their patience and perseverance as we all navigate these unique circumstances," Dockery said. "Even though today's event was not the original plan, I am still grateful and excited for the opportunity to celebrate this important milestone for our graduates."
Dockery, who gave the commencement address, said all the hard work and sacrifice by the graduates finally paid off.
"The goal you have been pursuing at last is at hand. You have successfully navigated the various requirements, deadlines and challenges necessary to receive your diploma," Dockery said. "Additionally, you weathered the changes, interruptions and unknowns caused by a global pandemic. You adapted to these unprecedented circumstances and finished strong. I am extremely proud of you."
He encouraged graduates to live their purpose wherever God takes them.
"2020 has proven that your unique God-given gifts and purpose are needed now more than ever," Dockery said. "As you leave CBU, may you take with you the passion for learning, the friendships made and the life's lessons gained."
During the ceremony, CBU recognized the efforts of several students who achieved excellence in their academic accomplishments. Lauren Oliver received the Outstanding Online and Professional Studies Student of the Year Award. She earned a Bachelor of Arts in English.
Henry David Leon Du, a student from Guatemala, received the Min Sung Kim International Student Award. This award is presented each year to a CBU international student who has made outstanding contributions to the CBU community. Du earned a Bachelor of Science in Mechanical Engineering.
Michaela Marie Miller was the recipient of the 2020 Outstanding Senior Award. Miller graduated with a Bachelor of Science in Health Science with a 4.0 GPA.
After the ceremony, the names of all the graduates were displayed individually on the Events Center Jumbotron.
Deans and faculty also recorded messages for the graduates, which can be seen here.
Commencement tradition continues with the ringing of the bell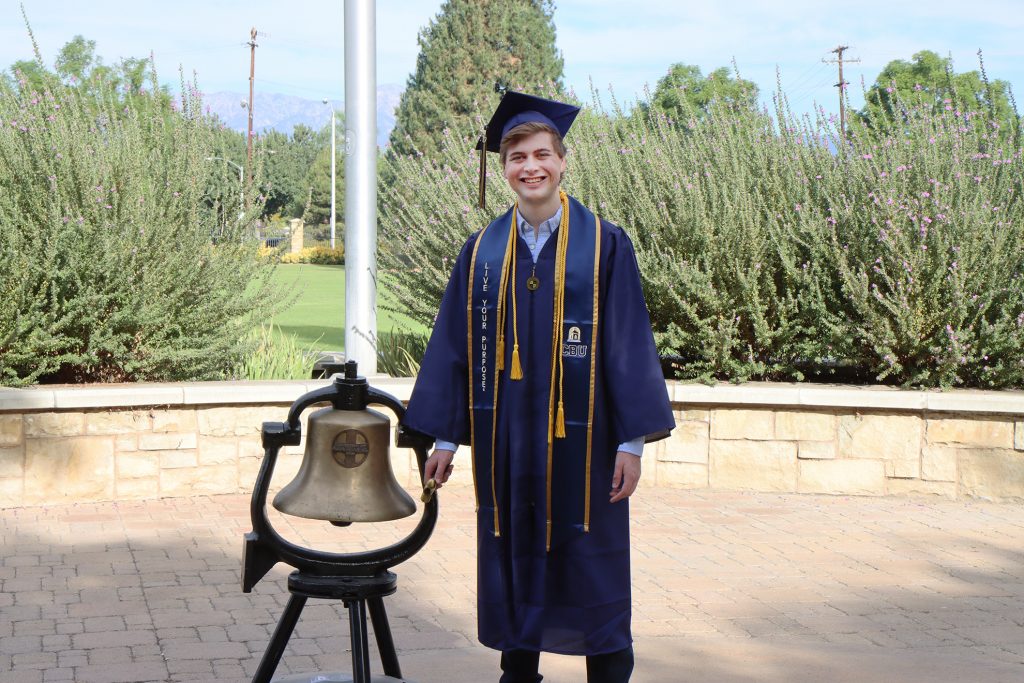 California Baptist University celebrated commencement on Dec. 12 for nearly 3,200 students. Because of the pandemic, CBU is holding a virtual commencement to honor students who earned their degrees in the spring, summer and fall of 2020.
Despite the unusual times, some traditions continue, including having a distinguished scholar ring the bell prior to the start of the ceremony.
Each toll of the bell represents one decade of the university's existence. The bell rang seven times to commemorate the seven decades of academic excellence. CBU was established in 1950.
Matthew Ressler, a Bachelor of Science in Marketing spring graduate, was chosen to ring the bell. Ressler, who had a 4.0 GPA, was excited to be selected.
"I had learned about the opportunity my first semester and I knew I wanted to obtain the role at graduation," Ressler said.
Ressler also set a goal of completing college in three years, which he did. He was also part of a team that won the Bob Goodrich Business Plan Competition in 2018. The team presented a business plan to create a device that could theoretically turn off a gas stove through a timer.
While at CBU, Ressler held presentations for the Marketing Club on search engine optimization and did it again as a guest speaker this fall.
"CBU helped me conceptualize what it means to help other people through learning," Ressler said.
Ressler is now working at a marketing company as a SEO strategist.
"This school has an amazing staff of professors," Ressler said. "I am proud to be a Lancer and hope to be back in the future as a guest speaker or lecturer in the School of Business."
Coach Croy becomes one of the fastest coaches to 300 wins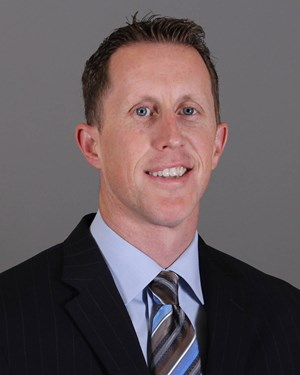 With win over SE Louisiana on Dec. 4, California Baptist University Head Coach Rick Croy joins an all-star cast of coaches across the country as one of the fastest to 300 wins in his career.
"This is a huge milestone achievement for Coach Rick Croy," said Ron Prettyman, interim athletic director. "This accomplishment reflects his commitment, work ethic, and ability to coach. He is a great leader of young men."
"Beyond grateful for 300 for 3 reasons — moments with many great players that have now become my friends, being on a coaching staff that is a true brotherhood, and my family for always competing with me every day," said Croy.
Croy, who now holds a career 300-91 overall record in his 13 seasons of coaching, sits at No. 14 all-time among the top college basketball coaches at the NCAA Division I and NCAA Division II level.
Read the full story here.
CBU ranks high in assisting students with social mobility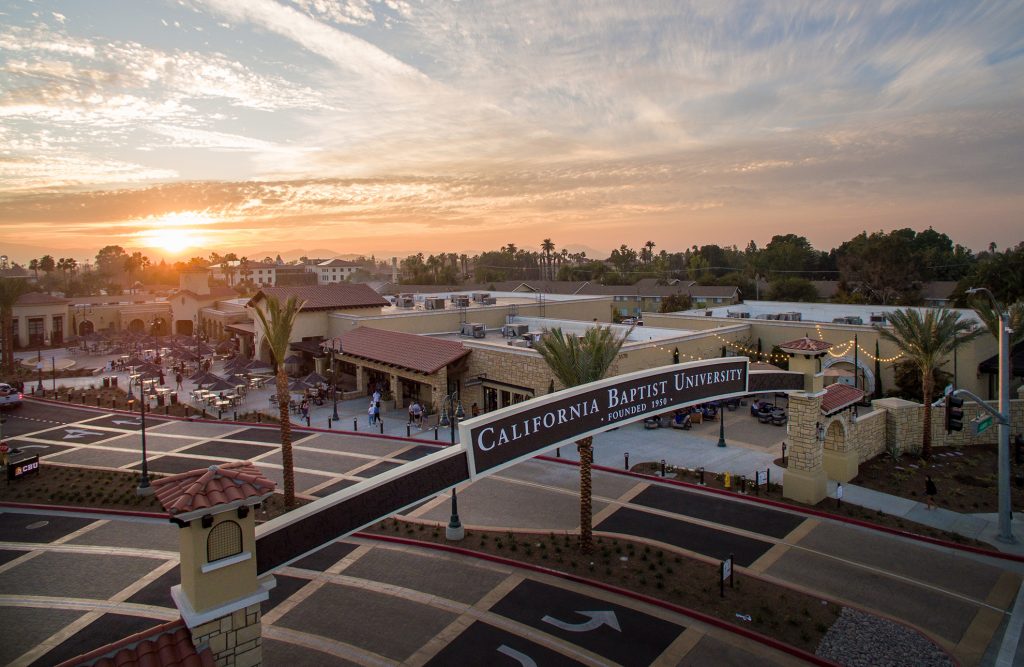 California Baptist University is one of the top private universities helping students with social mobility, according to a recent report by Education Reform Now, a think tank that advocates for students in the public education system and their families.
The report identified 614 four-year colleges where students receiving federal Pell Grants are more likely to graduate than they are to drop out and where federal loan repayment and default rates are better than the average four-year institution. Education Reform Now called these colleges "social mobility elevators." A Pell Grant is a needs-based grant that does not need to be repaid.
Among private universities, CBU ranked first in California and fifth nationally.
"Social mobility is a cornerstone of the American way — the land of opportunity," said Dr. Wayne Fletcher, associate provost for academic services. "In our current society, for many, higher education is the gateway to economic and social mobility."
Forty-two percent of traditional undergraduate students at CBU receive a Pell Grant and 36 percent receive the Cal Grant. The number of recipients at CBU is reflective of the Inland Empire socioeconomics, Fletcher said.
"The challenge nationally is that students with high economic need complete university at lower rates than students from more affluent families," Fletcher said. "This matters to CBU because our mission is to help students discover and live their purpose."
Taylor Neece, dean of Admissions, said CBU spends time educating prospective students about financial aid and dispelling the myths of private education related to affordability. The Financial Aid office works with Admissions to offer financial aid informational sessions and workshops on how to fill out the federal student aid form.
"Our goal is that students do not shut the door to a private education," Neece said. "There are many students who don't know that CBU can be a reality and our mission is to help them understand how CBU might be financially viable for them."
Once students are at CBU, various campus offices ­— including the Office of Student Success and the Career Center — will help them succeed during their college years and after, Neece said.
"I call it the CBU scaffolding. The CBU support scaffolding allows students to get to heights that they wouldn't be able to get to otherwise," Neece said. "We want to do everything we can to wrap them with support in order for them to be successful during their time here and post-graduation."
The Education Reform Now ranking reflects the fact that CBU students are succeeding, Fletcher said.
"It means that CBU is successfully providing the resources, education and guidance which supports students from lower socioeconomic populations in achieving graduation," Fletcher said. "Successful graduation leads to increased employment and economic opportunity which allows student to repay student loans and achieve social mobility."
Family Updates
Dr. Joshua Knabb, associate professor of psychology, Dr. Robert Pate, associate professor of psychology, Dr. Sean Sullivan, professor of kinesiology, Dr. Erik Salley, associate professor of kinesiology, Dr. Amy Miller, associate professor of kinesiology, and Dr. William Boyer, assistant professor of kinesiology, had an article published in Mental Health, Religion and Culture (Nov. 17, 2020). It was titled Walking with God.
Dr. Mary Ann Pearson, professor of communication, presented at the International Leadership Conference on Oct. 20. Her poster presentation was titled Holistic Mentoring and Coaching for Advancement and Innovative Leadership.
Dr. Raquel Ellis, assistant professor of social work, and Dr. Charles Lee-Johnson, assistant professor of social work, presented virtually at the Council on Social Work Education Annual Program Meeting held Nov. 16-20. The presentation was titled How Servant Leadership Can Facilitate an Inclusive and Supportive MSW Program Environment.
Dr. Joshua Knabb, associate professor of psychology, and Dr. Veola Vazquez, professor of psychology, had an article published in Journal of Psychology and Theology. It was titled The Christian Contentment Scale: An Emic Measure for Assessing Inner Satisfaction within the Christian Tradition.
The MBA program at the Dr. Robert K. Jabs School of Business recently was ranked third in California by Best Value Schools.
Dr. Jessica Miller, adjunct professor of public health sciences, published a book, Rico Eats a Rainbow (November 2020). The children's book is about making healthy eating choices. Additionally, Miller was a panelist for a virtual workshop at the Black Doctoral Network Conference on Oct. 30. The workshop was titled Exploring Non-Academic Careers for DrPH Professionals.
Dr. Melissa Wigginton, associate professor of health science, presented at the American Public Health Association Annual Conference on Oct. 24-28. The title of the poster presentation was Sedentary time, physical activity and violence: Using the 2017 YRBSS to explore risk and protective factors among high school youth.
Dr. Patrick Schacht, associate professor of biochemistry, had a peer-reviewed paper published in the journal BMC Genomics (Nov. 2). The title is Clustering analysis of large-scale phenotypic data in the model filamentous fungus Neurospora crassa.
Dr. Linda-Marie Sundstrom, associate professor of public administration for Online and Professional Studies, had an article published in the PA Times on Oct. 8. It was titled The Impacts of Cultural Norms on the Success of Healthcare Policies.
Dr. Amanie Abdelmessih, professor of mechanical engineering, served as track co-organizer at the 2020 Interpack Conference on Oct. 27-29. Additionally, Abdelmessih co-authored an article with seven CBU mechanical engineer graduates from 2020 that was published in the conference proceedings. The graduates were Andre Alvarez, Joshua Gonzalez, Timothy Gooch, Adrian Gutierrez, Kristoffer Magana, Jonathan Nakamura and Joseph van Haaster. The title of the article was Personal Heating/Cooling System Using Peltier.
Dr. Bonjun Koo, professor of environmental science, co-authored a paper published in Water (Volume 12). The title was Silicon Fractionation of Soluble Silicon in Volcanic Ash Soils That May Affect Groundwater Silicon Content on Jeju Island, Korea.
Dr. Sandra Romo, associate professor of communication, and Dr. Shannon Leinen, adjunct professor of communication, both for Online and Professional Studies, presented research at the National Distance Learning Association Annual Virtual Conference on Nov. 9. The title of the presentation was Constructing Online Collaboratories: Approaches to Building Community Remotely.
Dr. Kristin Mauldin, assistant professor of psychology, and Dr. Ed Garrett, associate professor of kinesiology for Online and Professional Studies, had an article published in the Journal of Scholarly Engagement. It was titled Making an Impact in Community Athletics: Teaching Sport Psychology to High School Coaches.
Hector Jimenez, assistant professor of music, released a new single. The gospel song is titled The Other Side.
Dr. Erin Smith, associate professor of psychology, had two papers published.  The role of psychology in advancing the dialogue between science and Christianity was published in Perspectives on Science and Christian Faith. The second paper she co-authored. It was titled Conceptualising spirituality and religion as psychological processes: Validation of the factor structure of the BMMRS and published in Mental Health, Religion, & Culture.
Damon Horton, assistant professor of intercultural studies, made two presentations and led a breakout session at Juntos 2020: Visión Discipleship on Nov. 6-7. The presentations were titled Abiding in Jesus and Making Disciples During Tough Times. The breakout was titled A Place for Latinos in the Race Conversation. He also participated at the Evangelical Theological Society 2020 Annual Meeting on Nov. 18. He presented a paper, Urban Islam: Assessing the Moorish Science Temple, Nation of God's & Earths, and Nation of Islam, and took part in a panel, Practical Theology: Insider Movements, Nation of Islam. He made a keynote presentation at the Diversity Conference 2020 on Nov. 7. It was titled Ethnic Conciliation: The Church's Best Move in a Fallen World. Additionally, he was part of panel at the Send Institute The Futures of the North American Church on Dec. 1. The panel was titled Church Planting Manifesto.
Dr. Sandra Romo, associate professor of communication for Online and Professional Studies, presented research at the Texas Social Media Research Institute Annual Conference held virtually on Nov. 12. The title was Fostering Positive Communicative Experiences During High Stress Environments.
Dr. Kristin Mauldin, assistant professor of psychology, presented in a symposium at the Association for Applied Sport Psychology's 2020 Annual Conference held Oct. 21-24. It was titled Exercise Psychology and Wellness among Underrepresented Groups: Decolonizing, Tailoring, and Partnering with the Community.
Brian Bovee, assistant professor of computer information technology, and Thomas Jernejcic, associate professor of computer information technology, both for Online and Professional Studies, presented a paper at the 51st Annual Conference of the Decision Sciences Institute held virtually on Nov. 22. The paper was titled Leaderboard or Digital Badges? Improving Engagement in Online Discussions.
Dr. Shawn Wilhite, assistant professor of Christian studies for Online and Professional Studies, had an article published in Credo Magazine (November 2020). It was titled What Does it Mean to be "Pro-Nicene"? The Development of Pro-Nicene Theology.
Dr. Teresa Hamilton, associate professor of nursing, had two chapters published in a textbook. The chapters, Health Policy and Evidence based practice, were published in Engage Fundamentals Textbook (2020).
Dr. Jeff Biddle, director of the Counseling Center, successfully defended his dissertation on Nov. 20. He earned a Doctor of Social Work/Executive Leadership from the University of Southern California. His dissertation was titled RE:STORE: A Systemic Approach of Recovery from Compulsive Internet Pornography Use.
Dr. Jacqueline Gustafson, dean of the College of Behavioral and Social Sciences, was a panelist at the Intentional Leadership Associate Conference on Nov. 7. The panel was titled Liminal Leadership and Structural Models.
Scott Glackin, foodservice equipment tech/lead for Facilities and Planning Services, and his wife, Silvana, welcomed their fifth grandchild on Nov. 8. Theodore Alan Glackin weighed 6 pounds,15 ounces and measured 19 inches. His parents are Nicholas and Erica Glackin.
Sarah Millikan, nursing student services coordinator, and her husband, Ben, welcomed a daughter on Oct. 13. Josephine Dawn Millikan weighed 7 pounds, 1 ounce and measured 20 inches. She joins brother Teddy, 2½.
Personnel Updates